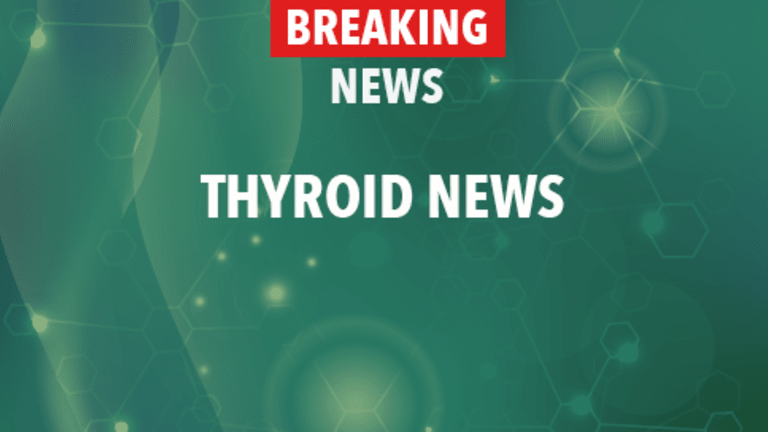 Phase II Trial of Pretargeted Radioimmunotherapy for Medullary Thyroid Cancer
Phase II Trial of Pretargeted Radioimmunotherapy for Medullary Thyroid Cancer
According to the results of a study published in the Journal of Clinical Oncology, pretargeted radioimmunotherapy may improve the survival of patients with advanced, high-risk medullary thyroid cancer.
Radioimmunotherapy involves treatment with a radioactive substance that is linked to an antibody. When injected into the body, the radioactive substance and antibody attach to cancer cells. By delivering the radiation directly to the cancer, more normal tissue is spared from radiation and there are fewer side effects.
Pretargeted radioimmunotherapy is an alternative approach to radioimmunotherapy that may further improve the delivery of radiation to tumor tissue.[1]
Pretargeted radioimmunotherapy involves the use of an antibody that can bind to both tumor cells and a radioactive substance. The antibody is administered a few days before the radioactive substance. Pretreatment with the antibody allows the antibody to accumulate in the tumor and to clear out of other tissues. Then, when the radioactive substance is administered, it can more quickly and specifically target the tumor.
Medullary cancer of the thyroid is a type of cancer affecting the thyroid, a gland located at the base of the throat. This type of cancer can usually be cured by surgery to remove the thyroid gland. However, if the cancer has metastasized (spread from the thyroid to other parts of the body), treatment becomes more challenging.
To evaluate the use of pretargeted immunotherapy in patients with advanced medullary thyroid cancer, researchers conducted a phase II clinical trial.
The study enrolled 29 patients with short serum calcitonin doubling times (indicating poor prognosis). Patients were treated with an antibody that targeted carcinoembryonic antigen (CEA). In patients with medullary thyroid cancer, CEA is present on most tumor cells. Four days after the antibody was administered, patients were treated with a radioactive substance (iodine-131). Treated patients were compared to a comparable group of 39 untreated patients.
Among patients with the shortest calcitonin doubling times (less than two years), patients who received pretargeted radioimmunotherapy survived longer than untreated patients. Overall survival was more than nine years in treated patients compared to just over five years in untreated patients.
When assessing survival only among the treated patients, those who responded to treatment (based on lengthening of the calcitonin doubling time) survived significantly longer than those who did not respond to treatment (13 years vs. nine years). Forty-seven percent of high-risk patients responded to treatment.
Severe (grade 4) adverse effects of treatment included low platelet levels (five patients) and low white blood cell levels (four patients).
The researchers concluded that patients with advanced, high-risk medullary thyroid cancer who were treated with pretargeted radioimmunotherapy had better survival and were more likely to experience long-term disease stabilization than a similar group of untreated patients.
Patients with metastatic medullary thyroid cancer may wish to talk with their doctor about the risks and benefits of participating in a clinical trial further evaluating this or other novel therapeutic approaches. Two sources of information regarding ongoing clinical trials include the National Cancer Institute (www.cancer.gov) and www.cancerconsultants.com .
Reference:
[1] Goldenberg DM, Sharkey RM, Paganelli G et al. Antibody Pretargeting Advances Cancer Radioimmunodetection and Radioimmunotherapy. Journal of Clinical Oncology. 2006;24:823-834.
Copyright © 2018 CancerConnect. All Rights Reserved.