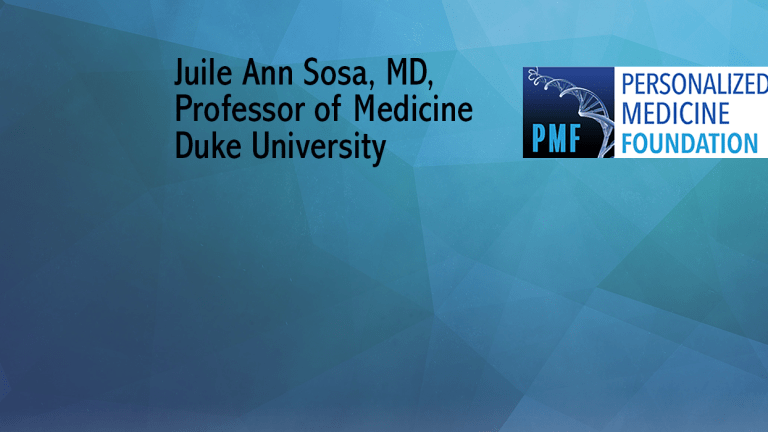 Papillary Thyroid Cancer Diagnosis and Treatment Planning
Julie Ann Sosa, MD, professor of medicine at Duke University discusses thyroid cancer diagnosis and treatment.
Julie Ann Sosa MD updated by CH Weaver M.D. 10/2020
The incidence of thyroid cancer has tripled over the past three decades, with the vast majority of the increase accounted for by small, slow-growing papillary thyroid carcinomas. (1) In the United States, thyroid cancer is increasing in incidence faster than any other cancer, with an estimated 65,000 individuals diagnosed in 2016, according to the National Cancer Institute.(2) By 2020 thyroid cancer—which tends to affect young and middle-aged people—is expected to become the third most common cancer among women.
There are many forms of thyroid cancer, each with a different prognosis. Papillary thyroid cancer accounts for more than 90 percent of newly diagnosed thyroid cancers. Overall the prognosis for papillary thyroid cancer is very bright, with more than 98 percent of patients under the age of 60 surviving for 10 or more years after diagnosis, according to a recent study.(3) Papillary thyroid cancer is the focus of this article.
Diagnosed with Papillary Thyroid Cancer? Five Things to Consider
For patients to be their own advocates, information and education about the disease are essential. Here are five things for people with a new diagnosis of papillary thyroid cancer to consider.
Make sure the diagnosis is confirmed with an ultrasound-guided fine-needle aspiration biopsy and that the biopsy results are reviewed by an experienced pathologist.
Consult experienced providers who specialize in caring for patients with a thyroid cancer diagnosis. Thyroid cancer is most commonly treated by endocrinologists and surgeons, not medical oncologists; chemotherapy and radiation therapy are usually not indicated in the treatment algorithm. You will need to forge a long-term relationship with your endocrinologist, so make sure they are experienced in treating thyroid cancer specifically. This can help reduce the chances that you will be over- or under treated.
Surgery is the main initial treatment. A recent study found that surgeons who carry out many thyroid cancer operations each year achieve improved patient outcomes, with fewer complications and shorter hospital stays. (4) If a surgeon carries out more than 25 thyroid removal surgeries per year, the likelihood of complications can be reduced by 55 percent. In contrast, patients of surgeons who perform fewer than 25 such surgeries a year were 1.5 times more likely to experience complications.
This is extremely important information for patients. Today more than half the thyroid-removal surgeries in the United States are carried out by surgeons who perform just one such procedure per year. Because thyroidectomy is one of the 10 most common surgeries in the United States, this means a many patients are potentially exposed to unnecessary harm.
Before surgery have a detailed preoperative examination to make sure the operation will be safe and appropriate. About half the people diagnosed with papillary thyroid cancer have lymph node metastases. Neck mapping, wherein ultrasound technology is used to look at all the lymph nodes in the neck for any signs of possible metastatic disease—from the jaw down to the clavicle and out to the shoulders—is an important preoperative step. This can ensure that the initial surgery is appropriate for the stage of the disease helping decrease the unnecessary risk of needing additional surgeries in the future. A blood test to check thyroid function should also be conducted.(5,6)
Seek care in a multidisciplinary setting to optimize transitions of care. This means that all the specialists involved in your care are part of a team that communicates often and well and that can treat you in a comprehensive manner as a group. This is vital because each specialist's actions have a great impact on what other members of the team can do further along on the clinical pathway. For example, if the surgeon does not remove the whole thyroid, the endocrinologist or nuclear medicine specialist cannot effectively administer radioactive iodine after surgery. When meeting with potential providers, ask how the team communicates. A team that communicates well ensures the best long-term care and surveillance—key factors when treating a disease with which patient survival typically extends for decades.
Ask the team whether they use treatment guidelines to inform disease management and how these guidelines apply to your specific case. The guidelines are put forth by professional medical and surgical societies and are based on best practices and current evidence, helping ensure the best possible patient outcomes. They are publicly available for all physicians and patients to read.
One element of treatment guidelines involves staging. A recent study suggests that patient age should not drive thyroid cancer staging.5 The findings, based on data from almost 32,000 patients, indicate that there is no specific age at which patients' prognoses changed significantly. The researchers designed sophisticated statistical models without the assumption that there is a known age when risk changes significantly. These models, which used more than 10 different approaches, confirmed this, showing that risk increases evenly for each year of life.
These findings challenge current thyroid cancer staging guidelines from the American Joint Committee on Cancer (AJCC), as well as revised AJCC guidelines. Existing guidelines distinguish between individuals younger than 45 and those who are 45 and older; the updated guidelines increase this age to 55. The guidelines were based on data suggesting that younger patients have a brighter prognosis than older patients simply due to their age. Data at a national level, however, do not reflect a clear age threshold.
Thus current practices in diagnosing and treating thyroid cancer may be under staging the youngest patients—potentially under treating them, monitoring them less closely, and possibly leaving them at greater risk of recurrence or even shortened survival. The new analysis suggests that physicians should evaluate patients of all ages using the same standards, such as tumor size and lymph node involvement, in determining the stage and prognosis of thyroid cancer.
This is important news for those facing this diagnosis. While further study is needed to check whether these initial findings can be replicated and potentially refined, patients might want to consider discussing staging with their care team.
In conclusion, individuals with a diagnosis of papillary thyroid cancer should not panic. The prognosis is good, but the stakes are high. Evidence-based care by experienced endocrinologists and surgeons along with fastidious surveillance can minimize the impact of any recurrence, extend survival, and optimize quality of life.
All Papillary Thyroid Cancers are not the Same
All papillary thyroid cancers are not the same. Aggressive papillary thyroid carcinoma variants may occur and are associated with a wide range of survival outcomes suggesting a greater emphasis should be placed on tailored treatment for individual patients with distinct subtypes of the cancer.
Investigators examined incidence, clinicopathologic characteristics and outcomes of 5,447 aggressive variants of papillary thyroid cancer identified from hospital-based and population-based U.S. cancer registries. These included 415 diffuse sclerosing variant, 3,339 tall cell variants, 362 insular variant and 1,331 poorly differentiated thyroid carcinoma cases. For comparison, researchers identified 35,812 well-differentiated papillary thyroid carcinoma and 2,249 anaplastic cases.
Researchers have found significant variation in survival among histologic subtypes of papillary thyroid cancer. 10-year overall survival rates:
Well-differentiated papillary thyroid carcinoma -85%
Diffuse sclerosing variant – 79%
Tall cell variant – 72%
Poorly differentiated thyroid carcinoma – 45%
Insular variant 27%
Anaplastic thyroid cancer < 22%
Aggressive papillary thyroid carcinomas are more common among older individuals.
Key Questions to Ask Potential Providers
What type of thyroid cancer do I have?
The different types have different prognoses and may require different treatment.
Will neck mapping be carried out?
This detects whether the cancer has spread to the lymph nodes, helping ensure appropriate surgery and avoiding the need for future operations.
How many total thyroidectomies do you conduct every year?
If the number is less than 25, consider finding a more experienced surgeon.
Will I be cared for in a multidisciplinary setting by a team that communicates well?
Both are essential in optimizing care and surveillance.
Does the team use guidelines to inform treatment choices?
If not, consider looking elsewhere for care. If so, ask how these will apply to your care.
Julie Ann Sosa, MD, MA, FACS*, is a professor of surgery and medicine (oncology) at Duke University, where she serves as chief of endocrine surgery, director of the Surgical Center for Outcomes Research, and leader of the Endocrine Neoplasia Diseases Group at the Duke Cancer Institute and the Duke Clinical Research Institute, a large transdisciplinary group of clinicians and researchers. Her clinical interest is in endocrine surgery, with a focus on thyroid cancer. She is a National Institutes of Health–funded investigator and the author of more than 240 peer-reviewed publications and 50 book chapters, largely focused on outcomes research, healthcare delivery, hyperparathyroidism, and thyroid cancer, with a focus on clinical trials. Dr. Sosa is treasurer-elect of the American Thyroid Association (ATA) and was vice president of the American Association of Endocrine Surgeons. She serves on the Board of Directors/Executive Council of the ATA, International Thyroid Oncology Group, and Society for Surgical Oncology, as well as practice guidelines committees for the ATA and the National Comprehensive Cancer Network. She is deputy editor of JAMA-Surgery and serves as associate editor for World Journal of Surgery, Journal of Surgical Research, and* Current Opinion in Oncology.
References
Lubitz CC, Sosa JA. The changing landscape of papillary thyroid cancer: Epidemiology, management, and the implications for patients. Cancer. 2016;122(24):3754-59. doi: 10.1002/cncr.30201.
Cancer Stat Facts: Thyroid Cancer. National Cancer Institute website. Available at: . Accessed January 14, 2017.
Adam MA, Thomas S, Hyslop T, Scheri RP, Roman SA, Sosa JA. Exploring the relationship between patient age and cancer-specific survival in papillary thyroid cancer: Rethinking current staging systems. Journal of Clinical Oncology. 2016;34(36):4415-20*.* doi: 10.1200/JCO.2016.68.9372.
Adam MA, Thomas S, Youngwirth L, et al. Is there a minimum number of thyroidectomies a surgeon should perform to optimize patient outcomes? Annals of Surgery. 2017;265(2):402-7. doi: 10.1097/SLA.0000000000001688.
Adam MA, Pura J, Goffredo P, et al. Presence and number of lymph node metastases are associated with compromised survival for patients younger than age 45 years with papillary thyroid cancer. Journal of Clinical Oncology. 2015;33(21):2370-75. doi: 10.1200/JCO.2014.59.8391.
Robinson TJ, Thomas S, Dinan MA, Roman S, Sosa JA, Hyslop T. How many lymph nodes are enough? Assessing the adequacy of lymph node yield for papillary thyroid cancer. Journal of Clinical Oncology. 2016;34(28):3434-39. doi: 10.1200/JCO.2016.67.6437.