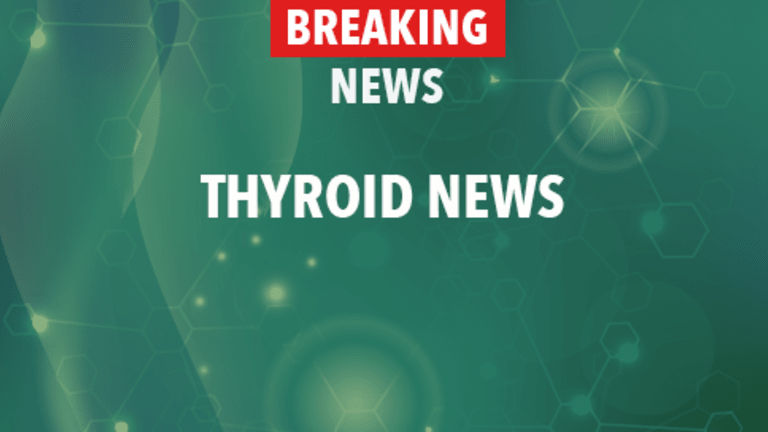 Nexavar Approved for Metastatic Differentiated Thyroid Cancer
Nexavar Approved for Metastatic Differentiated Thyroid Cancer
The U.S. Food and Drug Administration (FDA) has approved Nexavar® (sorafenib) for the treatment of metastatic differentiated thyroid cancer.
Differentiated thyroid cancer is the most common type of thyroid cancer and can often be cured with surgery and radioactive iodine (RAI) treatment. In some cases, however, the cancer is resistant to RAI. RAI-resistant thyroid cancers have had few effective treatment options.
Nexavar is an oral, targeted agent that works by inhibiting certain proteins that contribute to cancer growth. It is used to treat advanced kidney cancer and inoperable liver cancer. This new approval is for patients with locally recurrent or metastatic, progressive differentiated thyroid cancer that no longer responds to RAI treatment.
The approval was based on the results of a study that included 417 patients with locally recurrent or metastatic, progressive differentiated thyroid cancer that does not respond to radioactive iodine treatment. Nexavar increased progression-free survival by 41 percent. Half of patients receiving Nexavar lived without cancer progression for at least 10.8 months compared to at least 5.8 months for participants receiving a placebo.
The most common side effects in patients treated with Nexavar were diarrhea, fatigue, infection, hair loss (alopecia), hand-foot skin reaction, rash, weight loss, decreased appetite, nausea, gastrointestinal and abdominal pains and high blood pressure (hypertension). Thyroid stimulating hormone, a potential promoter of thyroid cancer, is more likely to become elevated while on treatment with Nexavar, requiring adjustment of thyroid hormone replacement therapy.
Nexavar was approved as part of the FDA's priority review program, which allows an expedited six-month review of drugs that may offer major advances in treatment. Nexavar was also granted orphan product designation because it is intended to treat a rare disease or condition.
Reference:
FDA approves Nexavar to treat type of thyroid cancer. [FDA News Release]. U.S. Food and Drug Administration website. Available at:
Copyright © 2018 CancerConnect. All Rights Reserved.