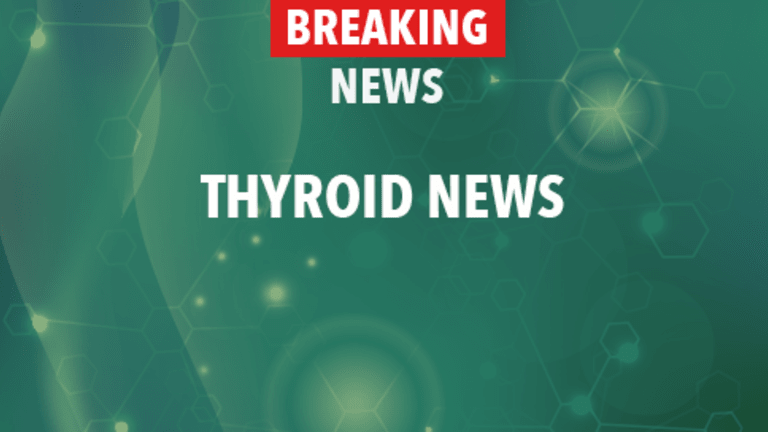 More Risk than Benefit with TSH Suppression in Thyroid Cancer without High Risk
More Risk than Benefit with TSH Suppression in Thyroid Cancer without High Risk of Recurrence
For patients undergoing treatment for thyroid cancer who aren't at high risk of recurrence, therapy to suppress thyrotropin (TSH) may be ineffective as well as risky. These findings were published in the journal Thyroid.
Differentiated thyroid cancer is the most common type of thyroid cancer and can often be cured with surgery to remove the thyroid completely or partially  (thyroidectomy) and radioactive iodine treatment.
Following treatment for thyroid cancer, many patients receive treatment to suppress the production of TSH, sometimes for the rest of their lives. The goal of TSH suppression is to reduce risk of recurrence, but there is debate over this practice. The risk of recurrence in thyroid cancer tends to be low, and experts question whether the benefits of TSH suppression justify the risks (such as osteoporosis, or weakening of the bones). In addition, experts aren't in agreement over the levels TSH needed to reduce risk of recurrence and limit side effects.
Researchers with Memorial Sloan Kettering Cancer Center in New York conducted a study to evaluate the benefits and risks of TSH suppression in patients with differentiated thyroid cancer. They included 771 patients in the study. All were undergoing complete thyroidectomy and had a low or moderate risk of recurrence.
Patients were divided into TSH suppressed and non-suppressed groups. Suppressed patients had a median TSH of 0.4 mIU/L (milli-international units per liter) or lower and non-suppressed patients had a median TSH of more than >0.4?mIU/L.
After surgery, the researchers followed the patients for a median of 6.5 years. Specifically, they watched for recurrence of thyroid cancer, postoperative atrial fibrillation (AF) (when the two upper chambers of the heart contract irregularly at a very high rate), and, among women only, osteoporosis.
Results overall (both TSH suppressed and non-suppressed groups) after surgery were as follows:
6% of patients experienced a recurrence (43 of 771 patients)
9% were diagnosed with osteoporosis
3% were diagnosed with AF
Rate of recurrence was similar between the patients who had and hadn't received TSH suppression. Those, however, with suppressed TSH at a median level of 0.4?mIU/L or lower had an increased risk of osteoporosis—a risk three times greater than those not suppressed. The increased risk for osteoporosis went away when the patients' TSH levels were maintained around 1?mIU/L.
The researchers concluded therapy to suppress TSH following thyroidectomy does not reduce risk of recurrence of thyroid cancer in patients with low and intermediate risk that cancer will return. Suppressing TSH does, on the other hand, increase the risk of osteoporosis among these patients. With this in mind, it's very possible the risks of TSH suppression outweigh any benefit of treatment in patients who aren't at high risk for recurrence. In other words, it may do more harm than good.
Reference: Wang LY, Smith AW, Palmer FL, et al. Thyrotropin Suppression Increases the Risk of Osteoporosis Without Decreasing Recurrence in ATA Low- and Intermediate-Risk Patients with Differentiated Thyroid Carcinoma. Thryroid. Volume: 25 Issue 3: March 9, 2015.
Copyright © 2018 CancerConnect. All Rights Reserved.