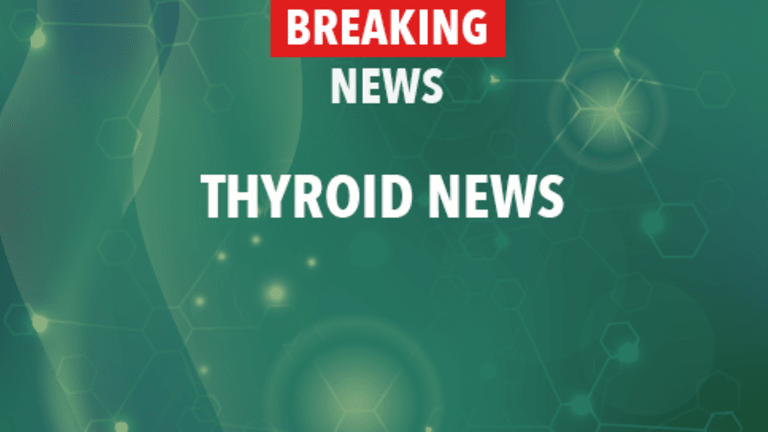 Low-Dose Radioiodine Effective in Thyroid Cancer
Low-Dose Radioiodine Effective in Thyroid Cancer
Low-dose radioiodine is as effective as high-dose in the treatment of thyroid cancer, according to the results of two separate studies published in the New England Journal of Medicine. The results mean that radiation doses could be cut to one-third of the current level.
The thyroid is a gland in the throat that produces hormones mostly related to metabolic processes in the body. Overall, thyroid cancer is considered to be a highly curable cancer, with 97% of individuals alive at least five years following diagnosis. Standard treatment for well-differentiated thyroid cancer involves surgical removal of the thyroid. After surgery, some patients benefit from additional treatment with radioactive iodine. The iodine destroys any remaining cancer cells as well as the remaining healthy thyroid gland tissue.
Improvements in surgery mean that more of the thyroid gland is removed, which leaves fewer potential remaining cells to be treated with the iodine—meaning lower radiation doses are likely effective. This is important because higher doses of radiation carry added risks, including long-term complications such as secondary cancers. What's more—patients treated with low-dose radiation can be treated as outpatients and experience fewer side effects.
The HiLo trial included 438 patients at 29 hospitals across the United Kingdom who were randomized to receive low-dose or high-dose radioiodine, each in combination with either thyrotropin alfa or thyroid hormone withdrawal before ablation.[1] The results indicated that patients who received a much lower dose of radioiodine taken in a single oral capsule had similar treatment success to those who had the high dose—but with a much lower rate of side effects. Success rates were 85.0% in the group receiving low-dose radioiodine versus 88.9% in the group receiving the high dose and 87.1% in the thyrotropin alfa group versus 86.7% in the group undergoing thyroid hormone withdrawal. The researchers concluded that the low-dose radioiodine was equally effective and that this will change the approach to treating thyroid cancer—making it more safe and reducing the risk of secondary cancers later in life.
Another randomized, phase 3 trial compared two thyrotropin-stimulation methods (thyroid hormone withdrawal and use of recombinant human thyrotropin) and two radioiodine (131I) doses in a 2-by-2 design.[2] The trial included 684 patients enrolled between 2007 and 2010. Success rates were similar between the two radiation doses and the two thyrotropin-stimulation methods, leading the researchers to conclude that the use of human thyrotropin and low-dose radioiodine may be sufficient for managing low-risk thyroid cancer.
The results of both these studies could change standard thyroid treatment—resulting in lower doses of radiation for most patients.
References:
​
[1] Mallick U, Harmer C, Yap B, et al: Ablation with low-dose radioiodine and thyrotropin alfa in thyroid cancer. New England Journal of Medicine. 2012; 366: 1674-1685.
[2] Schlumberger M, Catargi B, Borget I, et al: Strategies of radioiodine ablation in patients with low-risk thyroid cancer. New England Journal of Medicine. 2012; 366: 1663-1673.
Copyright © 2018 CancerConnect. All Rights Reserved.