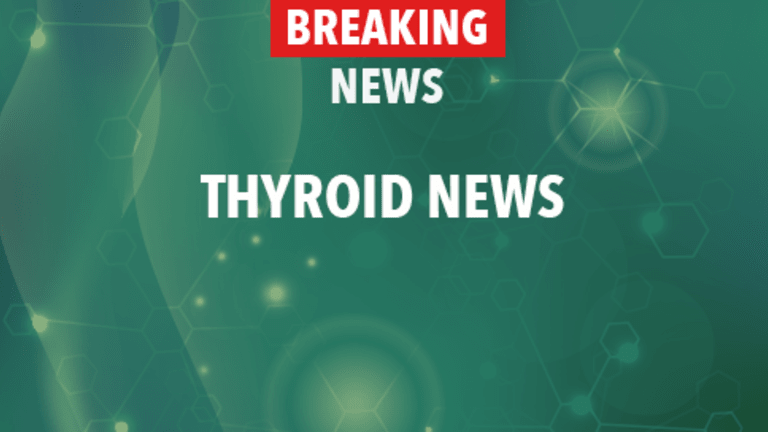 High Prevalence of CAM Use Among Thyroid Cancer Patients
High Prevalence of CAM Use Among Thyroid Cancer Patients
Among patients with thyroid cancer, use of complementary and alternative medicine is common, with more than 80% reporting use. These results were presented at the 14th International Thyroid Congress.
Complementary and alternative medicines are therapies other than conventional medical treatment. Complementary medicine involves therapies most often used to supplement conventional medical treatments, whereas alternative medicine is used in place of conventional medicine. Examples of therapies considered CAM include biologic therapies, such as special diets and herbal supplements, and practice therapies, such as meditation and acupuncture.
In 1997, Americans spent more than $27 billion on CAM therapies, exceeding out-of-pocket spending for all U.S. hospitalizations. In 1998, the Journal of the American Medical Association published an article in which CAM use by the general public was found to have increased from 34% in 1990 to 42% in 1997.
The evaluate the prevalence of CAM use among patients with thyroid cancer, researchers from the Boston University Thyroid Nodule and Cancer Center, used an online anonymous survey to question 1,324 subjects.

80% of participants reported using some form of CAM during the past 12 months. Only 6.6% reported that they did not use CAM
Prayer and multivitamins were the most commonly used forms of CAM; 35.3% used prayer, and 41.8% used multivitamins.
When prayer and multivitamins were excluded from the results, 67.5% of participants used CAM.
After prayer and multivitamins, the most commonly used forms of CAM practice therapies were massage (33.7%), chiropractic therapy (27.9%), yoga (22.3%), meditation (17.8%), and acupuncture (13.6%); commonly used biologic CAM therapies included herbal tea (23.6%), special diets (23.2%), herbal supplements (18.4%), homeopathy (14.7%), and ginger (9.5%).
Most subjects (69.1%) reported that they used CAM to treat symptoms of thyroid cancer, and 30.9% reported that CAM was part of their cancer treatment itself.
During the past year, more than half of patients (54.2%) had used CAM more than 10 times, and the majority spent more than $20 per month on CAM therapies. Some—12.4%—reported spending more than $100 per month.
The majority of subjects (67%) felt that they benefited from CAM, and 31.6% believed it was not effective. A small proportion—1.3%—thought that CAM had been harmful.
CAM use was not always reported to physicians or prescribed by a physician—18% of respondents reported that their physician was not aware of their CAM use and hadn't asked whether they used any forms of CAM.
Use of CAM among thyroid cancer patients appears highly prevalent. In fact, when compared to a survey of CAM use among the general U.S. population, thyroid cancer patients used CAM therapies twice as often. One concerning finding about CAM use in this population is that a significant proportion does not discuss CAM use with their physicians. There are risks associated with some CAM therapies, including negative interactions with prescribed medication, making it critical that patients disclose their CAM use and physicians ask patients about such therapies.
Reference: Rosen JE, Saper RB, Gardiner P, et al. What are your patients using and are they telling you about it? Complementary and alternative medicine use among patients with thyroid cancer: 2010. Presented at the 14th International Thyroid Congress, Paris, France, September 11-16, 2010. Abstract OC-149.
Copyright © 2018 CancerConnect. All Rights Reserved.