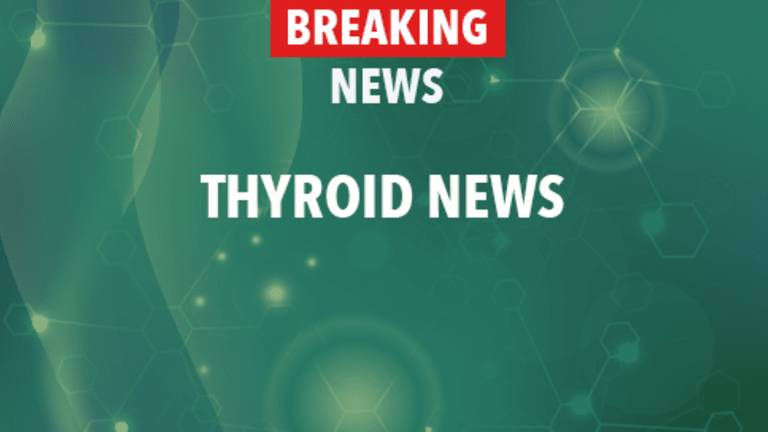 Gene Expression Test Identifies Low-Risk Thyroid Nodules
Gene Expression Test Identifies Low-Risk Thyroid Nodules
A new test measures gene expression in thyroid nodules with inconclusive biopsy results and helps identify low-risk nodules, thereby preventing unnecessary surgeries, according to the results of a study published early online in the New England Journal of Medicine.[1]
The thyroid gland is located in the front of the neck and is attached to the lower part of the voice box (larynx) and to the upper part of the windpipe (trachea). It has two sides, or lobes, that are connected by a narrow neck. The thyroid gland produces thyroid hormones, which regulate metabolism, growth, and development and are essential for life.
Thyroid cancer may be suspected if a small abnormal growth—called a nodule—is found to protrude from the thyroid gland. In these cases, a procedure called ultrasound-guided fine-needle aspiration (FNA) biopsy is used to determine whether the nodule is benign or cancerous. The vast majority of thyroid nodules are benign and FNA biopsy accurately identifies 62-85 percent of these benign nodules. However, about 20-35 percent of nodules have inconclusive results after FNA and surgery is necessary to further examine these nodules. This new test classifies genes from the thyroid tissue obtained through FNA—and could serve to prevent unnecessary surgeries.
The 19-month, multi-center study involved 49 clinical sites, 3,789 patients, and 4,812 FNA samples. After surgical excision, 85 of 265 indeterminate thyroid nodules were found to be malignant. When used on the 265 indeterminate samples, the gene expression classifier correctly identified 78 of the 85 as suspicious. Overall, the gene expression test demonstrated an 85-95 percent negative predictive value in ruling out malignancy.
In an accompanying editorial, J. Larry Jameson, MD, PhD, Dean of the Perelman School of Medicine and Executive Vice President for the Health System at the University of Pennsylvania, observed that the gene expression test can identify low-risk nodules, which could make it possible to avoid approximately 25,000 thyroid surgeries per year.[2]
The researchers concluded that the gene expression classifier could be a valuable new tool for identifying low-risk thyroid nodules—and avoiding unnecessary surgeries as well as lifelong thyroid hormone replacement treatment.
References:
[1] Alexander EK, Kennedy GC, Baloch ZW, et al. Preoperative diagnosis of benign thyroid nodules with indeterminate cytology. New England Journal of Medicine. Published early online June 25, 2012. 10.1056/NEJMoa1203208
[2] Jameson JL. Minimizing Unnecessary Surgery for Thyroid Nodules. New England Journal of Medicine. Published online June 25, 2012. 10.1056/NEJMe1205893
Copyright © 2018 CancerConnect. All Rights Reserved.