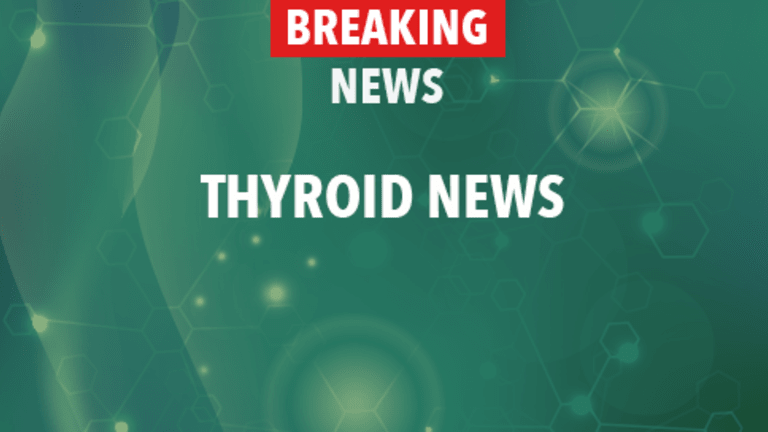 Differences in IMRT Radiation Doses May Complicate Study Results in Thyroid C.
Differences in IMRT Radiation Doses May Complicate Study Results in Thyroid Cancer
Differences between the prescribed dose of radiation in intensity modulated radiation therapy (IMRT) and the dose that's actually delivered may make comparison studies in thyroid cancer difficult to interpret. These findings were reported in the Journal of the National Cancer Institute.
Radiation therapy is often used in the treatment of various forms of cancer. Radiation therapy uses beams of radiation to slow or stop cancer cell growth, which shrinks or eliminates the tumor.
Intensity modulated radiation therapy is an advanced radiation technique that uses computers to control the devices that deliver precise radiation doses to malignant tumors or specific areas of the tumor. Because the surrounding tissues are minimally affected with IMRT, higher, more-effective radiation doses may be delivered to the tumor, with fewer side effects.
Currently, IMRT is approved for the treatment of cancers of the prostate, head and neck, breast, thyroid and lung, as well as for gynecological cancers, brain and liver tumors, lymphomas, and sarcomas.
Although widely accepted as an effective method for delivering radiation, IMRT depends on the software that controls the devices and the treatment machines. Researchers have been concerned that the system may allow for some inconsistencies in IMRT dose prescriptions, treatment planning, dose recording, and dose delivery among cancer patients treated at different medical facilities.
In order to look for inconsistencies in patient care among different medical facilities, researchers evaluated the records of 803 patients who were treated with IMRT between October 2004 and July 2006 at five different medical facilities within the United States. Each facility had a different treatment planning system. Patients were treated for cancers of the brain, head or neck, or prostate. In each case, researchers identified the prescribed dose and the actual dose of radiation received.
Doses were inconsistent among the five institutions.
A total of 46% of the patients received a maximum dose that was 10% higher than the prescribed dose, while 63% of the patients received a dose that was more than 10% lower than the prescribed dose.
Prostate cancer treatment had the least variability in dose, while cancers of the head and neck had the greatest variation.
Overall, the average dose varied from the prescribed dose by 2% in 68% of the patients, 5% in 88% of the patients, and by 10% in 96% of patients.
These variations raise concern about the validity of comparing clinical outcomes among patients who have received IMRT as part of their cancer treatment. The study suggests that broader national or international guidelines for dose prescriptions, planning, and reporting may be necessary to effectively compare clinical trial results for IMRT.
Reference: Das, I., Cheng, C., Chopra, K., et al. Intensity modulated radiation therapy dose prescription, recording, and delivery: patterns of variability among institutions and treatment planning systems. Journal of the National Cancer Institute. 2008. doi: 10.1093/jnci/djn020.
Copyright Thyroid Cancer Information Center on CancerConnect.com
Copyright © 2018 CancerConnect. All Rights Reserved.