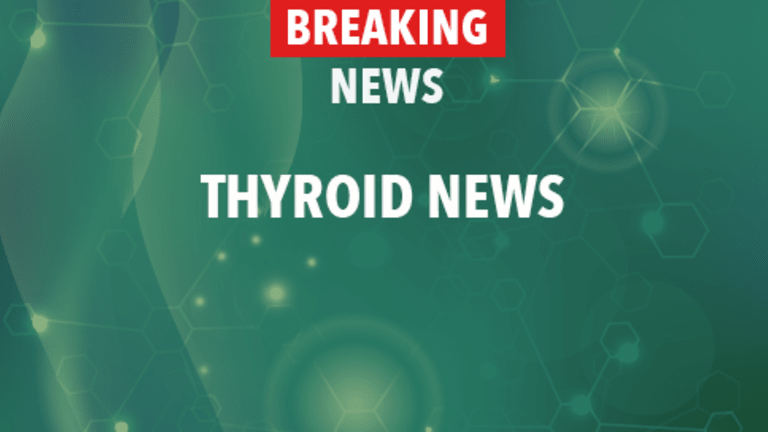 Cabozantinib Shows Benefit in Medullary Thyroid Cancer
Cabozantinib Shows Benefit in Medullary Thyroid Cancer
In a Phase III clinical trial, the investigational drug cabozantinib significantly delayed the progression of advanced medullary thyroid cancer. Detailed results are expected to be presented at an upcoming medical conference.
Medullary thyroid cancers account for approximately 2-3% of all thyroid cancers. These cancers tend to have a somewhat worse prognosis than more common types of thyroid cancer, and up to 25% of cases are thought to be hereditary. When possible, treatment involves surgery to remove the thyroid gland. Conventional chemotherapy has limited effectiveness against medullary thyroid cancer, and there is growing interest in newer, targeted drugs.
Cabozantinib targets specific biological pathways (the MET and VEGFR2 pathways) that contribute to the growth of several types of cancer.
To evaluate cabozantinib for the treatment of medullary thyroid cancer, researchers conducted an international Phase III clinical trial known as EXAM. The study enrolled patients with worsening, advanced medullary thyroid cancer that could not be surgically removed. Study participants were treated with either cabozantinib or a placebo.
Cabozantinib delayed the progression (worsening) of the cancer. Survival without cancer progression was 11.2 months in the cabozantinib group and 4.0 months in the placebo group. The effect of cabozantinib on overall survival is also of interest, but longer follow-up will be necessary before overall survival can be assessed.
More complete results are expected to be presented at an upcoming medical conference.
Reference: Exelixis press release. Exelixis' cabozantinib meets primary endpoint in phase III clinical trial for medullary thyroid cancer. October 24, 2011.
Copyright © 2018 CancerConnect. All Rights Reserved.