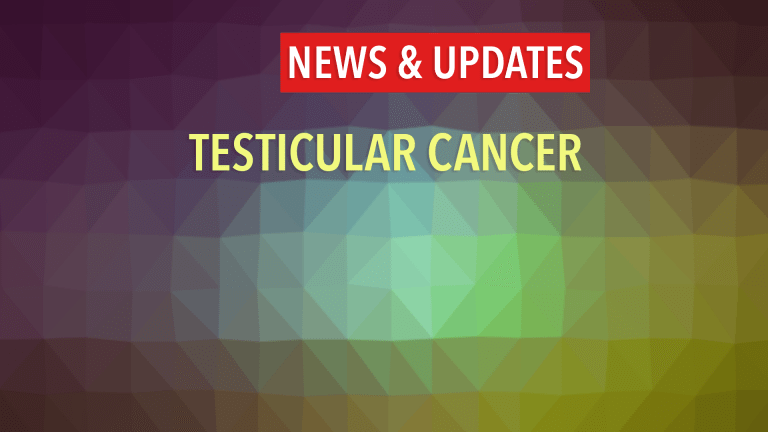 Many Men Able to Father Children After Testicular Cancer Treatment
Many Men Able to Father Children After Testicular Cancer Treatment
According to a study published in the Journal of the National Cancer Institute, men treated for unilateral testicular cancer between 1980 and 1994 were often able to father children after treatment. However, the specific type of treatment influenced the probability of success.
Cancer of the testicles is the most common cancer in men 15 to 34 years old. The testicles are part of the male reproductive system and are located inside the scrotum (a loose sac of skin that lies directly under the penis). Sperm and male hormones are produced in the testicles.
Testicular cancers were among the first types of cancers to be cured by radiation or chemotherapy. Currently, most patients with testicular cancer are cured. Given the young age at which testicular cancer occurs and the high cure rate, long-term survivorship issues, such as the ability to have children, are important concerns for men who have had the disease.
To evaluate the frequency of paternity in men treated for testicular cancer, researchers in Norway assessed 1433 men who had been treated for unilateral testicular cancer between 1980 and 1994. Eight hundred and twenty-seven men had at least one child at the time of diagnosis. Conception after treatment was attempted by 554 men. The probability of success within a 15-year period (without the use of previously frozen semen) was 71%. The rate varied from 48% among men treated with orchiectomy and high-dose chemotherapy to 92% among men treated with orchiectomy and surveillance.
The researchers conclude, "Although the overall paternity rate was high, the ability to conceive and the time to conception reflected the intensity of the treatment."
An accompanying editorial notes that some of these results may no longer be applicable, due to changes and improvements in the treatment of testicular cancer since the early 1990s. Though many of these changes are likely to result in even higher fertility rates, the author of the editorial reminds, "All patients with testicular cancer who wish to maintain fertility…should be counseled and offered the option of sperm banking."
Jonny Imerman, Founder, Imerman Angels& Testicular Cancer Survivor:
If you're going to remove a testicle and then do chemo on top of it – chemo on top of it with the one testicle that you have is what creates this, you know 50% of people can have kids and 50% cannot. And it's actually the chemo that really blasts the one testicle you have. So the guys that never had to do chemo and lost a testicle usually are okay, most of the time. But guys like me, you know, who had five months of chemo, it's like flipping a coin whether you can have kids or not and it is a question that comes up a ton and not just testicular. I mean, we'll see young guys with leukemia, young guys with brain cancer, they've been through all these treatments and they're wondering will I ever be able to have children naturally again.
After I got diagnosed, a doctor who's on top of it, said we really need to do our part as survivors to educate other people on this point. But a doctor, which mine was, he was on top of it, did the orchiectomy, which is a surgery to remove the testicle but he knew when I started chemo there was a good chance I'd be sterile, so he recommended to me- he said, "Look Jonny, you better go in and make sperm, you know." You got to go in four or five times and do it, but we've got to do it before chemo and at least bring it up and give the person the option because you know you're a 26-year old kid, 22 years old, whoever you are, you might be thinking I just want life, but after you get your life back, you are start thinking about having a family, for many people.
So I did go in and I did bank sperm and then as soon as that was done, immediately went into chemo. So I was very lucky. But if the doctor doesn't tell the young guy to go bank sperm, it's really important that we as survivors educate and that's something that the Imerman Angels group can do because when a 22-year-old guy calls us and says, "I've got testicular cancer and I'm going into surgery and then I have chemo" – if that doctor forgets to mention fertility, survivors are going to bring it up. We're going to talk about sexual issues – you know, will it feel the same afterwards, will it be the same? And we're very open to talk about fertility issues, can you have kids or not. I mean, those are things that our survivors can really be spot on, to educate these guys, to make sure they make the best decision to improve the quality of their lives.
Reference: Brydøy M, Fosså SD, Klepp O et al. Paternity Following Treatment for Testicular Cancer. Journal of the National Cancer Institute . 2005;97:1580-1588.
Accompanying Editorial: Saxman S. Doctor….Will I Still Be Able To Have Children? Journal of the National Cancer Institute. 2005;97:1557-1559.