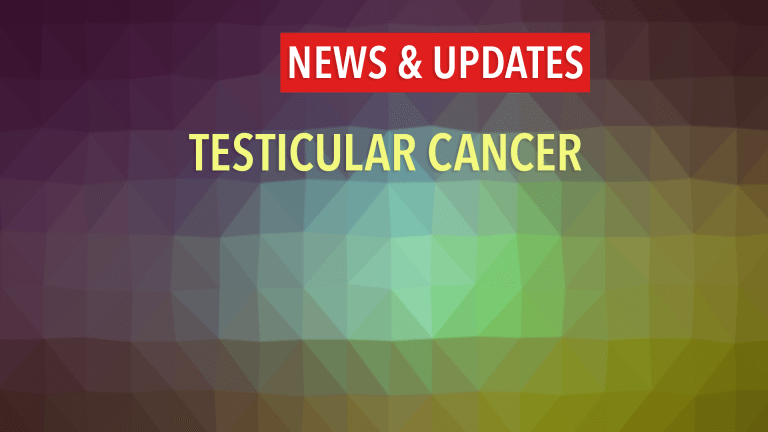 Chemotherapy May Be as Effective as Radiation Therapy after Surgery
Stage I seminoma is a highly curable cancer, with cure rates in excess of 95%.
Treatment usually consists of surgery, followed by radiation therapy to prevent a recurrence, or return, of the cancer. Researchers in Germany now say that another approach to the prevention of recurrences of seminoma after surgery is to administer 2 courses of a chemotherapy drug called carboplatin. They report that this regimen is as effective as the radiation therapy, without the risk of the long-term side effects associated with radiation therapy.
Seminoma is a cancer of the germ cells in the testicle. Most seminomas are of the typical type, which occurs mainly in men 30 to 50 years of age. Treatment options for testicular cancer include surgery, radiation therapy, chemotherapy, and sometimes bone marrow transplant. Treatment of stage I seminoma usually consists of surgery to remove the testicle (called orchiectomy). Because the cancer recurs in approximately 15% of patients, the surgery is followed with radiation therapy. However, radiation therapy can potentially produce long-term side effects, such as the development of a second cancer. Researchers are therefore investigating alternative treatments to prevent cancer recurrences after surgery. One option is for patients to undergo surgery, and then frequent evaluations (surveillance testing) to monitor for any recurrence of cancer. However, German researchers studied another approach, the use of surgery followed by chemotherapy.
One hundred twenty-five patients were treated with carboplatin chemotherapy after surgery for stage I seminoma. Ninety-three patients received 1 course of carboplatin, while 32 received 2 courses. Results showed an 8.6% recurrence rate in persons who received 1 course of carboplatin. All recurrences occurred in the lymph nodes around the aorta, and all were successfully treated with a combination chemotherapy, including cisplatin. There were no recurrences of cancer in the group that received 2 courses of carboplatin chemotherapy.
These findings show that 2 courses of carboplatin are as effective in preventing recurrences of cancer as is radiation therapy for persons who have had surgery for stage I seminoma. Although these results must be confirmed by studies with larger numbers of patients, it appears that carboplatin after surgery could be a better choice than radiation therapy. This treatment option may be a consideration for those who do not want to risk the potential long-term side effects of radiation therapy or the anxiety associated with the frequent surveillance testing after surgery to detect early recurrences of cancer. (Urology, Vol 55, No 1, pp 102-106, 2000).