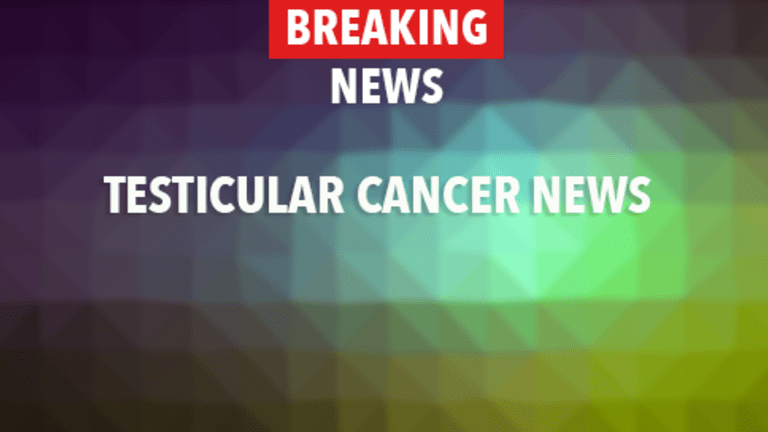 Adjuvant Chemotherapy: New Standard of Care for Patients with Testicular Cancer?
Adjuvant Chemotherapy: New Standard of Care for Patients with Testicular Cancer?
A chemotherapy regimen consisting of 2 courses of carboplatin may be more effective and cause fewer side effects than standard adjuvant treatment in patients with stage I seminoma, according a recent article published in the Journal of Clinical Oncology.
Seminoma is the most common type of testicular cancer, and refers to the type of cell in which the cancer originated. Stage I seminoma means that the cancer is confined to the testicle. This disease is a highly curable cancer, with cure rates in excess of 95%. Standard treatment of stage I seminoma consists of surgery to remove the affected testicle (orchiectomy). Because the cancer recurs in approximately 15% of patients following surgery, additional (adjuvant) treatment is needed to kill cancer cells that may still be present after surgery in order to reduce the risk of a recurrence. Adjuvant therapy usually consists of radiation therapy to the pelvic area or frequent surveillance, during which a patient is closely monitored so that a recurrence can be detected and treated as early as possible.
However, these two strategies are associated with negative long-term effects, which have prompted researchers to investigate alternative treatment options. Radiation therapy is associated with an increased risk of ulcers and the development of a second cancer later in life. Surveillance is associated with anxiety induced by the increased possibility of developing a cancer recurrence, inconvenience with the frequency of follow-up investigations and mounting medical costs.
Results from previous clinical studies have indicated that an orchiectomy followed by 2 courses of carboplatin for patients with stage I seminoma appeared to achieve cure rates comparable to other adjuvant therapies with no long-term side effects. This prompted further investigation into the utilization of this treatment strategy for patients with this disease.

Cooking for Life
A new cookbook offers recipes bursting with flavor and health-boosting nutrients.
Researchers from Austria recently analyzed data collected from their facilities involving over 100 patients with stage I seminoma who were treated with orchiectomy followed by 2 courses of carboplatin. An average of 6 years following this treatment, not one patient has experienced a cancer recurrence. Moreover, side-effects from treatment were mild and temporary.
These results confirm previous clinical studies indicating that 2 courses of carboplatin used as adjuvant therapy may be equivalent to radiation therapy in achieving cure rates with fewer associated long-term effects. Due to these confirmed findings, patients with stage I seminoma may wish to speak with their physician about the risks and benefits of receiving carboplatin as adjuvant therapy (
Journal of Clinical Oncology, Vol 19, No 1, pp 101-104, 2001)
Copyright © 2018 CancerConnect. All Rights Reserved.