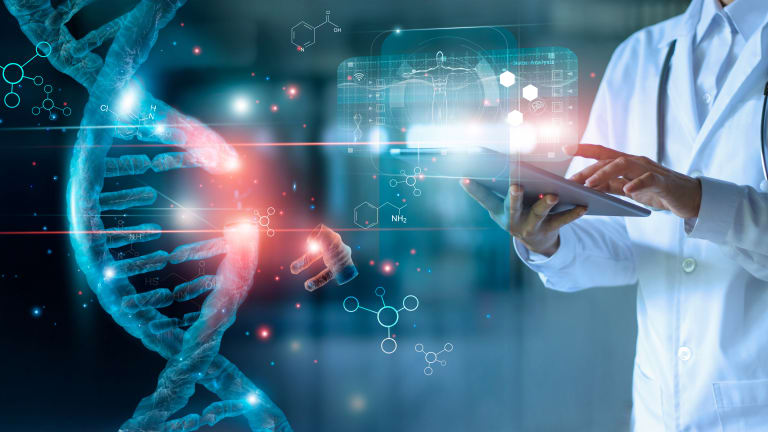 Unraveling a Genetic Legacy
Unraveling a Genetic Legacy
by CancerConnect, Medically Reviewed by Dr. C.H. Weaver M.D. 5/2022
One family's journey through its genetic landscape reveals connections to cancer and highlights the value of ongoing research related to prevention and early detection.
In May 2011 I underwent some routine blood tests with my endocrinologist, the results of which showed elevated blood glucose levels. In response, my doctor ordered a glucose tolerance test for me, which came back normal. Were the elevated levels on the first test just an error? It appeared so, but it got me thinking (once again) about my family's genetic inheritance.
I come from three generations of breast cancer survivors. If you were to line up all of the women on the maternal side of my family—including my grandmother, my aunt, my mother, my three sisters, and myself—only two women in the line would be able to say that they have never been diagnosed with breast cancer and have never had a cancerous breast removed. Those two women—my sister and myself—chose to undergo prophylactic mastectomies roughly a decade ago in a determined effort not to follow the family tradition of battling breast cancer.
Our family's shared destiny is more than coincidence. I and four of my siblings are BRCA2 mutation carriers, which we learned through our participation in a genetic-testing study at the University of Pennsylvania. The knowledge and the insight that this and previous research have offered regarding our genetic legacy have been life-changing—and lifesaving; but, as we learned in 2011, it has been only the first part of our journey.
A New Chapter
There are an estimated 30,000 different genes in each cell in the body. Those genes are packaged into 23 pairs of chromosomes per cell. Each chromosome pair contains one chromosome inherited from our mother and one chromosome inherited from our father. This means that my family's genetic inheritance from my mother's side, including my status as a BRCA2 carrier and our family history of breast cancer, is really only half of my genetic story. It is the other half—our genetic inheritance from my father's side—that has launched a new chapter in my family's ongoing genetic story.
My father died of pancreatic cancer. And while we have no way of knowing whether the cancer was the result of an inherited genetic mutation, we do know that pancreatic cancer is deadly. As I reflected upon those strange blood test results showing elevated blood glucose levels, I felt an inner shift happening. For so long I had focused on my identity as someone with an elevated breast cancer risk. Now, though I had not forgotten my father's battle with pancreatic cancer, I realized that I had not related it to my own health in the way I had breast cancer.
In my family I was the one to pursue and push for genetic testing, and, upon learning that my sister and I carried the BRCA2 mutation, I was the first to undergo a prophylactic mastectomy and oophorectomy. My focus had always been trained on my breasts first and my ovaries second. Once I had prophylactically removed them, I felt confident that I had cheated cancer—until those blood tests.
The test results were a concern to me because elevated blood glucose levels can indicate that the body is having trouble controlling blood sugar levels. In some cases this can be associated with pancreatic cancer. An estimated 10 percent of pancreatic cancers are attributed to genetic mutations, BRCA2 among them. And while the average lifetime risk of developing pancreatic cancer is less than 1 percent, the National Institutes of Health estimates that risk increases four to five times for a person with just one first-degree relative with pancreatic cancer. Considering these factors, my BRCA2 mutation combined with my father's diagnosis means I have an increased risk of pancreatic cancer. What more reason than that would I need to be mindful of that forgotten organ?
When I expressed my concern about pancreatic cancer to a genetic counselor at my local hospital in Florida, she told me about a study at Moffitt Cancer Center in Tampa Bay that is evaluating the use of an endoscopic ultrasound (EUS) scan as a tool for screening patients with an elevated risk of developing pancreatic cancer. I contacted Moffitt and discovered that, as a BRCA2 mutation carrier and someone who had lost a first-degree relative to pancreatic cancer, I was eligible to enroll. My decision to participate in that study has potentially saved not only my life but also my sister's.
My very first EUS scan showed that I had a pancreatic cyst—not something that would be of huge or immediate concern in the average person but warranting a closer look in someone with my genes. After further scans and a biopsy, the cyst was determined to be precancerous (an intraductal papillary mucinous cyst with atypical cells, to be exact). I consulted doctors from Moffitt, the University of Pennsylvania, and Johns Hopkins, and even they didn't agree on the recommended course of action. The options were to undergo a Whipple procedure to remove the head of my pancreas, the duodenum, the gall bladder, and a portion of the bile duct—or to wait and watch. I can do the wait-and-watch thing with a knee injury or the like but not where precancerous cells are involved. I underwent the Whipple procedure and am happy to report that I recovered fully and without complications.
My siblings reacted swiftly upon my undergoing a Whipple procedure. Though cancer has never moved to the back of our minds (two of my sisters are two-time breast cancer survivors and our mother, a 25-year breast cancer survivor, is living with lymphoma), none of us had given enough thought to our risk of pancreatic cancer. Now, though, all chose to undergo EUS testing in their respective geographic regions. Through that process, my younger sister, a two-time breast cancer survivor and the mother of two young children, learned that she has a neuroendocrine tumor. As a result of the EUS test and the early discovery of the tumor, her prognosis today is quite good.
I've always been an advocate of participating in clinical trials. Families like mine owe our ability to cheat, beat, and survive cancer to such research. Whether it's prevention, detection, or treatment, it takes research and research participants to make such progress. As a BRCA2 mutation carrier and a "previvor," I am living testament to the value of clinical trials and cancer research.