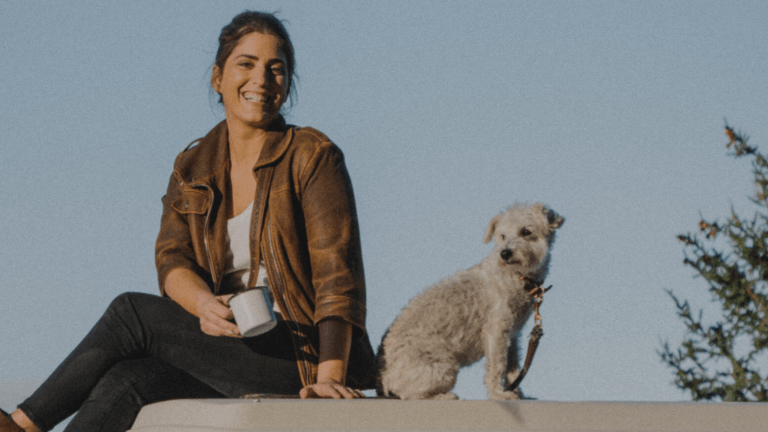 Truth Teller
As a young cancer patient she felt alone, the decision to share her story found a world of support.
by Diana Price
Sleika Jaouad is liv­ing her dream. At 25 she was an Emmy Award–winning New York Times col­umnist living in Manhattan with her rescue dog, Oscar. A fearless storyteller, her work as a journalist has seen her en­ter into intense, terrifying realms to shine light on the experience of life in a war zone; it has conveyed the physical trauma of that place; it has described the heartbreak of watching those she has come to know and love die; it has offered up surprising pictures of joy and light that appear amid the rubble. Most important, Suleika's work has fulfilled the higher purpose of journalism by sharing the truth of those who otherwise may not have a voice.
But the front lines of Suleika's re­porting are not those she dreamed of as an aspiring foreign correspon­dent, and the dream she has been living over the past four years has at times been a nightmare. The lines of the revolution she describes have not been drawn by insurgents or desperate governments; the weap­ons are not the mortars or chemi­cals or bullets she may have thought she would be describing in the writ­ing she imagined doing. The revo­lution this young woman brings to life for her readers is being fought within her own body and in the bodies and the lives of other young people diagnosed with cancer.
At age 22, less than a year after graduating from Princeton, Suleika was diagnosed with acute myeloid leukemia and a rare blood disorder called myelodysplastic syndrome. She has undergone three years of chemotherapy, a harrowing Phase II clinical trial, and a lifesav­ing bone marrow transplant. She has shared much of her journey through her New York Times Well column, "Life, Interrupted," and in the video series that accompanies the column. In so doing she has become a very public face of the adolescent and young adult cancer experience, bringing much-needed attention to the challenges that young adults face as they navigate a diagnosis, treatment, and the re­lated psychosocial issues.
When she describes her decision to report publicly on her experience with cancer, she relates a particu­larly dark point in her treatment when she came across a quote by journalist Amy Goodman: "The responsibility of a journalist is to travel where the silence is." Di­gesting those words, Suleika says, "was my 'aha moment.' Although I couldn't have a normal nine-to-five job like my friends, let alone travel abroad to report on any foreign revolutions, I could report from the front lines of my hospital room on the revolution taking place inside of me. I became determined to put the spotlight on a group of people who are too often enshrouded in silence: young adults with cancer."
After Suleika initially started her own blog, one of her former jour­nalism professors sent a sample of her writing to Tara Parker-Pope, editor of the Well blog at the New York Times, and suddenly Suleika's platform expanded exponentially. Her first column was published during the second day of her bone marrow transplant. Within hours of the article's being posted, Suleika received hundreds of e-mails from other patients, opening up an entire universe of support.
"The feeling of connectedness that I suddenly had with this vibrant online and offline community was life changing," she says. "I even got an e-mail from a young man on the same transplant floor; we were never able to meet because we were both in isolation, but knowing that there was some­ one else on the same floor who was my age and going through the same thing gave me a strength I can't re­ally describe in words."
The impact of her decision to share her experience continues to reverberate both personally and professionally. "When I found out I had cancer, I found not only my voice but an incredible community of people I was able to connect with and speak to daily through social media and in person; some of my best girlfriends are young women with cancer whom I've met through Twitter or in the comments section of my column. There's this entire world that exists online of patients and doctors and advocates who are there for each other to offer sup­port and guidance."

Suleika says that the opportu­nity to connect and to "respond to adversity by becoming an educator and an advocate" inspires her to continue to be open about her story. Having experienced firsthand what it means to not identify with any­one she sees in the hospital waiting room, to feel ripped from the inde­pendence of a life just launching, to struggle to find her place as an adult in her childhood home, she is hopeful that in sharing her own journey she can ease the burden for other young people facing a diagno­sis and offer practical insight that can have a real impact. In particular, she says, she hopes she can empha­size the value for young patients of becoming informed and learning to advocate for their own health.
She learned early on that the si­lence and the isolation that can de­fine the young adult experience can have serious consequences—not only on patients' emotional well-be­ing but on their treatment and sur­vivorship. After her diagnosis, when she was told she would need to begin treatment immediately, she went home and Googled the treatments she was set to begin: "I saw that one of the most common side effects was infertility," she says. "That shocked me because as wonderful and bril­liant as my treatment team was, nobody had mentioned the possibil­ity of infertility to me. It felt like a major breach of trust because, at 22, I hadn't had the opportunity to even begin to figure out whether or not I wanted a family one day." To be po­tentially robbed of the possibility of having biological children at a time when the future already felt so un­certain was a blow. After discussing the issue with her doctors the next day and expressing her feelings, she was able to undergo fertility pres­ervation treatments. But the "what if" of that experience continues to haunt her and underline the way young adults' needs and concerns so often fall through the cracks.
In addition to continuing to pro­mote the importance of self-advoca­cy, Suleika encourages young adults to pay equal attention to emotional self-care. "I wish I had known that, as important as it is to go to your appointments and to remember to take your medication, taking care of your emotional health is crucial," she says. "Too often the emphasis on emotional health gets lost in the frenzy of the diagnosis and treat­ment." Whether it is finding a sup­port group or a therapist or another patient who can help you process the experience, Suleika says, work­ing through the emotional impact of the diagnosis and treatment is critical. "Figuring out who you are and what you want to do as a young person is hard enough as is— with or without cancer."
Part of what makes Suleika's work so compelling and relatable is the "with or without cancer" experience of young adulthood that she shares. She is a young woman with cancer, but she is also just a 25-year-old making her way professionally, in her relationships, in her city. While her column and her other work re­flect the challenges of her diagnosis, they also reveal her humor and the joy she takes in her friendships, her love for travel and fashion, and her puppy. Her candor tells us that there is no question that life with cancer is uncertain and difficult and pain­ful, but it is also rich and happy and funny and full of joy.
Figuring out who she is and what she wants to do with her life is something Suleika herself contin­ues to explore. "Daydreaming about the future is an interesting thing for anyone with cancer because it's a place of both hope and uncertainty," she says. Today, while she is excited to be launching new projects—she is currently at work on her first book, travels frequently as a motivational speaker and advocate, and is the consultant on a new ABC television show Chasing Life about a young woman with cancer—she is also very aware of the more basic, profound accomplishments of feeling well and moving through each day.
"I feel incredibly grateful and lucky to be able to do the work I do," she says. "I'm not sure what the fu­ture holds, to be honest. The truth is that we all have 'life, interrupted' moments, whether you're dealing with a sick parent, a financial crisis, or a bad breakup. Cancer probably won't be the last of my 'life, inter­rupted' moments, but I've learned that the most important thing is to figure out how to cope with the in­terruptions, learn from them, and carry that wisdom forward and grow beyond them—and that's something I'd like to help other young people do, whatever their own personal in­terruption may be."
As Suleika describes her desire to help other young adults who are facing challenges—and her own on­going journey to work through her experiences—the intensity of her feeling is clear: Her voice is shaky at times, and she takes a few long paus­es, gathering herself carefully before she speaks, wanting to share what is true to her in this moment. She is not telling anyone that she has it all figured out—that she has a plan or a method or a mantra that will make it all better. What she is saying is that she is committed to being in the messy middle of it, to shining a light, to being of service—a voice for the voiceless.
Connect with Suleika on Facebook, on Twitter @SuleikaJaouad, and at suleikajaouad.com.