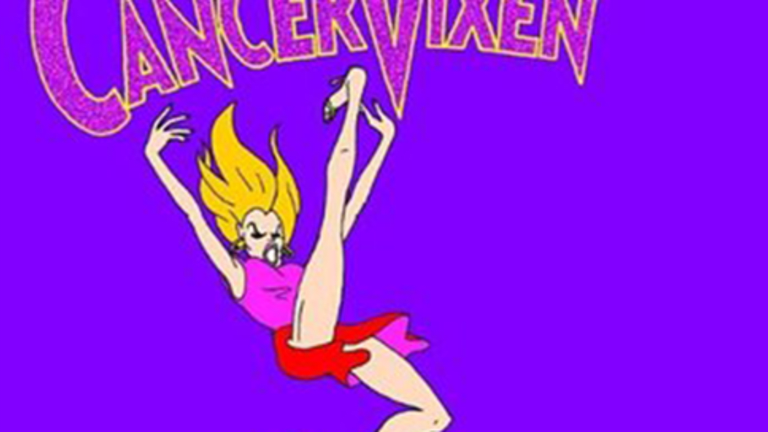 The Word is Vixen Not Victim
Marisa Acocella Marchetto's memoir, Cancer Vixen, tells one woman's story of survival in graphic detail.
The Word is Vixen Not Victim
By Diana Price
Vixen is a big, powerful word. It suits perfectly the kind of woman you might picture striding around New York City in "killer 5-inch heels," and there's no doubt that it's just the thing for a woman who might look cancer in the eye and say, "Cancer, I'm gonna' kick your butt." All of this is why I'm a little surprised when I meet Marisa Acocella Marchetto to talk to her about her recently published graphic memoir Cancer Vixen and discover that the self-described "shoe-crazy, lipstick-obsessed, wine-swilling, pasta-slurping, fashion fanatic, big-city girl" is so, well, little.
But my surprise lasts only until we sit down and start to talk and it becomes clear that despite the fact that Marisa is a petite 5 feet 2 inches, her devotion to the things she loves in her life is huge, and her self-ascribed title in her own memoir is well deserved. She is stylish and smart and warm and could probably kick butt in stilettos or flip-flops. But what stands out most clearly is the passion that drives her work and her life.
"When I first started writing this book, it was really a love story to begin with," Marisa says, describing the way the book's focus was initially the story of her relationship with her husband, Silvano, and the life at his New York City restaurant, Da Silvano, where the two met. Marisa and I meet at the restaurant for our interview, and we sit outside, enjoying an incredibly beautiful late-fall day. Marisa orders us pumpkin soup—served steaming hot, inside a small pumpkin—and Silvano insists that I learn the perfect technique for dipping my Parmigiano-Reggiano cheese in the balsamic vinegar.
The food is delicious, the day is sun-dappled, and it's hard to believe that this is the same restaurant in which Marisa faced down so much female competition that she felt compelled to write a book about it. But her drawings and descriptions in the book tell quite a tale about what it was like to be Silvano's girlfriend in the midst of the popular restaurant's nightly scene, and it's clear that her interaction with the other women affected her deeply. "I wanted to write about how women treat each other," she continues. "I was just really venting. The way for me to get it off my chest was to make [the other women] punch lines."
But, as the saying goes, if you want to make the universe (or your deity of choice) laugh, make a plan. Into Marisa's book plan—and her fabulous life—fell a cancer diagnosis, and the book ultimately became something much bigger, though the love story remained and still drives the story as it obviously does her life.
Cancer Vixen is a remarkable book, a memoir that does include the love story that Marisa initially set out to tell but which also describes in detail her diagnosis and treatment for Stage I breast cancer—lumpectomy, chemotherapy, radiation, tamoxifen—and at the same time lets us in on the resulting personal transformation. "I didn't just want to write about cancer," Marisa says, when we talk about the way the final product is about so much more. What you realize, when you read the book, is that what she wrote about, in the end, is life—which in some cases includes cancer—and it became the story of how one woman's life was changed by her experience.
But to call Cancer Vixen a "story" seems to sell short the wonderful visual images in the book. Because the drawings are also funny and heartwarming and sad and lovely, and they make you think. In addition, the book—both the drawings and the text—functions as a documentary, providing an incredible amount of information to women who are facing a cancer diagnosis themselves. From detailed drawings of Neulasta® shots and chemo ports to drawings and descriptions of each procedure Marisa underwent and images of all the people she met along the way, the reader is truly transported into Marisa's world.

A regular cartoonist for The New Yorker and Glamour magazine, Marisa employed the same method of reportage that she uses professionally when she created the strips for the book: she leaves the house equipped with a camera, a tape recorder, and her sketching materials and, working in essence as a reporter, interviews the people she meets and draws her cartoons later from the photos she took and the sketches she made. The result is a remarkable blend of a firsthand narrative and a cartoonist's singular perspective that makes her form of storytelling truly unique.
And Marisa's cancer story had some unique aspects that only add to its graphic appeal. First, of course, is the cast of characters who populate the drawings: her husband, Silvano, the original hero of the story, who doesn't let her or the reader down as he supports her throughout her ordeal while fending off waifish models and bringing out increasingly more delicious food from the kitchen; her family, headlined by her mother, Violetta, whom she refers to as her "(s)mother" and who accompanies her to all of her appointments and creates a slew of material for both heartwarming and hysterically funny moments; her many friends—referred to as her "BFFs"—who serve as her support group; and her healthcare providers—doctors, nurses, receptionists—all of whom figure into the story and give a clear picture of how important these faces are when you're looking down the scary road of a cancer diagnosis.
And as if the characters and the standard drama of a cancer diagnosis weren't enough to keep a reader turning pages, Marisa's cancer journey is interwoven with her wedding, the stress that results from her lack of insurance at the time of her diagnosis, and her continued work for The New Yorker and Glamour. Marisa insists that the wedding, her work, and all the trappings of her normal life kept her going through treatment. "I really think setting your sights on a goal helps you get through," she says of the way she continued to work and live her life as normally as possible. As she says in the book, "Showing up for my marriage, my career and the people who love and need me was my way of caring."
But Marisa did make changes in her life, perhaps the most significant of which was her decision, early on, to make an effort to rid her life of as many toxic elements as possible. She found spiritual guidance in her Catholic faith and in the teachings of Kabbalah, both of which helped her maintain her focus on the positive. "I just did whatever I could to make myself feel better," Marisa says. "I went to the Kabbalah center. I spoke with Father Jake [her priest]. I just wanted to get rid of all the toxins around me. That included relationships. That included my attitude—because I've always been kind of a pessimist. I really wanted to try to focus on how this was a pivotal moment, and I didn't want anything to get to my chest.
"When I was diagnosed," Marisa says, further explaining her transformation during the journey, "and I saw the sonogram, it looked like a black hole to me. Then Dr. Mills [Marisa's surgical oncologist] said it looked like a pearl. And I thought, You know what, I can go into the negative space—of a black hole—or [I can] look at this like something that just occurred that would be a life-changing event that [will] make me somehow a better person if I [become] a positive person." Having taken her own advice, Marisa now likes to say that she is 100 percent cancer-free and that her negativity is in remission.
Her decision to focus on the positive aspects of her experience also provided her, she says, with renewed "faith in the female community." The community of cancer survivors and women interested in sharing their experiences has offered her an entirely new perspective on how women can support each other.
Marisa remains determined to continue the positive cycle she has begun. Because she has such gratitude for all the ways she feels she was lucky in her experience, she continues to work for the community of women she came to know: part of the proceeds from Cancer Vixen will benefit the Breast Cancer Research Foundation, and part will go toward uninsured women at St. Vincent's Comprehensive Cancer Center, where Marisa received treatment.
"I feel like I won my battle today," Marisa says, "but the war has still not been won." Despite the work ahead, one thing is clear: with Cancer Vixen Marisa has given women on the front lines a remarkable gift—not only the opportunity to watch one of their fellow survivors kick cancer's butt (in beautiful shoes) but also the wonderful benefit of laughing quite a lot along the way.