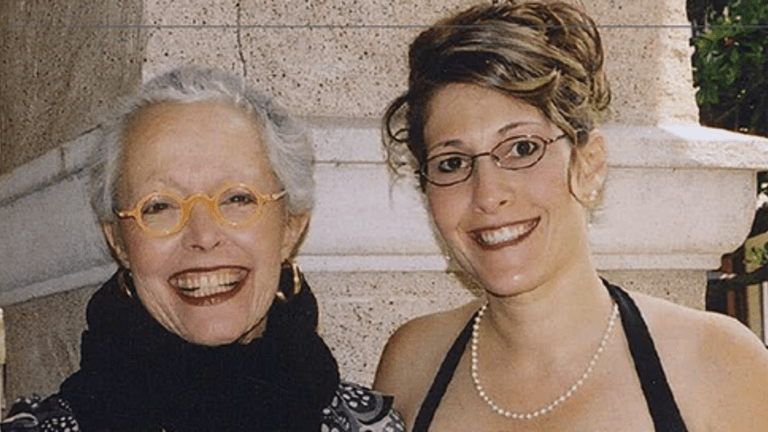 The Light Within
The Extraordinary Friendship of a Doctor and Patient Brought Together by Cancer
The Light Within: The Extraordinary Friendship of a Doctor and Patient Brought Together by Cancer
A doctor and a patient create a connection that enriches both in The Light Within: The Extraordinary Friendship of a Doctor and Patient Brought Together by Cancer.
By Diana Price
The first meeting between gynecologic oncologist Lois M. Ramondetta, MD, and ovarian cancer patient Deborah Sills did not go well: Dr. Ramondetta was awakened from a too-brief sleep to attend to Deb, who had refused to drink a necessary presurgery laxative. A battle of wills ensued, which Lois ultimately won. That could have been the end of the story—many doctor/patient relationships progress no further—but in this case both women recognized something in the other that would ultimately build a transformative connection and result in The Light Within (William Morrow, 2008), a memoir of their extraordinary friendship.
The book, written jointly and published after Deb's death from ovarian cancer in 2006, follows the story of their meeting at M. D. Anderson Cancer Center in Houston and their subsequent friendship, which ultimately spanned eight years and several continents as the women grew to know each other, traveled and wrote together, and explored issues surrounding what it means to be a doctor, a patient, a mother, a wife, and a spiritual traveler and, ultimately, to face death.
For Deb, a religious studies professor whose illness had awoken in her a desire to truly engage in the pleasure of dialogue and connection, Lois represented an opportunity for insight and friendship. She was, Deb wrote, "Fast talking, beautiful, funny, and smart.… She remained interested in all things religious and seemed sure of a connection between healing the body and healing the spirit."
For Lois, Deb was similarly intriguing: "She was impossible to resist. And it went beyond charisma. There was something inside her that really pulled you in." As a physician, Lois was aware that forming a friendship with a patient was complicated. "I used to wonder if I was crossing some ethical line by allowing myself to become so close to her, and it worried me." But in examining the issue closely, Lois found that the details of their situation ensured that their relationship would not interfere with Deb's treatment or pose any ethical dilemma. As a result, the two women were able to move beyond the immediate, physical reality that had brought them together as physician and patient and connect in a very profound way.
Though the serious nature of Deb's illness was an ever-present reality during the years of their friendship, the book makes clear that the focus of their time together, and of Deb's years after her diagnosis specifically, was very much on living and on the relationships and the intellectual passion that fueled the lives of both women. In creating a record of their connection and of their shared—and individual—experience of Deb's illness and treatment, they allow the reader a glimpse of the possibilities of deep friendship, the beauty of real human connection, and the value of open, intellectual dialogue between friends and between a physician and a patient.
Here, Lois answers some questions about The Light Within and the friendship that inspired the book.
Why was it important for you to write this book?
Writing this book became our "reason" to get together—even if we didn't need a reason! Looking back it was important for so many reasons: It was a way of immortalizing our friendship and immortalizing Deb. It was also a form of therapeutic "narrative medicine." It was a way to revitalize ourselves by getting our thoughts on paper and then be given the honor of having a friend reflect on the words.
Can you speak to Deb's motivation?
Deb's motivation was partially the above—we each respected the other so much, and this was a way of sharing ourselves even more. In addition, cancer had significantly abbreviated not only her life but also her career [as a religious studies professor]. The fatigue and the treatments took away from the energy she had intended to give her teaching and reflection in the field of world religions. Writing this book was also an academic exercise that allowed her to reflect on her situation and incorporate it into her teachings.
Your relationship with Deb developed into something beyond a "standard" doctor/patient relationship relatively quickly. What made you willing—or anxious—to take what must have been a personal leap to go above and beyond and launch a personal relationship?
I was a fellow when I met Deb, so I was not her primary doctor; in fact, almost no one was her primary, which was very unusual. She had medical oncologists in California and in Texas; she had a surgical oncologist and a bone marrow transplant doctor also in Texas; and then she had me—a fellow [gynecologist specializing in oncology] just starting my fellowship when we met—to try to help her tie it all together. I was anxious about going too far—possibly overstepping the boundaries set by the other docs. Also I was cautious, knowing I was less experienced than all the docs involved and did not want to say the wrong thing. However, she was giving me a perspective on what I was learning, feeling, and thinking about the issues patients deal with and what they wanted from a doctor. This was especially helpful when the situation seemed sometimes so grave.
How did your friendship with Deb, and the journey you took in writing this book, change your own ideas about physician/patient relationships?
It is emotionally trying and physically trying to be close to someone who has cancer. This is true for any person—a husband, a child, a parent, or a friend. One of the careful balances for physicians is to know the patient, appreciate her, and help her make informed decisions—not only as the provider of the medical information but as one with the opportunity to really get to know her and what gives her life meaning. I try very hard to know the women I work with and to help them without projecting my own fears and desires into their situation. It is hard, and it is a journey I continue grown and learn from.
As you and Deb engaged in discussions about the intersection of spirituality and illness, did you find your own ideas about the topic changing? Did the friendship or the experience of writing the book change or influence any of your ideas in that area?
Yes and no. Spirituality for me has always been a journey—shaped by experiences, different levels of maturity, people I meet, and philosophies I encounter. I miss having someone to talk to at the depth I did with Deb. However, I know my journey is ongoing. What I have begun to realize now is that giving oneself to a faith is as much a conscious decision as is the action of questioning. There are times in one's life that faith is essential to arrive at a state of peace.
Does your own spiritual practice or belief system help you face the inevitable losses that you experience in your work?
I do believe in a greater force but also in an interconnectedness of energy in the world that helps us to live eternally through memories and actions in our lives. I have times of great sadness, but in a silly way I am comforted by a quote I saw recently (not sure who said it): "Everything will be okay in the end; if it is not okay, it is not the end."
How does your friendship with Deb continue to influence your work with patients—the relationships you develop and the connections you create?
Knowing Deb reminded me of the depth of a person that could be overlooked if one does not spend the time and ask the right questions when meeting a patient. It is hard to go from patient to patient, concentrating on their medical histories and their treatment plan and yet also remember to try to step back each time and ask them who they really are when they are not dealing with cancer. My life has been enriched by all these women and their experiences and their friendships. The potential for mutual growth as human beings is limitless.
What would you hope that women facing a cancer diagnosis might gain from reading this book that would help them on their own journey?
I want them to see that although cancer most certainly is not a gift, it does (as all life changes do) present opportunity—opportunity for existential growth, existential friendships, and possibly even a "big life"—bigger in the sense that meaning is restored, treasured, and savored.