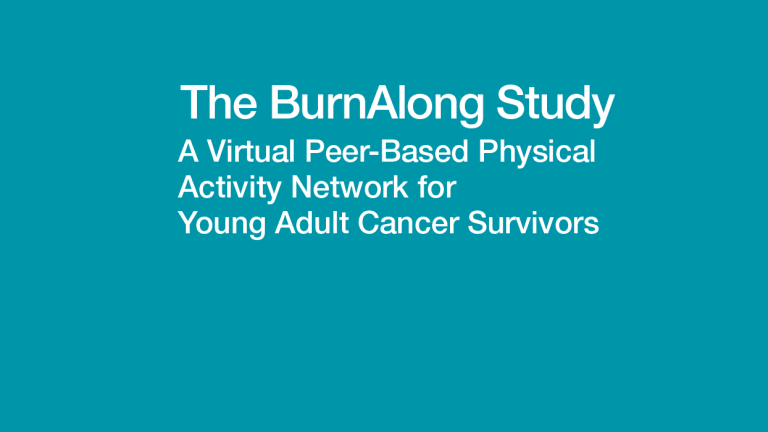 The BurnAlong Study
A Virtual Peer-Based Physical Activity Network for Young Adult Cancer Survivors
Who can participate?
Survivors of adolescent and young adult (AYA) cancer who are currently 18-25 years old.
What?
Survivors will participate in a virtual physical activity
program and a social networking platform, BurnAlong
Survivors will be asked to exercise with a friend or family member of their choice for 12 weeks

Partners can choose which exercise classes they wish to take
Each participant will receive a FitBit to monitor their movement and sleep patterns
Participants will be asked to complete virtual fitness assessments, surveys and one-on-one interviews
Why?
We would like your input and participation to help us learn:
How to best support the long-term wellbeing of AYA survivors through physical activity
How peer-based virtual physical activity and social networking can impact survivors' quality of life
Interested?
If you would like a study team member to provide you with more information, please provide your contact information on the form linked below https://iredcap.csmc.edu/surveys/?s=RH3YXLF8YHNH9D4E
For more information, contact the principal investigator, Celina Shirazipour, PhD, at celina.shirazipour@cshs.org
Click here to view the flyer.