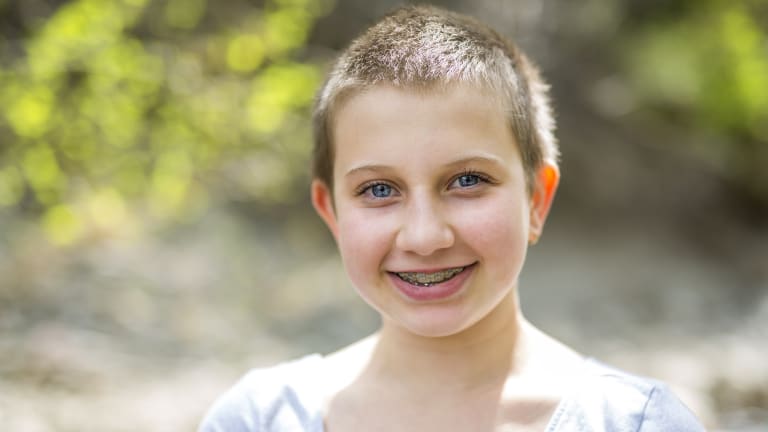 Teens Take on Cancer
Teens Take on Cancer
by CancerConnect, Medically Reviewed by Dr. C.H. Weaver M.D. 4/2022
When a parent is diagnosed with cancer, teens can benefit from the hard-won firsthand knowledge of those who have been down the same road.
For all but a very lucky few, being a teenager is tough duty. Stressors related to school, social life, and family dynamics converge in a perfect storm, just as you're working out who you are and what you want in life. This is not news for anyone, right? Now imagine that a parent's cancer diagnosis is thrown into that mix. Yikes.
Difficult at any stage of life and under any circumstances, coping with a parent's diagnosis presents a unique set of challenges for young adults. Now, thanks to father/daughter duo Marc and Maya Silver, there is a toolbox in the form of their joint project, My Parent Has Cancer and It Really Sucks: Real-Life Advice from Real-Life Teens, to provide some much-needed insight and support. The fact that the book includes the perspective of Maya, who was 16 when her mom, Marsha, was diagnosed with breast cancer, and Marc, who saw his wife and his two daughters through Marsha's cancer journey, provides a valuable depth of experience. The insight from other teens who have also been through the fire adds authenticity and valuable real-life knowledge, and the advice from experts and practical tips all combine to create a one-stop shop for young adults facing a loved one's diagnosis.
Here, in an excerpt from the book, Marc and Maya address the value of ongoing communication between parents and teens throughout the cancer journey.
How to Keep Talking… Even If It's in Writing
Talk with your parents to figure out what kind of communication works best for your family. Some of the options:
The family meeting. If your family has always had family meetings to discuss important stuff, then keep it up. A short family get-together is a chance for parents to update the kids about what's going on with doctors' visits and the like. Figure out how often you want to meet. Once a week or every two weeks might be okay, depending on your parent's treatments. Maybe you could combine family meeting night and pizza night to lighten the mood. Some families create a "Putting Cancer in Its Place" time during the week—say, Sunday dinner, says psychiatrist Karen Weihs.
Regular updates. Both parents and kids should be flexible. If something important happens in treatment, for good or for bad, the parents might call the family together to catch up. Part of the meeting is what social worker Kathleen McCue calls "information passing": Here's what happened at the doctor's. Here's a new treatment plan. Here are some things that have come up about Mom's cancer since the last time we talked.

Keep in mind. A meet-and-chat is just not the way some families work. What's more, an announcement from Mom and Dad that "Tonight we will have our first family meeting ever in the history of the family" could cause a panic attack. Everyone will think that something must be horribly wrong! If your family hasn't been into meetings before cancer, talk about whether you want to start family meetings during the months of treatment, or whether your parents can find other ways to keep everyone in the loop. You can jot down any questions you have before the family get-together so you'll remember to ask them.
Car talk. Something magical happens when your mom or dad is driving and you're the passenger. You talk about stuff. Maybe that's because you don't have to look at each other. So think of the family ride as a vehicle for more than just transportation. Drives can be an opportunity for the parents or kids to deliver information, ask questions, and just catch up about lots of stuff—from the latest news on how chemo is going to the latest gossip from the halls of the high school.
Text and e-mail. Sometimes it can be tough to ask questions in person. If your parent is responsive to e-mail or text, don't be afraid to write them a note or let them know that it's okay to text you a quick "thumbs-up" after a doctor appointment.
Messages on a board. Set up a whiteboard and marker, or some variation, in a corner of the house where everyone hangs out. You can scrawl questions or comments. Mom or Dad can write answers. If you don't want to ask out loud, this might work better for you. You and your parents never even have to be in the same room at the same time—and you're still communicating!
Notebook exchanges. This is a somewhat less public version of the whiteboard. Keep a notebook or journal on a table in the kitchen, the dining room, or the entry hall. You and your siblings can write anything you want in the notebook. Each day, if possible, Mom or Dad will read the latest entries and respond to your questions and comments.
Post-it notes. This minimalist approach may be just fine if you're a minimalist kind of teen. Your parents can leave Post-it notes with updates in a place where you will see them: bathroom mirror, refrigerator door, front door. Maybe something like: "Dad has chemo today. I'll be with him, so carryout dinner tonight."
"Sometimes teens find it easier to communicate with that minimal amount of information," says social worker Barbara Golby. It's not too much. It's just enough. You can leave Post-it replies and comments if you wish. Or not.