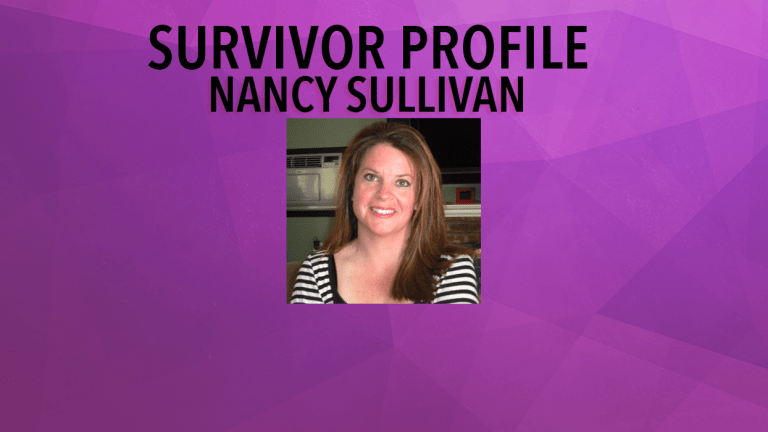 Survivor Profile Nancy Sullivan
Survivor Profile Nancy Sullivan
In our recurring series of survivor profiles, Women interviews a different survivor each quarter to hear how women at various stages of managing a cancer diagnosis have approached their situation. We hope these personal glimpses of the strength and the diversity among women living with cancer will inspire our readers.
Nancy Sullivan
Briefly describe your diagnosis and treatment.
I was diagnosed with triple-negative breast cancer with sentinel node involvement in February 2008. I had a lumpectomy, during which doctors removed an 8 millimeter (mm) tumor from my breast and 11 nodes—of which the sentinel node had a 2 mm spot. After magnetic resonance imaging (MRI) and computed tomography scans, multiple gated acquisition testing, and bone scans, I received four cycles of Adriamycin® (doxorubicin) and Cytoxan® (cyclophosphamide) and then received four cycles of Taxol® (paclitaxel). Following chemo I spent the entire summer enduring radiation (39 treatments in all).
What was your age and health status at the time of diagnosis?
I was diagnosed at the young age of 37 and was in what I consider good health. I ate healthfully, was not overweight, and was an avid walker.
Did you have a family history of this disease?
No.
How did your diagnosis affect your work and family life?
My work was affected only on the days that I received chemo, which was every Thursday, so I did not miss much work at all. My family life changed the most—there were moments when I wanted to curl up, but I knew that my kids needed to see that I was strong and could fight this battle. My weekends were spent resting, which was tough for them, but everyone was very patient and supportive of me. I tried not to let it affect me!
Where did you turn for emotional support following your diagnosis?
I turned to my family and many friends for support. I also relied on my kids for support; their constant hugs, their rubbing of my bald head, and their desire to make sure I always had what I needed helped me get through.
What did you learn from your cancer experience?
I learned to live for the day! Too many people talk about the what-ifs in life and forget to live and be happy in the moment. I also learned to take it all in, especially when watching my children play sports or dance on-stage. I cry more often because of the fear of missing milestones, but I really appreciate the ones that I am here for now.
What is your current health status, and how often do you receive follow-up care?
Currently, my health (knock-on-wood) is good! I follow up with my breast surgeon and my oncologist every three months and have mammograms and MRIs routinely, as well.
Do you have any tips to offer newly diagnosed patients?
My biggest tip would be to keep your eye on the prize: the end of treatment. When people offer help, take it; and when you can finally turn around and help someone yourself, do it! Laugh, smile, and appreciate life even during treatment—it's likely that someone is watching you closely and will be inspired by your courage. Let others learn from you like I hope my children did!