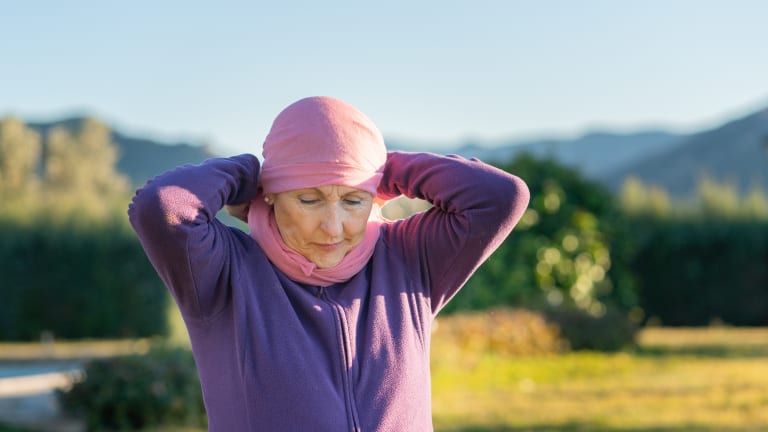 Survivor Profile Jackie Dandridge
Briefly describe your diagnosis and treatment:
by CancerConnect, Medically Reviewed by Dr. C.H. Weaver M.D. 5/2022
In January 2003 I began having to urinate what seemed like every ten minutes.  Since I thought that I had a bladder infection, I made an appointment with my gynecologist.  He did a Pap smear and a biopsy of my uterus.  The biopsy came back normal, but the Pap smear showed some irregular cells. I was told to return in three months.  During that time I experienced constant constipation, swelling in my belly, fatigue, weight loss, and some pain.
As part of my second visit, I underwent a CT scan. That testing resulted in a diagnosis of Stage II ovarian cancer. Upon hearing the diagnosis, I was in disbelief.
I was then referred to a gynecologic oncologist.  On July 8, 2003, I underwent a hysterectomy and was also given a colonoscopy bag.  Thankfully, the bag was able to be reversed seven months after surgery.  My treatment began six weeks following my diagnosis. It consisted of six rounds of chemotherapy (carboplatin and Taxol) every three weeks, during which time I experienced extreme fatigue, some muscle pain, loss of appetite and depression.
What was your age and health status at time of diagnosis?

I was 53 at the time of my diagnosis and in great health.
Did you have a family history of this disease?

No, as a matter of fact I had never even heard of ovarian cancer!
How did your diagnosis affect your work and family life?

I did not work during treatment. I was divorced at the time, and I do not have any children. I relied on my mom, my sister, and several friends for support.  They helped me so much that I always referred to them as "Jackie"s Angels".  I could not have gone through everything without their support.
Where did you turn for emotional support following your diagnosis?

Family and friends rallied around and spoiled me beyond belief.  I never had to cook, clean house, or worry about getting to treatments or doctor's appointments. In addition, my work with my local (Pittsburgh) chapter of the National Ovarian Cancer Coalition (NOCC) was a God-send for me.
What did you learn from your cancer experience?

Even though being diagnosed with ovarian cancer was a scary thing at first, I gained a new respect for how much I am loved.  In addition, I learned that I could help others with the same diagnosis through my involvement with the NOCC Pittsburgh chapter, by joining the NOCC speakers' bureau, and by volunteering for our annual Ovarian Cancer Walk. These activities have allowed me to share my experiences and to educate others about ovarian cancer.
What is your current health status and how often do you receive follow-up care?

I am doing fantastic and am now scheduled to see my doctor every six months for follow- up.
Do you have any tips to offer newly diagnosed patients?

The most important thing is to find a gynecologic oncologist once you're diagnosed with ovarian cancer.  Also, it is really important to always take someone with you to doctor's appointments and to write down any questions you may have for the doctor.  It is also helpful to remember that no two people are alike, especially when it comes to how one will react to chemo.  Finally, I would advise one to keep a daily journal as they go through their journey, to take daily walks, maintain a healthy diet (which should include drinking plenty of fluids), and, above all, maintain a positive attitude.