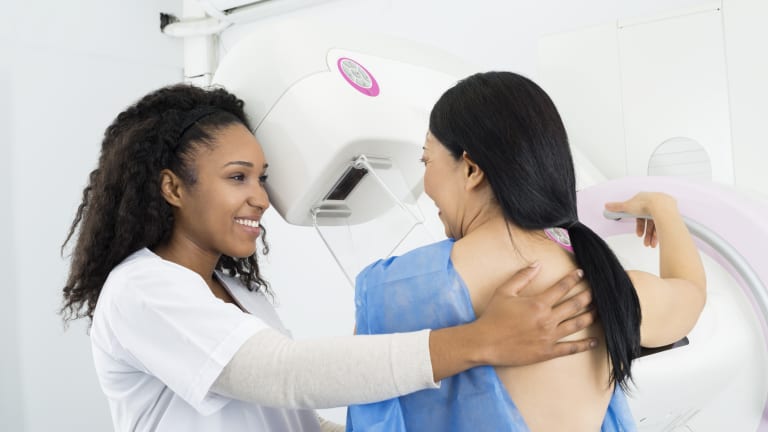 Cancer Screening Saves Lives!
COVID-19 led to millions of missed screenings and tens of thousands of preventable deaths.
by Dr. C.H, Weaver M.D. updated 2/2022
The response to the COVID-19 pandemic disproportionately impacted individuals with cancer and those at risk and the impact of the pandemic response will have long lasting effects. According to a just released report by the AACR there was an 11% increase in patients diagnosed with inoperable or metastatic cancer from March to Dec 2020 compared to the previous year because of impaired referrals for preliminary cancer diagnosis. Moreover nearly 10 million cancer screenings were missed in the first 6 months of 2020 alone. A modeling study released but the NCI estimated that there will be over 10,000 preventable deaths form colon and breast cancer in the next 10 years – others estimate it could be as high as 35,000. Four times as many Americans will die from cancer in 2021 than those projected to die from COVID-19.1-3 
Disruptions brought by COVID-19 have effected almost all aspects of cancer prevention and treatment yet early detection with well-defined screening programs can be safely accomplished during the COVID era and should not be deferred or postponed.4-6 The American Cancer Society and the National Comprehensive Cancer Network joined together to remind ALL Americans to resume appropriate cancer screenings and treatment to avoid excess deaths.17
The goal of cancer screening is to find disease at early stages in people who are otherwise asymptomatic—before it causes symptoms and when it may be more easily treatable. The COVID pandemic has disrupted normal screening programs and many cancers continue to go undiagnosed leading to a rise in mortality from cancer - most notably for breast and colon cancers.7-12 It is estimated that the disruption of cancer screening combined with social isolation measures has significantly decreased the early detection of treatable breast, colon, and cervix cancers.13-16
Screening programs are recommended (or not), for populations as a whole, and it is important to realize that not all screening programs—or recommendations not to screen—apply to every person. People who have a high risk of a particular disease—because of a known genetic predisposition, family history, or an associated disease process—may be recommended to undergo a different regimen of testing compared with persons who are at average risk. Also, not every physician will recommend every known screening test for every suitable patient. Being aware of the current recommended guidelines for cancer screening will encourage you to stay healthy, get regular checkups, and work with your doctor (usually your primary care physician) to get appropriate screening tests.
Screening Recommendations for Cancer
Cancer screening guidelines are well defined for the early detection of several types of cancer. As researchers better define the genetics of cancer simple blood tests will likely begin to replace current protocols and early detection will begin to expand to hard to detect cancers.
For example pancreatic cancer has been a recalcitrant disease to treat, as most patients are diagnosed with advanced disease and not amenable to surgical resection. As has been the case with other cancers such as breast and colon cancer, early detection is key to improved outcomes. It is time for increased attention to new, more effective strategies for early detection of pancreatic cancer and to better determine who is at elevated risk. Learn more about advances in the early detection of pancreatic cancer.
Cervical Cancer
Age 25-65, women should undergo human papillomavirus (HPV) DNA test every 5 years. PAP test no longer recommended. Learn more here....
Breast Cancer
Several organizations provide screening guidelines that are often in conflict with each other leading to confusion but in general...
Age 30
Women should be aware of the look and feel of their breasts and report any changes to a care provider as soon as possible. Breast self-exams may help women become familiar with their breasts but are not recommended as a screening tool.
Age 40
Women at average risk should have annual mammograms and continuing for as long as the woman is in good health. Recommendations are undergoing a bit of controversy right now-make sure you discuss with your doctor. ACS guidelines.....
Colon Cancer
Age 45, people of average risk should undergo the following:
Fecal occult blood test (home multiple sample kit) annually
Fecal immunochemical test (home multiple sample kit) annually Or one of these tests: Flexible sigmoidoscopy every five years Colonoscopy every 10 years Double contrast barium enema every five years Computed tomography colonography every five years Learn more about colonoscopy screening for colon cancer. In depth guidelines for colon cancer screening for average and higher risk individuals.
Skin Cancer
Regular examination of the skin by all people (as well as by their doctor during checkups) will increase the chance of finding skin cancers early. Monthly self-examination of skin will make people familiar with their own natural pattern of moles and birthmarks and help them find any change in skin lesions, which should be reported to a doctor. Regular skin checks by a doctor are indicated for people who already had skin cancer. Take control and self screen for skin cancer.
Lung Cancer
Individuals at risk of developing lung cancer should undergo regular evaluation with low dose CT scanning. Learn more.
Oral Cancers
Visual screening for oral cancers should be considered in high risk individuals. Learn more ..
Screening During COVID-19
Don't delay cancer screening - talk to your health care provide to understand how screening is being conducted in your community,.
Every community is unique. Depending on the severity of the COVID-19 pandemic in your area, policies may differ. Some health care facilities may be open during regular hours, while others may be operating only on a part-time basis. This may impact the availability of time slots for your screening.
Understand that alternative testing options may be available. Although mammography, colonoscopy, HPV testing and lung cancer screening require in person visits no-contact options do exist. Fecal occult blood testing or stool DNA testing (Cologuard) for colon cancer requires collecting a stool sample at home and mailing it to your doctor. Skin cancer screening can be achieved with telemedicine by simply taking photos of anything new, changing or unusual skin lesions and sending them to your doctor.
Resources:
References:
Siegel R, Miller K, Jemal A. Cancer statistics, 2020. CA Cancer J Clin. 2020 Jan;70(1):7–30. doi: 10.3322/caac.21590.
COVID-19 forecasts. Centers for Disease Control and Prevention. 2020. [2020-09-01].
Ren X, Chen B, Hong Y, Liu W, Jiang Q, Yang J, Qian Q, Jiang C. The challenges in colorectal cancer management during COVID-19 epidemic. Ann Transl Med. 2020 Apr;8(7):498–498. doi: 10.21037/atm.2020.03.158. doi: 10.21037/atm.2020.03.158.
CovidSurg Collaborative Elective surgery cancellations due to the COVID-19 pandemic: global predictive modelling to inform surgical recovery plans. Br J Surg. 2020 Jun 13;107(11):1440–1449. doi: 10.1002/bjs.11746.
American Association for Cancer Research COVID-19 Hits Cancer Research Funding. Cancer Discov. 2020 Apr 24;10(6):756–756. doi: 10.1158/2159-8290.cd-nd2020-007.
Institute of Medicine (US) and National Research Council (US) National Cancer Policy Board. Curry Susan J, Byers T, Hewitt M. Fulfilling the Potential of Cancer Prevention and Early Detection. Washington DC: National Academies Press (US); 2003.
Myers ER, Moorman P, Gierisch JM, Havrilesky LJ, Grimm LJ, Ghate S, Davidson B, Mongtomery RC, Crowley MJ, McCrory DC, Kendrick A, Sanders GD. Benefits and Harms of Breast Cancer Screening: A Systematic Review. JAMA. 2015 Oct 20;314(15):1615–34. doi: 10.1001/jama.2015.13183.
Ladabaum U, Mannalithara A, Meester RG, Gupta S, Schoen RE. Cost-Effectiveness and National Effects of Initiating Colorectal Cancer Screening for Average-Risk Persons at Age 45 Years Instead of 50 Years. Gastroenterology. 2019 Jul;157(1):137–148. doi: 10.1053/j.gastro.2019.03.023.
The American Society of Breast Surgeons. 2020. Mar 26, [2020-09-01].
Falco M. Common questions about the new coronavirus outbreak. American Cancer Society. 2020. Oct 12, [2020-10-19].
ASCCP interim guidance for timing of diagnostic and treatment procedures for patients with abnormal cervical screening test. American Society for Colposcopy and Cervical Pathology. 2020. Mar 19, [2020-09-01]
ASBrS and ACR joint statement on breast screening exams during the COVID-19 pandemic. The American Society of Breast Surgeons. 2020. Mar 26, [2020-09-01].
Falco M. Common questions about the new coronavirus outbreak.. American Cancer Society. 2020. Oct 12, [2020-10-1
ASCCP interim guidance for timing of diagnostic and treatment procedures for patients with abnormal cervical screening test. American Society for Colposcopy and Cervical Pathology. 2020. Mar 19, [2020-09-
Preventive cancer screenings during COVID-19 pandemic. Epic Health Research Network. 2020. [2020-09-01]

https://www.healio.com/news/endocrinology/20191025/women-with-diabetes-forgo-breast-cervical-colorectal-cancer-screenings