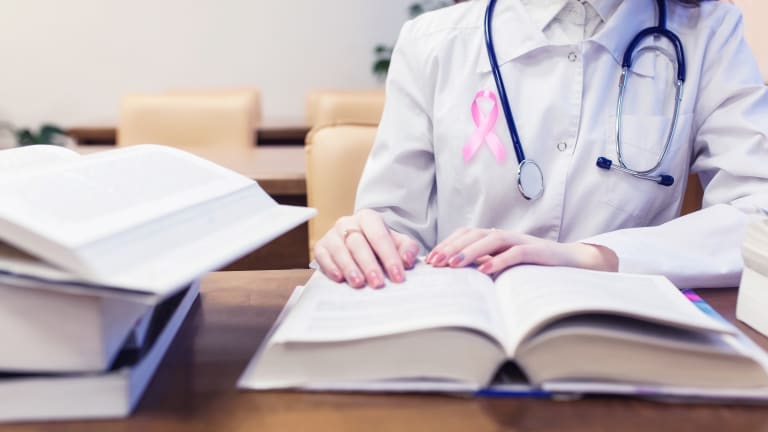 She Wrote the Book... on Advanced Breast Cancer
Have you read up on your breast cancer?
by CancerConnect
Having experienced firsthand the need for a comprehensive resource for women facing breast cancer recurrence, one survivor makes it her personal mission to bring the necessary information to patients.
I was diagnosed with Stage II infiltrating ductal hormone-positive breast cancer when I was 42. When my gynecologist guided my hand over to the tumor, my fingertips touched a lump unlike any other I had felt before—unmistakably foreign, like a marble suspended in my flesh. When, shortly after the surgery, the doctor called my home with the biopsy results, I felt ushered into an alternate reality. I slunk down onto the beige carpet that hot June afternoon and sobbed while my cats rubbed their heads against my legs.
In the wake of the diagnosis, I brought all the external and internal resources I could muster to move forward. I wanted to be sure that I made decisions about my cancer that would enhance my well-being. To that end I embarked on a crash course to educate myself on both traditional and alternative therapies. As a result of my investigations, I was thoroughly informed when I went to my appointments, and I could move to the "next" questions.
For example, as a result of what I learned, I asked my surgeon if he could spare certain nerves when conducting the lymph node dissection. When I learned the size of my tumor and the lymph node involvement, I was able to stage my cancer and anticipate my treatment regimen, even looking up statistical information to decide if I was willing to submit myself to certain harsh medications. Before being told that my chemotherapy regimen would likely induce menopause, I already knew that the cessation of my menstrual cycle would be a consequence.
I greatly appreciated having this information in advance of seeing my oncologist so that I could mourn losses in private and remain clear headed as I listened to what she was saying. I felt more in control, able to hold an intelligent conversation and participate in my care. I developed a curiosity about my disease that led me to appreciate my doctors' expertise and develop more confidence in my own choices.
A Recurrence Scare
Consequently, I felt particularly disempowered when two years after my initial treatment, believing my breast cancer had spread to my lungs, I could not find authoritative, detailed medical information about late-stage breast cancer.
For many months I had believed that I was experiencing symptoms of metastasis: my lungs felt heavy, and I had intermittent sharp pains in the sides of my chest, a constant cough, and a feeling of malaise. At my six-month cancer checkup, my doctor ordered a chest X-ray. Within a few days, while I swept my kitchen floor as the sun streamed through the window, I got the bad news over the phone: something abnormal was spotted on my chest X-ray. This confirmed my suspicion, and I headed to a local bookstore right away, intent on getting my hands on an authoritative book on recurrence that would offer in-depth information about procedures and treatment. Finding nothing on the shelves, I figured my local bookstore just didn't stock this type of resource and I moved on to thorough library searches. When these also failed, I finally conceded that such a resource did not exist. Without that book I was plunged into darkness, stumbling forward, not knowing what to expect next.
Assuming that my X-ray had confirmed the metastasis, I was surprised when I was sent for a CT (computed tomography) scan at my next appointment. Shortly after the scan, the oncologist brought me into a room with lit images displayed in a row above us. He said something close to, "Unfortunately, it looks as though the cancer has spread to every quadrant, but we have ways we can keep it at bay for two or three years."
I could see in the images what looked like spotted cotton candy floating in my lungs. I was impassive; the news was what I had expected, and I was ready to discuss a treatment regimen. But I faced another surprise when I learned I would need another test—a bronchoscopy—which sounded unfriendly. This was how I learned the degree to which oncologists must be certain someone has cancer, and what kind of cancer, before prescribing treatment.
Again I lamented that I had no empowering medical resource to turn to. I wanted to know if what I was undergoing was the normal course for diagnosing a metastasis. I wanted to know if treatment would be much different from my first experience. And I was thinking about the big questions: How long might I live? How functional would I be and for how long? What do I need to do to prepare for death? I wanted to take care of business and be free to live as fully as possible in the time left.
A Second Chance
Late Friday night a few days after the bronchoscopy, my oncologist called to say that, so far, the results did not show metastasized cancer, which raised my spirits for the weekend. But Monday brought sobering news: a cadre of doctors felt that the CT scan and the bronchoscopy were inconclusive, and they recommended exploratory lung surgery. When I awoke from that surgery, the pulmonary surgeon informed me that I did not have metastasized cancer; rather, I had an autoimmune disease called sarcoidosis. As I digested this news, I was filled with gratitude—particularly toward the many people with breast cancer who have contributed to advancing treatment and making life longer and better for all of us. I knew to my core that I was a beneficiary of their efforts. I had done little more than make financial contributions to breast cancer organizations to that point; I made a vow right then to do more.
By the time I left the hospital, it was clear to me what my contribution would be. Using my background in writing, my interest and coursework in science and statistics, and my experience as a breast cancer patient, I thought that, with the help of an oncologist, I could write that elusive book I had so anxiously sought. Thus began a more than 10-year process that included extensive research and writing to complete a book that can be helpful to both those who fear a recurrence and those who have had one. Many people contributed to this effort, including scientists, social workers, and, chiefly, my coauthors: Drs. Heather Shaw, David Kroll, and Brooke Daniel. Without their expertise the book would not have come to fruition.
Immersing myself in information about advanced breast cancer was alternately frightening, reassuring, and fascinating. In learning the symptoms of recurrence, I could dismiss certain aches and pains as likely something other than cancer. I was relieved when I came upon a graph that showed that the incidence of recurrence declines dramatically a few years out from an initial diagnosis, but I also became aware of how unpredictable breast cancer is and how elusive a cure can be.
I did not have to look far to know that this book could be helpful. Sadly, while I was working on the manuscript, my mother was diagnosed with breast cancer, a woman I regard as my stepsister died of it, and a colleague at my workplace passed away from inflammatory breast cancer. I also have been reminded repeatedly that my own cancer could spread: a polyp was removed from my uterus, an ultrasound revealed a growth on my ovary, a colonoscopy led to an MRI (magnetic resonance imaging) scan that showed a tumor pressing on my lower intestine, and a CT scan was ordered to investigate a lump that appeared above my left collarbone. In each case I was fortunate that the growths were benign.
In writing the book, I also encountered heart-wrenching and heart-warming accounts of others' experiences with late-stage breast cancer. I came to appreciate even more each person's unique journey and the means each person employed to grapple with serious illness and death. When death was close at hand in my life, it became clear that, for me, easing the suffering of others is my life's task. I hope the book that resulted from that realization accomplishes that end. My coauthors and I wrote Breast Cancer Recurrence & Advanced Disease to empower and comfort those with breast cancer as well as the loved ones and the professionals who care for them.
Breast Cancer Recurrence & Advanced Disease: Comprehensive Expert Guidance(Duke University Press, 2010) provides readers with expert perspective on a comprehensive collection of topics applicable to those facing recurring and late-stage breast cancer. Accessible clinical descriptions of recurrent disease and associated medical treatments—along with thorough coverage of emotional and spiritual topics, financial and medical rights issues, insight into complementary therapies, and an invaluable glossary and resource guide—come together to outfit a powerful tool box for anyone facing a late-stage diagnosis of breast cancer. Coauthors Barbara L. Gordon, PhD; Heather S. Shaw, MD; David J. Kroll, PhD; and Brooke Ratcliff Daniel, MD, have created a critical foundational resource for patients, caregivers, providers, and anyone else who seeks to truly understand this challenging diagnosis and all of the many related issues.