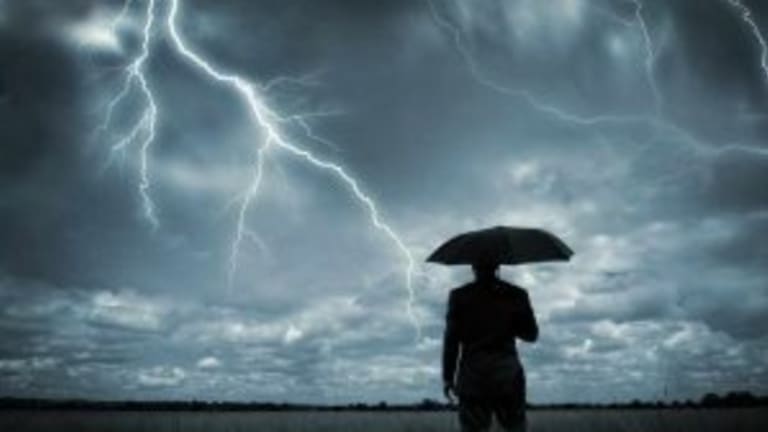 Refuge in the Storm
Tips for finding peace amid a cancer diagnosis
"Some people say that cancer is a tap on the shoulder. I call it a cosmic two-by-four whack on the head," says Ruthann Saphier, who just finished treatment for uterine papillary serous carcinoma at M. D. Anderson Cancer Center in Houston, Texas. "It's a big wake-up call."
Ruthann echoes the sentiments of many cancer patients and survivors—that when that wake-up call comes, everything changes. It's overwhelming, frightening, and lonely. When everything is turned upside down, where do you turn to find peace?
Find an Anchor
Cancer is hardly a peaceful experience. A diagnosis can knock even the most centered person off balance. Facing cancer also means facing uncertainty and our own fear of mortality, not to mention the physical challenges of treatment as well as the stress and the financial strain of the experience.
Cancer inevitably forces people to look around for an anchor to grab hold of. "Some people really do dig down and see this thing as a spiritual path, as a spiritual journey, not just a physical or medical thing," explains the Reverend Tom Duncan, the clinical chaplain at the University of Wisconsin Cancer Center at Riverview.
Some people find comfort in traditional religion, whereas others seek solace in nature or nontraditional spiritual practices. The path you choose, or its attendant label, is irrelevant; what matters is finding a way to stay centered amid the swirling chaos of a cancer diagnosis.
Jackie Rittenhouse is an almost five-year survivor of breast cancer, a marriage and family therapist, and the wife of a pastor. She says that her psychology training and cognitive work were helpful in coping with her cancer diagnosis, but she also points out, "Psychology has limits. It has no answers for life and death."
Jackie knows that her faith played a strong role in her journey with cancer. She said it was important to relinquish or surrender control that she didn't have in the first place. "When I'd get to that point where I thought I couldn't do it anymore, I'd say 'Okay, God, that's not my job. I'm doing my job. I'm going to give that to you,'" Jackie explains. And because of this, she saw "God's fingerprints" throughout the experience. "Cancer is isolating," she says. "No one else is in your body. No one else knows your fear. Only God gets that. I experienced God's presence emotionally more than I ever have."
Daily Practice
For many patients, treatment and all the related appointments and details create a singular focus—life starts to feel like it's all cancer, all the time. Having some sort of daily practice can be one way to detach from the cancer experience and come back to center. For example, Ruthann meditated daily, and Jackie prayed and studied her Bible. Other people might find peace through music, art, yoga, or spending time in nature. The intention behind the practice is what matters—it's a deliberate way to stop and carve out quiet time to keep stress and fear at bay.
"The morning was my hardest time," Jackie says. "I'd wake up and realize I still have cancer. I'm still fighting this. I still have no hair. I still hurt all over. And so every day I would read my Bible and give it to the Lord again." She believes that centering herself in the word of the Bible every morning is what helped her through each day.
Ruthann relied upon visualization, meditation, and positive thinking. "Some days I felt so crappy that I couldn't even meditate, but as soon as I felt well, I would do it," she says. "You have to remember every day to connect to Spirit." In some of her darkest moments, she would coach herself either by verbally telling herself, "You're strong; you're going to make it through," or by leaving herself sticky notes that said things like, "Go for a walk—you always feel better afterward."
She also focused on gratitude and joy. "I counted my blessings daily, and I was always looking for joy," Ruthann says. "I looked for joy every day, and I found it." This joy was available to her in being with her grandchildren or taking a walk along a stretch where she knew there were the most beautiful flowers.
A Foundation of Support
All cancer patients describe the overwhelming loneliness of the disease and insist that finding support among friends and loved ones is critical in finding that sense of peace that can seem illusive. Reverend Duncan says that on the journey of life we sometimes end up on paths we had no intention of taking. He lost his first wife to cancer, and he knows what a lonely journey cancer can be. "The paths we take are always wide enough for friends to come along," he says. "We don't have to walk the road by ourselves."
Jackie recounts what a difference her circle of friends made. She received cards, phone calls, meals, and even housecleaning help. All these things relieved her loneliness and suffering. Ruthann describes how helpful it was to be near her son and his family.
Think of Others
We all need the support of loved ones, but sometimes we benefit just as much by offering support in return. "It seems to me that patients who continue to look outside of themselves do better than those who close down and focus on their illness or their own situation," Reverend Duncan says. "If one can continue to give out to other people, you just don't think about yourself quite as much."
Jackie recounts her experience with radiation, which lasted 15 minutes every day for six weeks. It was a vulnerable and lonely time for her, but she used that time to pray for her friends and their specific needs. "Radiation lasted about 15 minutes, and before I could blink it was over," she said. "I used that to kind of get my eyes off myself and instead pray for them because you're absolutely immobile and can't do anything, so that was a really helpful thing for me."
When she was having a particularly bad day, Ruthann received a special pillow from a stranger at the hospital. The woman told her to simply pass it on to someone else when she was ready. Ruthann describes the great joy she felt when she finished treatment and gave the pillow to another patient who needed it.
This Too Shall Pass
Cancer is an unplanned journey that can shake us to our core. It's easy to succumb to the fear and the stress that come with a cancer diagnosis—but it takes discipline to stay centered and calm and remind ourselves that this too shall pass.
"We have to remember that it isn't just the uncomfortable things that will pass," Ruthann urges. "Wonderful things will pass, too, so we'd better appreciate them right now."
Finding Center
There is no instruction manual for cancer or for life. A cancer diagnosis can be overwhelming and frightening. In her counseling sessions, medical counselor Bonnie Vestal, MD, focuses on three principles for helping patients find a sense of centeredness:
Be present.
Find a sense of purpose.
Have an awareness of your sense of place in the scheme of things.
Feeling overwhelmed? Try these tools for coming back to center:
Meditate.
Go for a walk in nature.
Pray.
Pray for someone else.
Attend a church service.
Seek counsel with a minister, priest, or other spiritual adviser.
Paint, sing, write, or find some creative expression that brings you joy.
Spend time around children—their joy and laughter are contagious.
Breathe deeply. Really—sit quietly and listen to the sound of your own breath.
Count your blessings.
Make a plan for the future. Create a list of things you want to do.
Watch a sunrise or sunset. Get outside. Remember your connection to the larger world.
Give. Giving gets us outside of ourselves.
Spend time with loved ones.
Seek solace in a spiritual text.
Garden. Gardening is an act of hope.