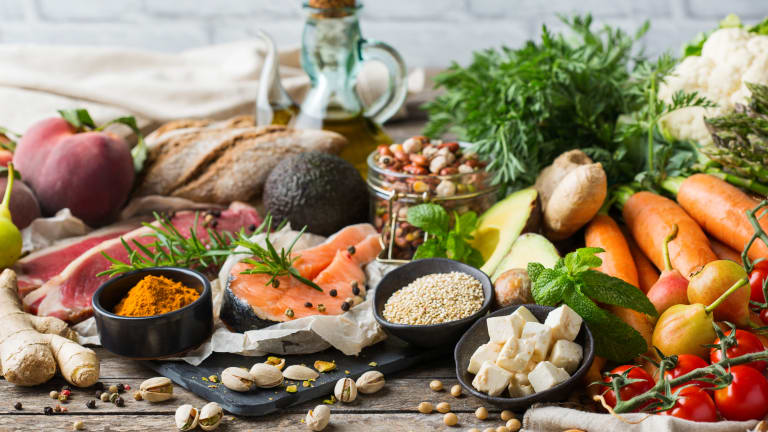 Mediterranean Diet May Lower Cancer Risk
A Mediterranean diet lowers cancer risk and may boost immunotherapy treatment.
by Dr. C.H. Weaver M.D. 10/2022
The Mediterranean diet consistently has been linked to a lower risk of cancer, cardiovascular disease and mortality. A traditional Mediterranean diet is rich in fish, olive oil, vegetables, whole grains, nuts, and legumes and lower in red meat and dairy with modest alcohol consumption. Studies suggest that adherence to this diet can both reduce an individuals risk of developing cancer and delay the progression of cancer in those with a cancer diagnosis.
Diet Reduces Risk of Prostate Cancer Progression
A study by doctors from the University of Texas suggests that men with early-stage prostate cancer adhering to the Mediterranean diet can reduce their risk of cancer progression to a higher grade. The delay in prostate cancer progression was observed in both Caucasian and "non-white" men which is especially promising for Black men, who have a higher rate of prostate cancer diagnosis and age-adjusted prostate cancer mortality rates than white men.3,4
Reducing Risk of Developing Cancer
Research also suggests that postmenopausal women who consume a traditional Mediterranean diet may have a lower risk for breast cancer, according to a study published in the American Journal of Clinical Nutrition.1
Researchers followed approximately 15,000 women in Greece for almost 10 years. Participants' diets were assessed by questionnaire, and a score ranging from 0 to 9 was given based on the extent to which the women followed a traditional Mediterranean diet. A higher score indicated greater adherence to the diet. During this time, 240 women were diagnosed with breast cancer.
Postmenopausal women with greater adherence to the diet (a score between 6 and 9) had a reduced risk of breast cancer of 22%.
Among premenopausal women, greater adherence to the diet was not associated with a lower risk for breast cancer.
The researchers concluded postmenopausal women who follow a traditional Mediterranean diet may have a decreased risk of breast cancer. There is a lower incidence of breast cancer in Mediterranean countries, which may be partially explained by the traditional diet.
Mediterranean Diet May Improve Response to Immunotherapy
Immune Checkpoint Inhibitors (ICIs) drugs are a standard treatment for melanoma and other cancers. They work by blocking immune system checkpoints, which then force the body's own T-cells to attack their cancer. A multi-centre study by researchers from the UK and the Netherlands, recorded the dietary intake of 91 patients with advanced melanoma, who were treated with ICI drugs. The researchers found and improved overall response to treatment and delayed cancer progression at 12 months in individuals on the Mediterranean diet. The study also found that eating whole grains and legumes reduced the likelihood of developing drug induced immune-related side effects, such as colitis. In contrast, red and processed meat was associated with a higher probability of immune-related side effects.  The study underlines the importance of dietary assessment in cancer patients starting ICI treatment and supports a role for dietary strategies to improve patient outcomes and survival.5
Healthy Diet and Lifestyle Reduces Risk of Pancreatic Cancer
According to the results of a study published in the Archives of Internal Medicine, individuals with the healthiest lifestyles cut their risk of pancreatic cancer by more than half.2
The causes of pancreatic cancer remain uncertain. Factors that increase the risk of developing pancreatic cancer include cigarette smoking, increasing age, certain dietary characteristics, obesity, diabetes, and chronic pancreatitis.
To explore how combinations of healthy or unhealthy behaviors influence pancreatic cancer risk, researchers evaluated information from 450,416 participants in the National Institutes of Health-AARP Diet and Health Study. Study participants were between the ages of 50 and 71 at the time of study enrollment in 1995-1996. From the time of enrollment through 2003, 1,057 of the study participants were diagnosed with pancreatic cancer.
For the current analysis, study participants were graded on five positive lifestyle factors: not smoking, limited alcohol use, Mediterranean diet pattern, body mass index between 18 and 25, and regular exercise. Each factor was given a value of 1 for healthy and 0 for not healthy.
Compared with individuals with the least healthy combination of behaviors, those with the most healthy combination cut their risk of pancreatic cancer by more than half.
These results suggest that the risk of pancreatic cancer can be substantially reduced by not smoking; limiting alcohol intake; maintaining a healthy weight; engaging in regular physical activity; and eating a diet that's rich in fruits, vegetables, whole grains, fish, and healthy fats such as olive oil and canola oil.
Boost your overall health by adding more fruits and vegetables to your diet.
"Eat plenty of fruits and vegetables"; we've all heard this message repeatedly—and for good reason. Not only does current research show that a diet high in fruits and vegetables can help lower the risk of cancer and many chronic diseases, but eating a larger number of fruits and vegetables can be the key to achieving and maintaining a healthy body weight.
Eat More (Fruits and Veggies)
Consuming large quantities of produce can help us maintain a healthy weight. One reason for this is the low-calorie density of fruits and vegetables—meaning they provide a high volume of food with a low calorie count. A cup of vegetables, for instance, averages 20 to 60 calories per cup, and a cup of fruit averages approximately 70 calories—a large volume for so few calories. They are also water-rich and full of fiber, both of which mean they fill us up quickly. And because research shows that people feel full based on the amount of food eaten, not the number of calories consumed, eating fruits and vegetables allows us to cut calories without eating less. What's not to love?

To put the high-volume, low-calorie principle to work in the kitchen, try replacing some of the volume of high- calorie foods, such as pasta, chips, crackers, and animal protein, with more fruit and vegetables. For example, for a standard 3-cup serving of pasta with turkey meat sauce (900 calories), replace the three cups of cooked pasta and sauce with one cup of pasta combined with two cups of vegetables and turkey meat sauce (450 calories). This simple switch results in a meal that has half the calories of the original without decreasing the volume of food at all.
Fill Your Plate
So how many servings of fruits and vegetables should we strive for to reach and maintain a healthy weight? More than you might think. Recommended levels vary according to body size, but the general recommendation is seven to 10 servings per day. To put this in perspective, consider that a serving of fruit is ½ cup (except for berries and melons, which are 1 cup or 1 medium piece); a serving of vegetables is ½ cup cooked or 1 cup raw. Therefore a seven-serving day might include three pieces of fruit, a couple of handfuls of baby greens and raw vegetables, plus a cup of cooked broccoli.
While the volume of fruits and vegetables we eat is key, so is the variety we choose. This is because there are thousands of phytonutrients that contribute to our health across a broad range of fruits and vegetables—there is no one-size-fits-all solution. While blueberries are touted for their high level of antioxidants, for instance, there are nutrients in carrots and apples that are not found in blueberries. The more variety you consume, the more likely you are to get what you need. The bottom line? Eat the rainbow!
Enjoy Nature's Bounty
All of us probably have one childhood memory of pushing our vegetables around the dinner plate—maybe they were overcooked or underseasoned, too mushy, or too crunchy. Now is the time to leave those experiences in the past and reach out for more and different fruits and vegetables. And, yes, it's okay to add a little Parmesan cheese, a small amount of olive oil and kosher salt, some light soy sauce, or a dollop of marinara sauce if you'd like—none of which will dramatically increase the calorie count. After about three weeks of incorporating more produce in your diet, you'll find yourself amazed at how delicious nature's bounty can be.
Tips for Boosting Fruit and Vegetable Consumption
Eat seasonally. Not only does it improve your nutrition, but what is in season tastes the best, too.  
Serve fruit right along with the salad and the vegetable on the dinner table. Many are willing to consume what is right in front of them, already peeled and cut.
Bring two pieces of fruit to work with you daily. It's great for the midmorning or late-afternoon pick-me-up—and it helps to keep that sweet tooth in check.
Keep dried fruit with no added sugar in the car or at the office; four apricot halves, prunes, or apple slices are equal to one fruit serving.
Make a smoothie with 1 cup of frozen berries, peach slices, pineapple chunks, or mango slices; nonfat Greek yogurt; and a banana. Try adding a handful of spinach or kale or a carrot to boost your vegetable intake.
Keep a supply of frozen fruits and vegetables for backup for the week you didn't get to the market to restock fresh produce.
Take baggies of prewashed baby carrots, cherry tomatoes, sliced cucumbers, or any other favorite veggie to work for a low-calorie snack that is equal to a vegetable serving.
Make puréed vegetable soups, such as carrot ginger, roasted tomato, or cream of broccoli; skip the cream and add fat-free half-and-half or 1 percent milk.
Chop an unpeeled apple, sprinkle with cinnamon, and cook in your oatmeal for real apple-cinnamon oatmeal.
Add grilled vegetables to salad and sandwiches for delicious flavor and a nutrient boost.
Mix all grains with lightly sautéed onion, celery, and carrots for more volume and more nutrition.
Marinate raw vegetables such as carrots, mushrooms, peppers, cauliflower, and cucumbers in light balsamic dressing, drain, and serve cold as an appetizer.
Buy inexpensive pre-shredded carrots and red cabbage; add to salads, stir-fry, and sandwiches.
References:
Trichopoulou A, Bamia C, Lagiou P, et al. Conformity to traditional Mediterranean diet and breast cancer risk in the Greek EPIC (European Prospective Investigation into Cancer and nutrition) cohort.American Journal of Clinical Nutrition. doi:10.3945/ajcn.2010.29619.
Jiao L, Panagiota NM, Reedy J et al. A combined healthy lifestyle score and risk of pancreatic cancer in a large cohort study. Archives of Internal Medicine. 2009;169:764-770.
Gregg JR, Zhng X, Chapin BF, et al. Adherence to the Mediterranean diet and grade group progression in localized prostate cancer: an active surveillance cohort. Published online January 7, 2021. Cancer. doi:10.1002/cncr.33182
Mediterranean diet may decrease risk of prostate cancer progression for men on active surveillance [press release]. MD Anderson Cancer Center press release. January 7, 2021.
Paulette Lambert RD, CDE, is director of nutrition for California Health & Longevity Institute, located within Four Seasons Hotel Westlake Village (chli.com). With more than 27 years of private practice after an extensive clinical education, Lambert has wide-ranging experience in clinical nutrition and the development of individualized dietary plans.