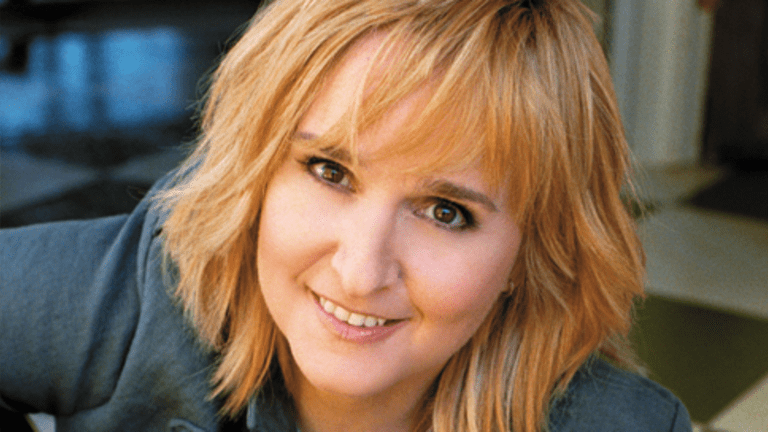 Living My Truth Melissa Etheridge
Discusses her journey with breast cancer
Living My Truth Melissa Etheridge
by Diana Price
When I catch Melissa Etheridge on the phone, she tells me that she has just enough time to fit in our interview before she has to pick up her kids from school. Sure, she's a rock star—with the signature raspy voice and the shelf full of awards to prove it—but she's also a mom of four, and she works hard to balance her family life and her music career.
With a rock résumé that spans more than 20 years and includes two Grammy awards (for Best Female Rock Vocal, 1992 and 1993) and an Oscar (for Best Original Song for "I Need to Wake Up" from An Inconvenient Truth, 2006), Melissa continues to be fueled by her passion for song. But now, in the wake of her 2004 breast cancer diagnosis, her music career is part of a balanced life that revolves around family.
Challenged
The path to balance has not been without challenges. In 2004, at age 43, Melissa discovered a lump in her left breast while on her summer concert tour. She had been feeling tired and not completely well around that time, she says, but she had recently had a physical that included a breast exam, so the lump surprised her. Realizing immediately that she needed to see a doctor, Melissa headed home to Los Angeles, where—after a biopsy—her doctor confirmed that the lump was in fact cancer.
A lumpectomy to remove the 4-centimeter tumor and a sentinel lymph node biopsy followed, which revealed that the cancer had spread to the sentinel node. Luckily, in removing 14 other lymph nodes, it was determined that cancer had not spread. Melissa's doctor prescribed dose-dense chemotherapy to be followed by radiation.
"Chemo was tough," she says. "Physically, it was the worst thing I've ever been through." Hit hard by nausea, fatigue, and bone and muscle pain, she also found herself especially sensitive to noise and light. Most days, she says, the only bearable thing to do was to lie still.
Supported
As Melissa struggled through treatment, her relationships with family and loved ones were invaluable. "Tammy was an angel," Melissa says of her partner, Tammy Lynn Michaels. But receiving the love and the support that was offered was not always easy. "I had to learn to rely on someone," Melissa says. "I had to let someone take care of me, which was totally new for me."
The love and the affection of her two oldest kids, Bailey and Beckett (from a previous relationship), who were eight and six at the time (her twins, Johnnie and Miller, would be born in 2006), was also a blessing. Melissa and Tammy had included the kids from the beginning, translating the difficult topic into kid-speak to ensure that they could understand. "We told [the kids] that if a woman has a lump in her breast, she has to have it checked to see if it has a cold. If it has a cold, they have to take it out because that cold might spread to the whole body. There is medicine they might give her afterward to make sure it doesn't spread—and it might take a long time."
Despite the open communication the family embraced, Melissa says, there were challenges. "Cancer and chemo are so hard on all the loved ones," she says. "My youngest at the time, my son, didn't quite get it. I remember him asking me once if I would still be on chemo when he was 16 because he really wanted to go snowboarding with me." Her daughter, she says, was very loving. "They each handled it differently." But the impact of that time and the uncertainty it generated were lasting. "It still has reverberations today," Melissa says.
Awakened
As she confronted the physical challenges of treatment, Melissa underwent a spiritual transformation. Because her body rejected almost all movement, she lay still and found herself with plenty of time to consider the impact of the experience on her life. "I found in myself my own spiritual journey," she says, "which the experience of cancer had opened up for me."
The awakening, in which she examined the way she felt about cancer itself and thought about what had brought her to her current state and how to return to optimal health, inspired profound changes in the way she lived her life from the inside out. "It's created a change of life. I have a different way of looking at the food I put into my body, the stress I take on, the choices that I make—it changed all of that."
Inspired
It was also in the midst of her treatment that Melissa got a call from her manager: her song "Breathe" (from her album Lucky) had been nominated for a Grammy. Melissa says she remembers thinking, Wow, that will be at the end of my chemo—I wonder if I could ever go to that? She put the idea in the back of her mind—until she got another call: there was going to be a tribute to Janis Joplin at the Grammy Awards show, and organizers wanted Melissa to sing a Joplin song. "Janis Joplin is it to me," she says, "and I thought, Oh God, if I say no, someone else will sing it, and that will bum me out." But the thought of standing up on stage at what would be the end of her chemo treatments, with no hair, had her unsure about her answer. "I thought, If I say yes, I'll still be bald, and I struggled with it for a while. Then I asked myself, Am I just going to say no because I'm bald? That's giving hair a whole lot of power. So I said, 'Yes, I'll do it. Sign me up.'"
Though initially a personal choice, Melissa's decision to perform would be transformative for the artist and for audiences worldwide. "Mostly, I saw that I was getting a chance to step back on the world stage and say, 'Yes, I went through this, but here I am; I'm still here,'" she says. But the courageous performance—while clearly a personal triumph—also had broader repercussions. The image, and the exultant sound, of the bald rocker belting out "Piece of My Heart" became a symbol of the empowerment and the resilience possible for women in the face of breast cancer.
Melissa was honored and humbled by the response. "That was just me deciding I don't want to hide behind something," she says. "This was me saying, 'This is the way I am, and this is my truth'—and that was all I meant." But in seeing the empowering effect of her decision—for herself and for other survivors—Melissa realized the real power of living in one's truth: "I thought, If I can do this just by living in my truth, I am going to constantly be in my truth every day."
Now five years after the event, Melissa still hears about the impact her performance had. "Yesterday someone mentioned it again," she says. And recently, when she visited her doctor for a follow-up, a nurse told her, "Oh honey, after you did that there were more bald people walking around here than we've ever seen."
Empowered
Melissa continues to strive to spread the message of empowerment in the face of cancer. Within the confusion of today's healthcare landscape—and especially when confronting cancer—she says, women must realize their own power. "I want to emphasize to women that we are in charge of our own health," she says. "We need to make health our goal. We have to do that ourselves and make our choices."
It's not easy, Melissa acknowledges, to hear your own voice among the many others occupying space in your head after a new cancer diagnosis. "You're going to find that it's overwhelming," she says. But if you can "find a space to listen to your own voice and to learn to be still," you will realize the power you have to make your own decisions. "You are now a woman with cancer—take that power and use it; take it to say no to things that you want to say no to and say yes to things that you want to say yes to. Prioritize yourself. You are the most important thing. You are no good to anyone else unless you are happy and well."
Changed
Having come through cancer and feeling what it truly means to be happy and well on the other side, Melissa now sees the changes she has undergone shine forth in her music. "My voice is more open," she says. "I breathe more. I am more in tune with my instrument—my body." These musical manifestations of change also reflect the way Melissa has reprioritized her musical ambitions. After diagnosis and treatment, she says, she took a step back and looked hard at her career. "I said, 'Wait a minute. There's no way I can constantly compare myself to the next 18-year-old ingénue coming up. There's no way. I need to just make the music that I love and do it because I love it and because it makes me happy.' That's the path I've been taking ever since—and it's been really amazing."
Melissa's joy in her life—in her family, in her music, in her health—is clear as she talks about the perspective and the balance that she has found today. She is aware that achieving that balance—in her health and in her life—is an ongoing journey. "Coming into balance is a step-by-step process," she says, but it's one that, for Melissa, is essential as she continues to embrace her blessings and live her truth.