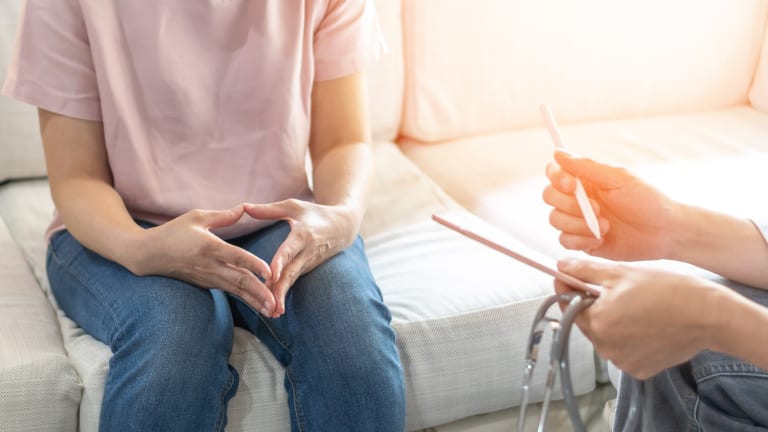 Learning and Thriving in the Face of Ovarian Cancer
Maggie Luck
by CancerConnect, Medically Reviewed by Dr. C.H. Weaver M.D. 7/2022
I think we all wonder what resources we have inside ourselves if we ever have to face a life-changing diagnosis such as ovarian cancer. But when it hits, you think about how you are going to face the immediate issues, and only slowly do you begin to realize that your life has changed in ways you never expected.
When I finished treatment for Stage IV ovarian cancer I went through the letdown that most cancer survivors experience: What now? The treatment had worked, and I had "no evidence of disease," but ovarian cancer has a notorious way of recurring. How do I come to terms with living and loving my life while also dealing with the uncertainty I faced?
What I discovered was that, while my long-term future might be out of my control, my short-term future was very much still in my hands. And as a longtime distance runner, I could think of no better way to celebrate than to commit to another race. While discussing this with a friend who had pushed me to go to the doctor initially, we agreed that a fall marathon was the perfect answer. Six months to train from a slow crawl to my first marathon in 25 years? Why ever not?
Although crossing the finish line in St. George, Utah, three days shy of the one-year anniversary of my diagnosis was a triumphant event, it was the running, day in and day out, over that summer that gave me my confidence and gratitude back. Returning to my favorite trails, cooling my legs in the icy water of the creek, watching the continuous bloom of the season's wildflowers—each day was a celebration.
I faced a recurrence after a three-year remission. Knowing that it was possible to continue to live an active life, I looked at this latest news as a blip on the radar, remaining focused on trying to live as normal a life as possible. It wasn't easy, as the chemotherapy regimen left me anemic, and running became difficult. Despite the challenges, I still met with my running group three days a week, even if I could only run a minute or two at a time. The beautiful sunrises and the community of friends were gifts that I was not ready to give up.
Now I continue to center my life around things to be grateful for each day: to notice the first meadowlark of the season, to enjoy a sunrise when out running with my running group, to seek out the new spring wildflowers, to share my love of the mountains by leading hikes in Rocky Mountain National Park, planning for future running events, and celebrating my family and friends who have been there every step of this journey.
Shannon Routh
Being diagnosed with ovarian cancer at 32 was an eye-opener, to say the least. I now understand what it means to take care of my body and to live each day. It is important for me to work toward a healthier lifestyle and surround myself with people who lift me up.
When I was diagnosed, I had never heard of ovarian cancer, and I realized that there had to be other people who had not heard of it, either. So in an effort to raise awareness of this disease and get people talking about it, my husband and I, along with friends, climbed Mount Kilimanjaro on the two-year anniversary of my diagnosis. There were several reasons for the trip: I wanted to raise awareness, I wanted to prove to myself that I could do it after being so fatigued after chemotherapy, and I needed to release all of the emotions I had held on to while undergoing treatment in order to stay strong for my family and friends. I had been told that, when the time was right, I would let those emotions go.
Well, the time came the night I summited; I let it all go. The climb was both physically and emotionally draining. I told my husband the feelings you go through trying to summit were just like the feelings you go through with chemotherapy. He was amazed. The comparison of what he felt and the strength it took to push through to summit became very real, and he was finally able to understand what I had endured for months.
During the summit night, there were times I was weak, depressed, cold, and lonely and felt defeated. I asked God for strength, and when I did, names of survivors popped in my head. I thought of those I had met, those whom I may never meet, and those looking down on me. Peace and determination came to me, and I thought: I had poison running through my veins and every bit of my normal taken from me. But cancer did not defeat me, and this mountain will not defeat me, either. Like cancer, summiting was a difficult journey for me. But in both cases I survived.
Looking back, I am very blessed to have had proactive doctors and a supportive husband. You don't have to climb Mount Kilimanjaro, and you don't have to run a marathon, but do challenge yourself to live like you have never lived before. I am not happy I had cancer, but I am happy to be bonded forever with an elite group of women.
Kim Polk
On September 28, I was diagnosed with Stage IIIC ovarian cancer. Only six weeks before, I'd lost a friend to ovarian cancer. Now it was me, and I was scared. Getting my head around my diagnosis took a few days, but once it sank in, I got the mind-set that I was not going to be a statistic; I was going to be a survivor.

It didn't take long for me to realize that this thing was much bigger than I could handle alone, and I was going to need a lot of help. Turning to the highest power I knew, I was able to draw strength and courage from my strong convictions as a Christian and my belief in God. I spent a lot of time on my knees, asking the Man upstairs for the strength and the focus I would need to get through this with a positive attitude. I was very thankful for being a healthy, strong person and for the good prognosis I'd been given. I believe that prayer played an enormous role in my healing process. I knew that I had to just put it into His hands and let Him handle it for me. Sometimes I would want to take it back, but in my heart I knew I had to leave it in His hands. I had cancer, it was real, and I could not go it alone. My faith was my stronghold.
Talking openly about my cancer with my family, friends, and co-workers came easily for me. The more I talked about it, the less afraid of it I became. As my fear decreased, my passion for fighting it increased. All of the prayers and words of encouragement I received every day were incredible. How could I not be positive? Keeping a positive attitude really is half the battle.
My oncologist enrolled me in a clinical trial following my initial treatments, and these maintenance treatments were administered once a month for 12 months. The data received so far indicated that this treatment could reduce the chances of recurrence by about 40 percent. Whatever it takes, right?
I had my post-chemo CT [computed tomography] scan on May 13. I am cancer-free. By the grace of God and the skills and the knowledge of an awesome oncologist, I've been given a second chance. The journey was long and the road was rough, but I met this thing head-on and didn't take no for an answer. You have to fight like your life depends on it because—guess what?— it does.
A friend of mine who was diagnosed with breast cancer several years ago told me that when she was diagnosed, instead of asking herself, Why me? she asked herself, Why not me? Well, this question goes both ways. When I learned of my cancer, I asked myself that very same question of Why not me? Why can't I be a survivor? After this long journey, now I am a proud survivor, and I thank God for giving me the opportunity to be a part of another day.
Samantha Lockwood
Six years ago I had the surreal experience of being told I had cancer while I was in a hospital bed with morphine dripping into my arm. I had gone into the hospital a day earlier for routine surgery. I had an ovarian cyst that my original doctor told me I could either have removed immediately or just "wait and see." I opted to have it removed immediately since it was winter, and I wanted to be able to climb that summer.
I was diagnosed with Stage IIC ovarian cancer, but I was diagnosed early. Fortunately, by going to a gynecologic oncologist, I was able to be staged correctly during the initial surgery. Studies show that when a gynecologic oncologist performs the surgery, survival rates increase up to 25 percent.
I had chemotherapy treatments every three weeks, which left me bald. I hated wearing wigs; they were just too high maintenance for me. When I wore scarves on my head, I felt everyone's looks of sympathy because they could tell I was sick. On one particularly hot day, I asked my boyfriend if he minded if I took my scarf off. Of course he didn't mind, but when I did I felt naked, like I was topless or something. The next morning I made a decision. I rode my bike to the tattoo shop and had a dragon tattooed on my head. Dragons are a symbol of strength and protection. With my head decorated I didn't feel naked being bald, and no one gave me looks of sympathy anymore. In fact they looked at me like I was a badass, which was pretty cool.
Six months after I started chemo, I got the news that I was cancer-free. Sadly I was again diagnosed with ovarian cancer. This time it was a new cell type. I had to have a complete hysterectomy and more chemotherapy. That spring I was elected to the board of directors of the HERA Women's Cancer Foundation and I was declared cancer-free once again. Less than three months later, I rode my bike 540 miles from Burlington, Vermont, to Palmerton, Pennsylvania, in one of the country's most challenging organized rides.
What started out as a completely surreal experience has turned into an incredible journey. I have learned some big lessons from my cancer experience:
Doing what you love is important, but sometimes doing what you love is impossible. So you have to get up and find something else to love, and then go do that.
I'm very lucky to have people in my life who care about me.
Be your own advocate and, when you can't, ask for help.
Every morning I wake up is precious, and I try to relish each day.
All in all, having been diagnosed early, I feel so lucky and grateful to be alive. I want to give back by being a part of the HERA Women's Cancer Foundation community to help spread awareness and stop the loss of women from ovarian cancer.