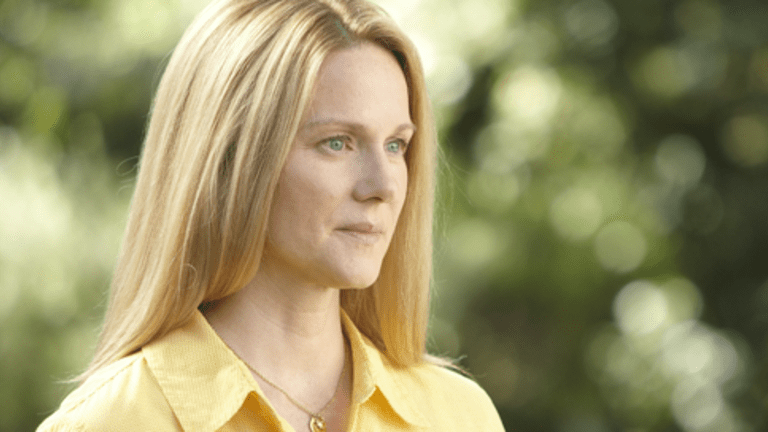 Laura Linney: Before Ozarks - There was the Big C
Laura Linney plays a cancer patient forced to reexamine her priorities in her Showtime series.
by Diana Price
Laura Linney has gained recent attention for her outstanding performance alongside Jason Bates in the Netflix series Ozarks.  She was equally good as a cancer patient forced to reexamine her priorities in her Showtime series.
What do you truly value? If you were presented with a finite timeline for your life, how would you choose to spend that time? Are there experiences you wish you could rewind or undo? What will you do going forward to ensure that you don't have any regrets?
If you're Cathy Jameson, the lead character in Showtime's new series The Big C, and you've been diagnosed with terminal cancer, you build a pool in your backyard. You also decide to eat a lot of onions, teach your teenage son how to plunge a toilet, and order solely from the dessert menu—among other things.
Cancer as Catalyst
The series takes on a weighty subject while highlighting the humor and the absurdity that is present in our lives even as we face our greatest challenges. Laura Linney, who appears in the lead role alongside a cast that includes Oliver Platt and Gabourey Sidibe, says that the questions that Cathy confronts during the course of the season are universal and very relevant today—whether or not one is facing a cancer diagnosis. "I think there is a focus now on people reexamining what is important," Laura says, "a reexamination of priorities: What is acceptable? How do you want to live your life?"
It was these themes that sparked Laura's interest in the show when she was originally approached with the script, despite the fact that a television role was not on her radar. Having recently received her third Academy Award nomination (in the lead actress category for her role in the box office hit The Savages), Laura had wrapped another feature film (Sympathy for Delicious) and was about to appear on Broadway in Time Stands Still in a role that would garner a Tony Award nomination for Best Leading Actress in a Play. "I wasn't looking to do a series," Laura says. "It really hadn't crossed my mind. And then Showtime stubbornly sent me this script, and I read it and it just intersected with a lot of things I have been thinking about and obsessing about anyway. And I had a moment when I thought, I really need to pay attention to this."
Proceeding from the idea of cancer as a catalyst, the storyline follows Cathy as she examines the choices that have landed her in the life she now leads. She is someone, Laura says, for whom "life has just become a function—she's not really living her life." Now, dealt this brutal blow, she must examine "the kookiness that her life has become and the absurd choices that she's made along the way that have resulted in what her life has become." Her marriage, her work, her relationships with family and neighbors—all are put under the microscope. Ultimately, Laura says, the show answers the question:What happens when you have an opportunity to rework all of that?
Especially significant to Laura is the idea—central to the show's storyline—of highlighting the privilege of growing old. "I have never understood when people say to me, pityingly, 'Oh, you're over 40.' I just find that insane. Insane! Literally cuckoo." Instead, Laura says, her innate reaction is, "Yay! Hooray! I'm over 40! It's a privilege to grow old. I don't know how we have gotten away—particularly in our American cultural view—from that idea. I'm hoping that the show will examine that opinion."
Professional and Personal Challenge
Laura is also the executive producer of The Big C, and she relishes the opportunity to be involved in the broader production process, beyond her role as an actress. "I can contribute in a way that I haven't been able to before," she says, "and it gives me the opportunity to learn about a lot of the production-end things that I don't know about."

Laura's dedication to the project speaks to her obvious work ethic, which has no doubt contributed to her success as an actress on both stage and screen. Her résumé is impressive: television roles that include a 2004 Emmy-winning guest appearance on the long-running series Frasier and an Emmy Award for her role as Abigail Adams on the HBO miniseries John Adams, among many other noteworthy appearances; a film career that includes critically acclaimed roles in Dave, Primal Fear, The Truman Show, You Can Count on Me (for which she was nominated for an Oscar, a Screen Actors Guild Award, a Golden Globe, and an Independent Spirit Award), The Squid and the Whale, and The Nanny Diaries; theater credits that have resulted in a host of awards and three Tony nominations.
The scope of Laura's work displays the actress's talent for understanding and conveying a broad range of human experiences. Now, in playing a woman who faces a cancer diagnosis, Laura and her co-stars present not the standard media-ready view of the "typical" one-dimensional cancer experience but rather the many-layered emotional space that cancer creates. Because the reality—which The Big C takes care to acknowledge—is that patients are people first, whose lives are already full and complex when they confront a diagnosis.
In preparing for the role, Laura has drawn from her interest in reexamining her own priorities, from her experience with friends who have dealt with cancer and other illnesses, and from memories of her own childhood, when her mother was a private-duty nurse at Memorial Sloan-Kettering Cancer Center. "[My mom] became very close to many of her patients and their families, and consequently I knew some of them as well," she says.
With these experiences as background, Laura looks forward to the creative opportunity that this role presents. It is a "delicious challenge" she says, to play such an obviously dramatic role intertwined with "the foibles of life and the comedy of human frailty." It's a delicate balance, but one that sheds light on the breadth and the depth of the emotional experience attached to a cancer diagnosis. "We're exploring a tone that is a little daring and a little off-center—and hopefully enjoyable," Laura says.
On a personal level, Laura has found that her decision to take part in this project has led her to consider many of life's big questions herself: What will I do with the time I am given? What do I need to be healthy? To be happy? Her answers, she has found, are actually quite simple: "I'm getting back to the basics. I'm examining how I eat, how I spend my time. I'm exercising and trying to be a little more responsible for my own health and my body, which is something you can really take for granted."
In addition to paying closer attention to her physical well-being, Laura has realized the value of the activities that stimulate her mentally and emotionally. "I have realized that I need to be around my friends. I need to be around art—I need to go to the theater; I need to go to museums—I need to be stimulated and fed in that way." Ultimately, Laura says, she is focused on making choices that "make your life meaningful in a way that is not about career or money. It's about your connection to life and what life means to you."
The Big Picture
Though cancer provides the framework, Laura hopes that The Big C will bring something to those currently facing a diagnosis while inspiring much larger conversations. "It's really about more than cancer," she says. "It's about what happens to someone who realizes suddenly that they're not going to be around. How does that make them look at their families, their relationships, their job, their sense of self, what they have contributed to their family, the world, and to their community?"