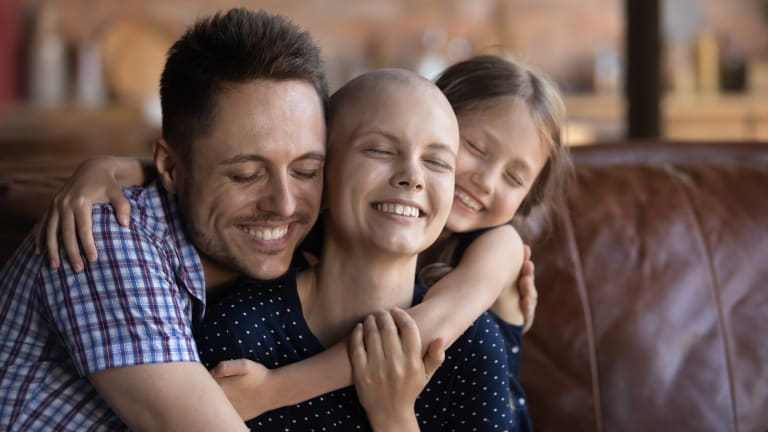 Keep Moving, Keep Giving
Survivor Profile - Katie Hayek
by CancerConnect, Medically Reviewed by Dr. C.H. Weaver M.D. 5/2022
According to Katie Hayek, triathlete, actor, and Hodgkin's lymphoma survivor, the combined thrill of testing your body's limits while supporting a worthwhile cause is irresistible. "You don't realize the extent and the possibility that your body can go through. Just challenging yourself makes it more addicting," Katie says of the fitness component of participating in charity sporting events. As for giving back to the cancer community, for Katie that impulse is quite natural. "Why wouldn't you want to give back?" she asks, especially when considering the countless people who supported her during treatment and continue to support others facing cancer.
Staying in the Game
Katie, now 26, had recently graduated from college when she was diagnosed with Hodgkin's lymphoma in early 2007. But she was not ready to let treatment slow her down. Having attended the University of Miami on a basketball scholarship and played four years of NCAA Division I basketball, Katie was used to a busy and active life. Now, as a recent graduate with a degree in theater, she was ready to take the next step and pursue an acting career.
Not surprisingly, Katie determined that a lymphoma diagnosis would not interfere with her ambitions. Around the same time that she received her chemotherapy schedule, she also was cast in a feature film, The Mighty Macs, a story about a college women's basketball team. Katie's four months of chemotherapy were scheduled to coincide with filming—a schedule made even more grueling by that fact that she'd have to play basketball in the movie. "I played an All-American basketball player, so I knew I was going to have to play sports in the movie," Katie says.
In spite of the challenges of filming and playing basketball during chemotherapy, Katie was committed to doing the movie and believes that combining two of her passions, sports and acting, helped her get through treatment. "It definitely distracted me from reality, which was chemo," she explains, adding, "It was exciting to be there, and I fought through it and was able to handle it."
Once Katie had completed filming and chemotherapy and was focused on recovery, she never doubted that she would stay active. "That's all I knew my whole life," she says, "being active and being an athlete." Furthermore, she says that her doctor had encouraged her to remain active, and she is aware of studies indicating benefits of exercise for cancer survivors.
Cancer had also given Katie's athletic career a new focus, as the former basketball player turned to triathlons for her next challenge. Katie explains that her father, Bill Hayek, had actually led the way by joining the Leukemia & Lymphoma Society's Team In Training program to support both Katie and the society. "As a parent he felt so helpless seeing his little girl go through this," she says. "He wanted to do something." Soon, after seeing the physical and emotional fulfillment her dad experienced, Katie wanted to participate, too: "It looked exciting, and I wanted to try something new."
Katie, like her dad, also wanted to give back to the cancer community. Getting diagnosed, she says, opened her eyes to how many people are affected by cancer. She was also moved by the support she had received—from friends, family, and strangers. "There are people out there raising money who have no ties to cancer, and they're doing it for people they don't even know," she says. She feels that this chain of support creates a bond among people affected by cancer—many of whom will never meet—and Katie wants to contribute.
Getting Other Survivors to the Starting Line
When asked what she'd say to inspire other survivors to stay active, challenge themselves, and give back, Katie says, "We did get through it, and we're the fortunate ones." Celebrating survival by discovering your body's potential while also giving back seems, to Katie, like an instinctive progression: "It's almost like there's no other choice."
Whether you want to try a new sport or test your limits in a familiar activity, Katie says that it's okay to start small, as she did. And, like Katie, you may get hooked on setting and attaining new goals. "You don't realize what your body can do," she says, "and once you set these goals, you challenge yourself over and over again." Katie, for example, started with a shorter sprint-distance triathlon, then moved up to international distance, and is now considering challenging herself at the Ironman level. She says she greets each accomplishment with Wow, I can do this! What else can I do?
Find Your Event and Your Cause
There's no shortage of opportunities to walk, run, ride, and swim your way toward athletic goals while also supporting the cause of your choice. So, how do you choose a sport and a charity?
For sports, consider whether you want to learn something new or stick with a familiar activity. Some of your options—such as cycling and triathlons—may require a significant investment in new equipment; ask yourself if you're able or willing to make that commitment. Also talk with your doctor about any activities that you may need to avoid.
For Katie part of the challenge and the fun was in attempting something totally new. "I never really swam, I didn't like running…I didn't bike that much," she says of her lack of familiarity with the three elements of a triathlon, adding, "I was jumping into triathlons without knowing a thing about them." Katie says that finding good coaching through Team In Training was key to her introduction to her new sport. "I was so comfortable going into race day," she says of her preparation.
Team In Training offers coaching programs for runners, cyclists, hikers, and triathletes. You may also find assistance through gyms and local clubs (running, swimming, and cycling clubs, for example).
Is competition not your thing? You can still set goals, raise money, and have fun—many charity events are not timed or competitive.
You may choose a charity based on a personal connection to a certain cause (you're a survivor of a particular illness or have loved ones affected) or simply because a cause just moves you.
If there's a particular disease you'd like to support, contact advocacy groups for that disease to find out if they host or are aware of events. Also look to local hospitals, healthcare organizations, and cancer centers that may be hosting events.
​