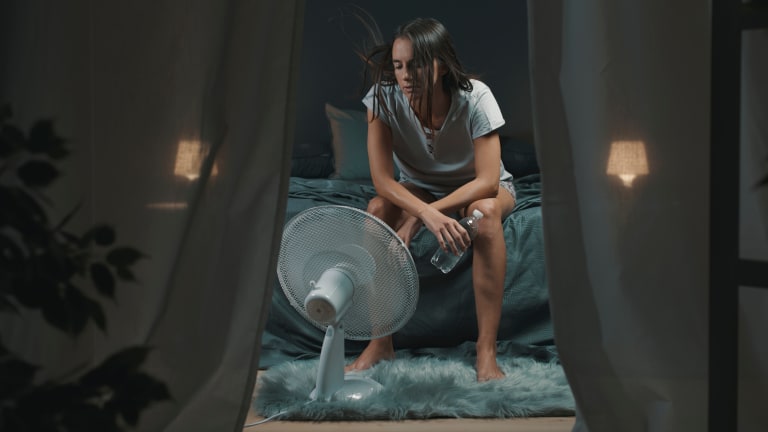 Hot Flashes & Cancer
Treatment of Hot Flashes Oxybutynin, Anti-depressants, Acupuncture, Hypnosis, Black Cohosh, and more...
Hot Flashes: What are the Treatment Options for Cancer Patients and Survivors
by Dr. C.H. Weaver M.D. 11/2022
Both men and women can experience hot flashes as a result of cancer treatment. Hot flashes occur in men treated with hormonal therapy for prostate cancer and in women as they age independent of cancer treatment. ​
As women reach menopause and beyond, more than 80% will experience symptoms such as hot flashes, night sweats, sleep disturbance, and vaginal dryness. Estrogen (with or without progestin) is the most effective treatment for many of these symptoms, but some women choose not to use estrogen because of concerns about possible adverse health effects and others should not receive it because of their cancer.
Women with breast cancer are especially in need of guidance about relief of menopausal symptoms. While many breast cancer survivors experience menopausal symptoms as a result of their age or their cancer treatment, few are given estrogen because of the concern that it might increase the risk of breast cancer recurrence. In addition to the discomfort they cause, hot flashes can also be associated with premature discontinuation of treatment.
What causes hot flashes in women?
Chemotherapy may induce early menopause. Anti-estrogen medications, which are a major component of breast cancer treatment, and hormone replacement therapy, which is sometimes prescribed to treat hot flashes but is generally not recommended for breast cancer survivors also contribute to the increased severity of hot flashes following treatment of breast cancer.
What causes hot flashes in men?
Men receiving hormonal therapy for the treatment of prostate cancer also experience hot flashes.
What can be used to used to treat hot flashes?
Several medications including oxybutynin and anti-depressant drugs as well as alternative approaches such as acupuncture and hypnosis all work to control hot flashes in some women. Flaxseed and Soy Phytoestrogens were once thought to help control hot flashes but clinical trials have not supported their use.1
Medications
Oxybutynin
Anti-depressant Medications
Paxil® (paroxetine)
Prozac® (fluoxetine)
Zoloft® (sertraline)
Lexapro (escitalopram)
Catapress
Effexor
Non-Medication Alternative Treatments
How does Oxybutynin decrease the severity of hot flashes?
Oxybutynin is an anticholinergic medication which interferes with the activity of a neurotransmitter in the brain and in the peripheral nervous system thought to be involved with mediating hot flashes. In a pivotal research study 150 women with hot flashes 62% of whom were on tamoxifen or an aromatase inhibitor were treated with either Oxybutynin or a placebo and compared. Women taking the Oxybutynin experienced fewer and less severe hot flashes and reported improvement in work, social activities, leisure activities, sleep, and overall quality of life. Reported side effects of treatment were dry mouth, dry eyes, and difficulty urinating, but were all mild in severity.1
Treatment with oxybutynin can help reduce the frequency and intensity of hot flashes for women who cannot take hormone replacement, including breast cancer survivors and oxybutynin does not interfere with the metabolism of tamoxifen which is an additional important consideration for breast cancer survivors, as other effective non-hormonal treatments for hot flashes are thought to potentially decrease the effectiveness of tamoxifen.
What Anti-depressants Are Used to Treat Hot Flashes?
Paxil 
The antidepressant drug Paxil® (paroxetine) effectively relieves frequent hot flashes among women with and without a history of breast cancer. Women reported fewer and less severe hot flashes during treatment with Paxil.2
Treatment with 10 mg of Paxil reduced hot flash frequency by 41%, compared to a 14% reduction during treatment with placebo.
Effexor® More Effective than Catapres and Neurotonin
The anti-depressant medication Effexor® (venlafaxine) has been determined to be more effective than Catapres® (clonidine) for the treatment of hot flashes in women with breast cancer. Hot flashes were reported to be reduced by nearly eight episodes per day in patients treated with Effexor and by nearly five episodes per day in patients treated with Catapres.3
Women with a history of breast cancer also appear to prefer the antidepressant Effexor® (venlafaxine) over the anti-seizure drug Neurontin® (gabapentin) for treatment of hot flashes. 
Though Effexor and Neurontin may both reduce hot flashes, researchers have yet to determine which medication breast cancer survivors prefer. To establish a preference, researchers evaluated both drugs among postmenopausal women. Participants had experienced at least 14 significant hot flashes per week before the study began. Women were treated with either four weeks of Effexor followed by four weeks of Neurontin, or four weeks of Neurontin followed by four weeks of Effexor.
Participants used diaries to report hot flashes and side effects of Effexor and Neurontin. At the end of the trial, 56 women reported their preferences and the types of side effects they experienced.
Sixty-eight percent (38) of participants preferred Effexor, while about half as many (32%, or 18) preferred Neurontin.
Both Effexor and Neurontin reduced hot flashes by 66%.
Side effects differed between the two agents: Effexor was associated with increased nausea, appetite loss, and constipation compared with Neurontin, whereas Neurontin was associated with increased dizziness and appetite compared with Effexor.
Patients reported fewer negative mood changes with Effexor than with Neurontin.
The researchers concluded that breast cancer patients prefer Effexor over Neurontin for treatment of hot flashes. Both agents, however, appear effective and are well tolerated. It should be noted that neither drug has been FDA approved for the management of hot flashes.11
Bijuva for Moderate to Severe Hot Flashes Due to Menopause but Not for Cancer Survivors
Bijuva (estradiol and progesterone) capsules are now available for the treatment of women with a uterus for the treatment of moderate to severe hot flashes) due to menopause.
Bijuva is a "bio-identical" hormone therapy that combines estradiol and progesterone into a single capsule. Compared with synthetic hormone products, the estradiol and progesterone found in Bijuva are structurally identical to the hormones naturally circulating in the woman's body.
Bijvua carries a Boxed Warning regarding cardiovascular disorders, breast cancer, endometrial cancer, and probable dementia. Breast tenderness, headache, vaginal bleeding, vaginal discharge, and pelvic pain were the most common adverse reactions associated with Bijuva.
Can Hot Flashes be Treated Without Medications Using Alternative Therapies?
Yes-small alternative therapies are effective at reducing hot flashes. In addition as an adjunct to medication here are some things that can be helpful: Wear light, loose clothes, layered; stay in a cool environment – open window in bedroom; cool cloths on your head; drink ice water; exercise/activity; and avoid triggers: stress, caffeine, alcohol, smoking, spicy food, tight clothes and any source of heat (vents, hot tubs, saunas, etc)
Among women treated with hormonal therapy for breast cancer, acupuncture and Effexor® (venlafaxine) were found to be similarly effective at reducing the frequency of hot flashes according to a study published in the Journal of Clinical Oncology.4
Acupuncture
Acupuncture is a form of traditional Chinese medicine that aims to improve health by stimulating specific points of the body. Because acupuncture has shown some promise in reducing hot flashes in breast cancer patients, researchers conducted a study to compare it to Effexor. The study involved 50 women with Stage 0-III breast cancer who were experiencing hot flashes during hormonal therapy. Half the women received acupuncture for 12 weeks, and half the women were treated with Effexor for 12 weeks.
Both groups (acupuncture and Effexor) experienced significant decreases in hot flash frequency. Acupuncture appeared to be as effective at reducing hot flashes as Effexor.
By two weeks after completing treatment with acupuncture or Effexor, hot flash frequency increased in the Effexor group but remained at low levels in the acupuncture group.
Side effects among women treated with Effexor included nausea, dry mouth, dizziness, and anxiety. Acupuncture did not produce any negative side effects.
These results suggest that acupuncture may be as effective as Effexor at reducing the frequency of hot flashes in breast cancer patients treated with hormonal therapy.5
Hypnosis Can Decrease Hot Flashes in Some Breast Cancer Survivors
Researchers from Baylor University, University of Texas, and Johns Hopkins University conducted a clinical trial to explore the potential effects of hypnosis on control of hot flashes among women treated for breast cancer. This trial included 51 breast cancer survivors who received either five weekly sessions of hypnosis or no treatment.6
Hot flashes were reported to be diminished in 68% of patients receiving hypnosis.
Patients receiving hypnosis also reported decreases in anxiety, depression, interference of hot flashes with daily activities, and sleep problems.
Flaxseed Not Effective Against Hot Flashes
Flaxseed, a source of dietary lignans showed promise in small studies and doctors sought confirmation of its potential by evaluating188 postmenopausal women who were experiencing at least 28 hot flashes a week. Study participants received either a daily flaxseed bar or a placebo (a bar made of protein and fiber without flaxseed or lignans) for six weeks and were then compared.7
The flaxseed bars did not affect hot flash frequency or severity. In both study groups (flaxseed and placebo), roughly one-third of women had a 50% reduction in hot flash scores. Both groups also reported increased bloating, diarrhea, and nausea. These results suggest that flaxseed is not effective against hot flashes in postmenopausal women.
Soy Phytoestrogens Do Not Alleviate Hot Flashes in Postmenopausal Women Treated for Breast Cancer
According to a recent article in the Journal of Clinical Oncology, soy phytoestrogens appear to not alleviate hot flashes in postmenopausal women treated for breast cancer.8
Researchers from Canada performed a clinical trial in to determine effectiveness of soy products in postmenopausal women with moderate hot flashes who were previously treated for early-stage breast cancer. Women in the trial received either 500 mL of a soy beverage containing 90 mg of isoflavones or a placebo (inactive substitute) which was a rice beverage. Women recorded the number and severity of hot flashes daily with a daily menopause diary for 4 weeks prior to initiation of the trial and for 12 weeks while consuming the soy or placebo beverage.
There were no significant differences between the soy and placebo groups in the number of hot flashes or hot flash scores. However, both groups reported a significant reduction in hot flashes. The average isoflavone concentration in a patient's blood at 6 weeks was significantly higher in women who consumed soy compared with placebo. Mild gastrointestinal side effects were experienced by both groups, but occurred with greater frequency and severity with soy.
These researchers concluded that soy beverages do not alleviate hot flashes any more than a placebo in women treated for breast cancer. Further study is required to identify safe and effective treatments for these symptoms in patients treated for breast cancer. Patients with breast cancer who experience hot flashes and night sweats may wish to speak with their physician about the risks and benefits of participating in a clinical trial evaluating novel therapeutic approaches to diminish these side effects.
Black Cohosh Does Not Appear to Relieve Hot Flashes in Breast Cancer Survivors, Although Sweating May Be Reduced
Black cohosh (Cimicifuga racemosa) is a woodland plant native to the eastern United States and Canada. It is known in folk medicine as a woman's remedy and has been historically used primarily to treat menstruation and menopause symptoms. The root is used for medicinal purposes and the typical dosage is usually 40 mg twice daily. In 1989, the Kommission E (Germany's regulatory agency for dietary supplements and herbs) approved black cohosh for PMS, menstrual cramps and symptoms of menopause such as hot flashes. Black cohosh is commonly used to treat menopause symptoms throughout European countries. Researchers have hypothesized that black cohosh may work by mimicking estrogen.
Researchers at Columbia University conducted a clinical trial of 85 breast cancer patients who had completed their primary treatment, some of whom were receiving tamoxifen (59 of 85). Patients were divided into two groups, the treatment group receiving 40 mg of black cohosh daily while the other group received a placebo (inert pill). The patients completed a menopause symptom questionnaire at the start of the study and kept a 4-day hot flash diary prior to starting the study and at one and two months into the study. The menopause symptoms under investigation included hot flashes, heart palpitations, headaches, irritability and sweating. The patients also had their follicle-stimulating hormone (FSH) and luteinizing hormone (LH) levels measured at the first and final visits.
Both the treatment and the placebo group reported a similar decline in the number and intensity of hot flashes. There did not appear to be any difference between the placebo and treatment groups, nor between women receiving tamoxifen and those who did not, for other menopause symptoms. The one exception was sweating, which women taking black cohosh reported as significantly less than women receiving placebo. There was no significant difference in the FSH and LH levels between women receiving black cohosh or placebo. This suggests that black cohosh does not affect estrogen hormone levels, which would make it unsafe for women with estrogen-dependent breast cancer. No adverse events appeared related to the use of black cohosh.
The research team concluded that "for breast cancer survivors, our data provide little evidence of either harm or benefit from using black cohosh to control hot flashes, although a reduction in sweating may be important to patients." Additional research, including a study with a longer follow up and/or a more typical dosage of black cohosh, may produce different results.10
References:
Stearns V, Slack R, Greep N et al. Paroxetine is an Effective Treatment for Hot Flashes: Results From a Prospective Randomized Clinical Trial. Journal of Clinical Oncology. 2005;28:6919-6930.
Loibl S, Schwedler K, von Minckwitz G, et al. Venlafaxine is superior to clonidine as treatment of hot flashes in breast cancer patients-a double-blind, randomized study. Annals of Oncoloogy. 2007;18:689-693.
National Center for Complementary and Alternative Medicine. Acupuncture: An Introduction. Available at: . Accessed January 4, 2010.
Elkins G, Marcus J, Stearns V, et al. Randomized trial of a hypnosis intervention for treatment of hot flashes among breast cancer survivors. Journal of Clinical Oncology [early online publication]. September 22, 2008.
Pruthi S, Qin R, Terstriep SA et al. The evaluation of flaxseed for hot flashes, results of a randomized, controlled trial, NCCTG study N08C7. Paper presented at: 2011 Annual Meeting of the American Society of Clinical Oncology; June 3-7, 2011; Chicago, IL. Abstract CRA9015.
Phytoestrogens on Hot Flashes in Postmenopausal Women With Breast Cancer: A Randomized, Controlled Clinical Trial, Cheri L. Van Patten, Ivo A. Olivotto, G. Keith Chambers, et al, Journal of Clinical Oncology, Vol 20, Issue 6, pp 1449-1455, 2002)
Freeman EW, Guthrie KA, Caan B et al. Efficacy of escitalopram for hot flashes in health menopausal women: a randomized controlled trial. JAMA. 2011;205:267-274.
Stearns V, Slack R, Greep N et al. Paroxetine is an Effective Treatment for Hot Flashes: Results From a Prospective Randomized Clinical Trial. Journal of Clinical Oncology. 2005;28:6919-6930.
Jacobson JS, Troxel AB, Evans J, et al. Randomized trial of black cohosh for the treatment of hot flashes among women with a history of breast cancer. Journal of Clinical Oncology. 2001;19:2739-45.
Bordeleau L, Pritchard KI, Loprinzi CL, et al. Multicenter, randomized, cross-over clinical trial of venlafaxine versus gabapentin for the management of hot flashes in breast cancer survivors. Journal of Clinical Oncology [early online publication]. November 8, 2010.