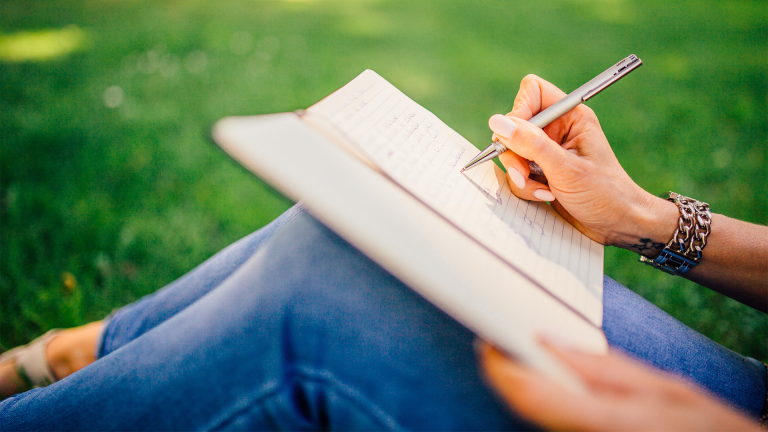 Healing From the Inside Out - Women Write to Heal
Cancer survivors and caregivers find solace and purpose in writing about their experiences with cancer.
By Julie Maloney
This is how we begin: "Put your left palm over your right hand and place them on your lower abdomen. This is where your voice comes from—acknowledge the power of your own voice."
I look around the circle in the mind-body center. Some faces I have seen before; others are new, as evidenced by their anxiety. "Welcome writers," I say. A few respond with "I'm not a writer." I gently interrupt. "Once you walk through that door, I recognize you as a writer." Some giggle. Others shrug and shake their heads. No one leaves.
We then take three deep breaths in rhythm with the soft sounds of my handheld chimes. The room relaxes. Eyes close. I concentrate on my breath, making sure my words come from the core of my belly when I speak.
Two hours later we're still writing. We decide to keep on going. Faces glow. We exchange hugs. Energy from the circle fills the room. Hearts open. I explain that a writer is someone who writes. "Give yourself permission to write what you want to say," I tell them.
Stories, characters, reflections, memories, poems emerge on the page. "Where did that come from?" someone asks. "Writing tells us what we didn't know we knew," I say. It's a good mantra to remember.
I ask for comments after each writer reads aloud. "Respond with only two questions," I tell them: "What's working in this piece? What stays with you?" With the inner critic hushed, the positive feedback helps the healing process.
I know something about what these writers are feeling today, not only as a working artist—I am a former New York City dancer and choreographer—but as someone who has traveled through breast cancer twice, I discovered my poet's voice as I navigated my way through surgeries, radiation, and chemotherapy.
I founded Women Reading Aloud—a nonprofit 501(c)(3) organization dedicated to the support of women writers. At that time I was in the middle of chemotherapy, but I refused to forgo my dream of creating a community to support women's voices through writing. Since then I've been leading writing workshops, special literary events, and writing retreats here and abroad. I've witnessed how writing helps us heal from the inside out.
I published Private Landscape, a book of poems centered around my journey through cancer. And though I have given countless readings of my poetry, what continues to give me the greatest joy is what I'm doing today: working with the writing circle at the Carol G. Simon Cancer Center at the Morristown Medical Center in New Jersey.
As a trained facilitator with the Amherst Writers and Artists Method, I teach cancer patients and caregivers like those gathered for this session how to fill the white space on the page by writing spontaneously through creative writing exercises. What results is the awakening of an inner voice that yearns to be heard—a voice that tends the heart.
Such a voice will never be forgotten by the writer, the reader, or the listener.
Writing Therapy
The therapeutic impact of writing to relieve stress, and thereby potentially improve immune function, is increasingly recognized by cancer treatment centers as they develop mind-body resources for patients. Many centers now offer writing therapy programs, which aim to provide patients with emotional support as they manage their diagnosis.
A random selection of offerings at treatment centers around the country makes clear their growing popularity: at Memorial Sloan-Kettering Cancer Center, the Visible Ink program pairs patients with experienced writers, editors, or teachers to pursue a writing project of their choice; at UC Davis Comprehensive Cancer Center, the weekly Writing as Healing group provides a supportive environment for patients to share their work; and at the Georgetown Lombardi Comprehensive Cancer Center, Writing for Your Health workshops bring patients together to write about their experiences and share their feelings.
Katherine Puckett, PhD, MS, MSW, LCSW, national director of mind-body medicine at CTCA, agrees, adding that because writing can be an entirely private exercise, it can provide an outlet that is freeing, as the writer is able to process without filtering and without fear of any type of judgment, and can provoke valuable self-discovery. "Writing may tap into the unconscious," Dr. Puckett says, "especially if the person has taken a little time to sit quietly first. Through writing people often discover or uncover things they weren't consciously aware of."
In addition, when paired with talk therapy, writing can serve to facilitate conversations that might be difficult to otherwise have. "It often works well for people to write first and then talk about what they have written," Vettickal says. "Writing first can make it easier to talk about the issue at hand."
For those interested in writing about their feelings and experiences, it can be as simple as putting pen to paper—or fingers to keyboard. For those who want specific direction, Vettickal says there are several exercises that patients can try, either alone or in a group or therapy setting:
Dialogue with a symptom. Think of a symptom, problem, or emotion; name that issue and write about it (what it is, when it started, what the journey has been like). If you have trouble getting started, imagine that the symptom/problem/emotion is sitting in a chair across from you and actually record a dialogue with it. A variation on this is to use the dominant hand to write (ask) the questions, and the nondominant hand to write the responses. This can access different parts of the brain and may be especially helpful if the writer feels stuck.
Dialogue with a person. This can be especially effective if the writer has strong feelings about a person but is unable to express them directly to that person. The writer can imagine that the person is present and can write what she would have wanted to say to the person.
Keep a journal. Start an ongoing record of feelings, thoughts, and events.
Write for a specified amount of time. Write for a set time (5 to 10 minutes, for example) without stopping or editing—and never let the pen leave the paper. Unexpected things may emerge when we're not stopping to think about what we're writing.
Katherine Malmo
Katherine Malmo was 31 when she was diagnosed with inflammatory breast cancer in 2005. As she faced the many implications of the diagnosis, both long- and short-term, she found herself up against significant emotional trauma. "I took my diagnosis very hard," Katherine says. "My husband and I had been trying to start a family, and because of the particular characteristics of the cancer and the circumstances of my overall health, my diagnosis made it unlikely that we would have biological children. While I was dealing with that grief, I had a bilateral mastectomy, and my reconstruction would not be immediate or easy—and I thought I was dying. There was that too."
For Katherine the path to coping with the many issues related to her journey came in part through writing about her experiences. In fact, she says, the urge to write and engage in the creative process was irrepressible. "Some friends expressed concern that it was too soon for me to write my story and that I needed to grieve, recover, and let everything that was happening rest before I put it on paper. But I couldn't stop myself. I had to write. Writing was my recovery."
As her treatments progressed and her body healed, Katherine's inner life was also transformed through the creative process of writing about her experiences. "What started as a time of terrible darkness, stagnation, and depression was followed by a time of incredibly intense, fulfilling, feverish creativity," she says. The ultimate result of the writing that emerged during this period was a collection of creative nonfiction pieces that have now been compiled in a collection, Who in This Room: The Realities of Cancer, Fish, and Demolition, which was published by CALYX Books in 2011.
Reflecting on the role of writing on her own journey, Katherine notes the universal therapeutic power of engaging in creative work in the face of life's challenges. "There's nothing more cathartic than making art from grief," she says. "It's as if it keeps all that sadness and loss from going to waste."
Now, having come through treatment and moving forward with her life, which has included the adoption of two young children and continued writing (she publishes a blog, hystericalnmommynetwork.com, and is at work on a novel), Katherine finds herself viewing the writing she produced during her illness from a very different perspective. "The woman who wrote that book was a different version of me," she says, adding, "I hope her story will help anyone who has known grief."
Kimberly Allison, MD
For Kim Allison, a pathologist and mother of two young children, the desire to write about her breast cancer diagnosis was immediate. "As soon as I was diagnosed," she says, "I felt a need to process the whirlwind of emotions on paper." Using an old journal, Kim began expressing herself and recording the facts of her experience. Later she also kept an online journal, through a personalized Caring Bridge page, to keep friends and family up-to-date on her treatment and her emotions.
For Kim, writing about her journey was both therapeutic and practical. "Writing served two main purposes for me during cancer treatment," she says. "First, it was emotionally a way to process everything I was going through, often illuminating new meanings and even the humor in the daily ridiculousness of cancer treatment. Second, it served to document who I was and who I became through the process. Leaving a trail of thoughts on a page made me feel more permanent during a time when I felt very uncertain about my future."
The unanticipated reward of what was initially a personal venture was the opportunity to share her experiences with a wider audience when her memoir, Red Sunshine: A Story of Strength and Inspiration from a Doctor Who Survived Stage 3 Breast Cancer, was published by Hatherleigh Press in 2011. Knowing that the record of her own experience may serve another patient or family is a wonderful thing, Kim says. "I feel a huge sense of gratitude that my story may be helping others dealing with a cancer diagnosis or other health challenges."
Having shared her personal story, Kim looks forward to potentially creating another, more clinical resource for women facing breast cancer. "I'm a visual person—it comes with the territory of being a pathologist," she says. "I'd love to publish a more visually appealing book about understanding breast cancer for the general public, filled with images and tips from both experts and other survivors. Being able to visualize what a radiation treatment is like, what a chemotherapy infusion entails, and what the different breast reconstruction options are, for example, can really demystify a fearful process."
Linda Campanella
When Linda Campanella's mother was diagnosed with terminal cancer in September 2008, Linda made a commitment to make the most of the remaining time her mother had. "While there was nothing I could do to keep her from dying," Linda says, "there was plenty I could do to help her keep living—fully and joyfully." To that end Linda and her younger siblings dedicated themselves to infusing happiness and life into the time that otherwise might have been spent anticipating their mother's death.
Shortly before her mother passed away, Linda's brother suggested that Linda write something about the family's journey and their life-affirming approach to facing their loved one's death. Though she initially disregarded his suggestion, as she moved through the grieving process Linda began to embrace the idea. "In the days and weeks of intense grief, I noticed that, as I lay awake unable to sleep or as I was driving around town and allowing my mind to wander, ideas for chapter headings were taking shape in my head," she says. "Soon my thoughts formed into paragraphs. And, eventually, it became clear that the voluminous content bubbling up inside me needed an outlet."
As she began to write, Linda found that the process brought her closer to her mother's memory and provided an emotional outlet. "In telling my particular story of loss, I relived and reconstructed a very painful experience," she says, "but I also was able to revisit countless joyful times, recall unforgettably poignant moments, wrap myself in the memory of a woman who epitomized grace and courage, and take stock of the extraordinary gifts we all had received during her final year." Having started writing at the end of October, by mid-December Linda had completed a 60,000-word manuscript, which she had bound as a Christmas gift for her father.
Though Linda did not initially plan to make the memoir public, she did ultimately decide to seek a publisher for the manuscript, with the hope that her own experiences might help another family facing the death of a loved one. "The more I wrote," she says, "the more I realized a book could be a vehicle for keeping my mother's memory alive, for sharing her legacy of living and loving with others who might be inspired, and even for doing what my brother had initially imagined when he suggested I write—namely provide hope and help to others struggling to navigate the path our family had traveled." In August 2011 Linda's book, When All That's Left of Me Is Love , was released. It is both a tribute to her mother and an offering to others facing or grieving loss.
Dena Sherwood
Dena Sherwood's son, Billy Jr., was 13 months old when he was diagnosed with neuroblastoma, an aggressive cancer of the sympathetic nervous system. For Dena and her family, including husband Billy and older daughter Sydney, that was the day that changed everything. In her memoir of the family's experience of battling the disease, No Retreat, No Surrender: A Story of Faith, Love and Cancer, Dena says, "Every detail of that awful day has been burned into my memory. That day has altered all the rest."
For Dena, writing about her experiences as a mother, caregiver, and advocate (she founded Arms Wide Open Childhood Cancer Foundation to raise funds and awareness for neuroblastoma in 2009) became an essential part of all the days that followed Billy Jr.'s diagnosis. Initially, the process was personal; she wrote to vent her frustrations and her emotions. "Writing was extremely therapeutic for me," she says. "So many times during our journey, we were isolated from the rest of the world, and writing was my only connection to others. Writing was a way that I could communicate and be completely honest about how I was feeling, without having someone feel sorry for our family and our situation, without having to worry about how someone else would react to our news."
Soon, though, Dena realized that her writing could be much more than a personal outlet. Having recorded her feelings and the events of her son's journey through a Caring Bridge site from the point of his diagnosis, she was aware of how many people she was reaching through that format, and she realized the impact she could potentially have if she could share his story with a wider audience. "I thought, What better way to raise awareness for a pediatric cancer that most have never heard of than to write a book," she says.
From that point Dena's writing became much more directed, as she wrote with the goal of publication. "I planned to make my writing public to raise awareness and to be a voice for the children and their families, who, like us, were fighting for their child's life," she says. Her goal was realized when No Retreat, No Surrender was published earlier this year.
Now, having accomplished her goal, Dena hopes to continue to serve parents of young cancer patients by publishing a second book, this time focused on the ongoing impact on a family of a child's cancer diagnosis. "I liken us—cancer families—to soldiers who have come home from battle and have been thrown back into a world that we no longer recognize or relate to. I am sure there are many others who feel the same; in fact, I know there are. I pray that by expressing my heart on this subject in my next book, I can help others heal by knowing they are not alone, while I myself am healed by my writing."
Learn more about Dena's story and Arms Wide Open Childhood Cancer Foundation at awoccf.org.
Julie Maloney is a lifelong performer and arts educator. She was the artistic director, choreographer, and principal dancer of her own modern dance company for 13 years. As a writer and a poet, she gives readings of her work and lectures on writing as a life tool. Her message enforces the exploration of voice as a means of wellness. As founder/director of Women Reading Aloud, she leads writing workshops throughout the year. In June 2012 she returned to the island of Alonnisos in Greece as director of an international writers' retreat. The University of North Carolina has honored Julie with a Distinguished Alumna Award. For more information please visit womenreadingaloud.org.