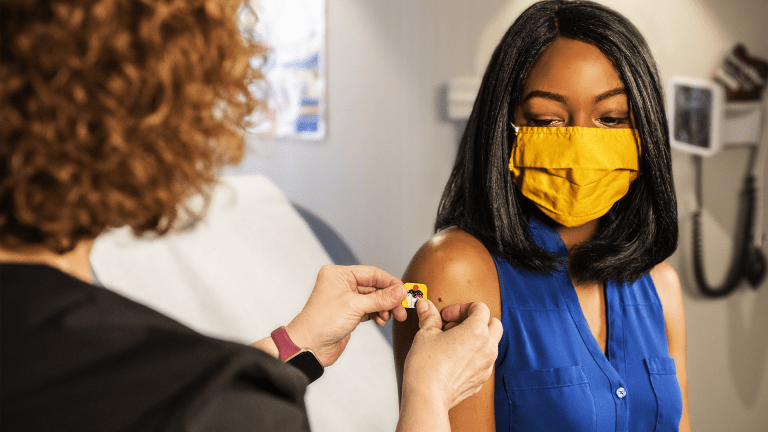 COVID-19 Vaccination in Patients with Blood Cancers
COVID-19 vaccine effectiveness in blood cancers-could Moderna be better?
by Dr. C.H. Weaver M.D. 4/2022
National Comprehensive Cancer Network Update
The following groups should be considered eligible for a third  dose's of the mRNA COVID-19 vaccine based on the latest FDA/CDC decisions - this dose is more than a booster.
Patients with solid tumors (either new or recurring) receiving treatment within 1 year of their initial vaccine dose, regardless of their type of cancer therapy
Patients with active hematologic malignancies regardless of whether they are currently receiving cancer therapy Anyone who received a stem cell transplant (SCT) or engineered cellular therapy, especially within the past 2 years.
Any recipients of allogeneic SCT on immunosuppressive therapy or with a history of graft-vs-host disease, regardless of the time of transplant.
Anyone with an additional immunosuppressive condition or being treated with immunosuppressive agents unrelated to their cancer therapy.
People living in the same household with immunocompromised individuals should also get a third dose once it is available. 
Because clinical trials of COVID-19 vaccines did not include patients with blood cancers and patients with these cancers are at high risk of severe illness and complications from the virus, there is great interest in understanding the effectiveness of vaccines in these groups of patients. Two studies published in the medical journal Blood suggest that the mRNA COVID-19 vaccine has reduced effectiveness in individuals with chronic lymphocytic leukemia (CLL) and multiple myeloma, two types of blood cancer - this information is applicable to individuals with lymphoma as well. Overall, the response rate to the vaccine was significantly less than reported for the general population and this is most likely attributed to the presence of cancer itself and certain treatments that suppress the immune system.1,2
Researchers compared 167 patients with CLL to 53 healthy individuals who received two doses of BNT162b2 messenger RNA (Pfizer) COVID-19 vaccine 21 days apart between December 2020 through February 2021. The researchers report that people with CLL had significantly lower immune response rates to the two-dose mRNA COVID-19 vaccine compared to healthy individuals of the same age. Only 40% of patients had a positive antibody-mediated response to the vaccine. There were however wide variations in immune response based on where patients were in their cancer treatment.
Patients undergoing active cancer treatment had significantly lower response rates to the vaccine when compared with people who had completed treatment and were in remission, 16% vs 79% respectively.
Treatment naïve patients had a 55.5% response rate and response to the vaccine was higher in people who completed CLL treatment at least a year before vaccination compared with those who were still in treatment within the last year, 94% vs 50%, respectively.
Low response rates among patients who were receiving treatment with Bruton's tyrosine kinase (BTK) inhibitors (ibrutinib or acalabrutinib) or a combination of venetoclax with anti-CD20 antibodies such as rituximab were reported. No patients who received anti-CD20 antibodies within 12 months of COVID-19 vaccination responded.
Patients with CLL also had lower antibody titers, which tells us that, in addition to fewer patients responding to the vaccine, the intensity of the response was also lower.
Other research suggests that patients with hematologic malignancies do not mount as an effective antibody response to vaccination.6-9 A study that evaluated the anti-SARS-CoV-2 spike protein antibody response in 1445 patients with leukemia, lymphoma, or myeloma 14 days after they had received a second dose of either mRNA vaccine (Pfizer-BioNTech or (Moderna) offers some new insights.
Rates of Seropositivity by Cancer Type
Hodgkin lymphoma 98.5%
Chronic myeloid leukemia 97.1%
Acute myeloid leukemia 91.2%
T-cell lymphoma 84.6%
Acute lymphocytic leukemia 88.2%
Multiple myeloma 95%
B-cell non-Hodgkin lymphomas were less likely to have an antibody response.
Rates of Seronegativity by Cancer Type
Mantle cell lymphoma 56%
Waldenstrom's macroglobulinemia 26%
Follicular lymphoma 22%
Diffuse large B-cell lymphoma 21%
Chronic lymphocytic leukemia 33%
Patients who are on any kind of treatment that disables B lymphocytes have a problem mounting an antibody response to COVID-19 vaccines or the virus. Anti-CD20 antibodies and Bruton's Kinase Inhibitor therapies were found to be associated with a lack of antibody response.
Seronegative for Antibodies
Rituxan 56%
Obinutuzumab 82%
Ibrutinib 50%
Zanubrutinib 57%
CAR T Cell Therapy 86%
Could the Moderna Vaccine be Better Than the Others?
The study above also showed differences in antibody response by vaccine type – patients were significantly more likely to have an antibody response to the Moderna than the Pfizer-BioNTech vaccine. Other studies in patients with chronic lymphocytic leukemia (CLL) and other blood cancers have also found that the Moderna vaccine may be more effective than the Pfizer-BioNTech vaccine and be associated with fewer "breakthrough" infections.15,16
Researchers found that patients with CLL were significantly more likely to have an antibody response to the Moderna vaccine, and there was a trend for patients with Waldenstrom's macroglobulinemia (WM) and other B cell lymphomas.
The rate of antibody response was 61% in CLL patients receiving the Moderna vaccine compared to 44% for those receiving the Pfizer-BioNTech vaccine. Among treated CLL patients, the antibody response rate was 51% with the Moderna vaccine and 29% with the Pfizer-BioNTech vaccine.15
Some evidence has emerged that T cells can effectively mount an immune response to SARS-CoV-2 in hematologic cancer patients even without significant generation of antibodies,9 but it is currently unclear as to whether the same T-cell response will be seen after COVID-19 vaccination. Doctors don't know whether T cells are enough to mount an immune response and how effective these responses will be.
Will a "Booster" Vaccine Make a Difference?
The US Food and Drug Administration recently authorized booster shots of COVID-19 vaccines for use in immunocompromised patients.5 It isn't clear yet how much patients with hematologic malignancies will benefit from a third vaccine dose. Some solid organ transplant recipients with low or no antibody titers after a second vaccine dose and some lymphoma patients have been reported to respond to a booster dose despite having received Rituxan or BTK inhibitor treatment.10,11
Safety of Vaccines
Research published in February 2022 confirms that mRNA vaccines are just as safe for people with cancer as they are for cancer-free individuals. Researchers from Fox Chase Cancer Center tracked short-term side-effects from more than 1,753 recipients of the Pfizer BNT162b2 vaccine, and found no additional reactions for patients undergoing active cancer treatment (surgery, chemotherapy, immunotherapy, or radiation therapy) or who had completed treatment.

The results come from in person, phone and online surveys given to people who received two doses of the mRNA vaccine, three weeks apart, between February 16 and May 15, 2021. 1,183 people with a history of cancer responded to both surveys, with 17.8% then currently undergoing treatment. Respondents experienced pain at the injection site, muscle pain, joint pain, fever, chills, headache, nausea, and fatigue at similar rates as those reported by people without cancer from the original clinical trials. Adverse effects for people undergoing immunotherapy also mirrored those in the general population.13
Third COVID-19 Vaccine Improves Immune Response
New research suggests that lymphoma patients can have improvements in antibody and T-Cell responses after a third vaccine dose, except in patients who had recently received Rituxan
Doctors evaluated blood samples from 457 adult lymphoma patients prior to their first vaccination of either the Oxford-AstraZeneca or BioNTech Pfizer vaccines, four weeks after the first dose, two to four weeks and 6 months after the second dose, and four to eight weeks after the third dose. The scientists measured the ability of antibodies in the blood samples to prevent the viral spike protein from binding to ACE2 proteins, which are the virus's key point of entry into the human body. They also measured the response of T cells.
The results showed that over half of patients undergoing active cancer treatment had no detectable antibody levels after the second vaccination, T cell responses could be detected in about two thirds of all patients. After a third dose, 92 percent of patients who were not undergoing anti-CD20 treatment for their cancer showed improved antibody responses, compared to 17% who were receiving that treatment.13
Response to COVID-19 Vaccines Myeloma Suboptimal -  Risk Persists
Patients with multiple myeloma appear to have a widely variable response to COVID-19 vaccines, according to a study published in Cancer Cell. Mount Sinai researchers found that multiple myeloma patients mount variable and sometimes suboptimal responses after receiving the Pfizer-BioNTech or Moderna COVID-19 vaccines. Almost 16 percent of these patients developed no detectible antibodies after both vaccine doses.
Researchers analyzed the antibody levels of 320 multiple myeloma patients, 260 of whom received two doses of COVID-19 vaccinations and found that 15.8 percent had undetectable antibodies. The multiple myeloma patients who had had COVID-19 before vaccination showed immune responses that were 10 times higher than those who had not.
Overall, 84% of fully vaccinated patients had measurable IgG antibody levels of varying magnitude, however 16% of patients had undetectable IgG antibody levels after vaccination. 
More than half (58.5%) of patients who had undetectable IgG antibody levels were on active treatment with anti-CD38 antibody-containing therapy at the time of vaccination, 31.7% were on anti-BCMA bispecific antibody therapy and 9.8% underwent anti-BCMA chimeric antigen receptor T-cell therapy more than 3 months before vaccination. Research into strategies to boost immune responses, such as third/booster vaccines or passive antibody infusions, is urgently needed.5
Patients with multiple myeloma (MM) remain at increased risk of developing COVID-19 even when fully vaccinated, according to a study published in JAMA Network Open.
A study was designed to test whether fully vaccinated patients with MM had a higher risk of breakthrough SARS-CoV-2 infections than similar patients without cancer, as well as to determine differences in hospitalization rates between MM patients with and without breakthrough SARS-CoV-2 infections.
The overall risk of breakthrough SARS-CoV-2 infection was 15.4% in the MM patients and 3.9% in the non-cancer population. The estimated probability of hospitalization was 34.4% for MM patients with a breakthrough infection and 4.5% for MM patients without an infection.12
Can Blood Cancer Patients with Low Antibody Levels Fight off COVID-19 with T Cells?
Antibodies aren't the only immune cells needed to fight off COVID-19 — T cells appear equally important. Researchers have found that blood cancer patients with COVID-19 who had higher CD8 T cells, many of whom had depleted antibodies from cancer treatments, were more than three times likelier to survive than patients with lower levels of CD8 T cells suggesting that T cells play an important role.
This research suggests that T cells may compensate for B cell and antibody responses, which are diminished in many cancer patients because of chemo-immunotherapy. Additionally, because the current COVID-19 mRNA vaccinations induce both antibody and T cell responses, the findings suggest that vaccination of blood cancer patients could provide protection through T cell immunity, despite the absence of antibodies.
Researchers at Memorial Sloan Kettering and Penn Medicine performed Immune profiling of patients with and without cancer. They found that patients treated with anti-CD20 antibodies had decreased B cells and antibodies compared to patients with solid cancers and patients without cancer. Analyses among patients with blood cancers, including patients treated with chemotherapy and anti-CD20 antibodies, individuals with higher CD8 T cell counts had a 3.6 fold greater likelihood of survival compared to those with lower T cell counts. Thus, the authors concluded, CD8 T cells may influence recovery from COVID-19 when B cells and antibodies are deficient.
People with CLL and other blood cancers remain at high risk for severe illness with COVID-19 infection. Although vaccine response rates are low, vaccination against COVID-19 remains strongly recommended. Optimal vaccine timing would be before beginning treatment although this is obviously not an option for all patients. An additional booster dose of the vaccine might also be beneficial after completion of therapy, although this will need to be studied. It remains important for individuals with CLL, myeloma and lymphomas to continue to take precautions which include wearing a mask, avoiding crowds, keeping a social distance and being sure close contacts get vaccinated against COVID-19.
References:
Low Neutralizing Antibody Responses Against SARS-CoV-2 in Elderly Myeloma Patients After the First BNT162b2 Vaccine Dose
https://www.mountsinai.org/about/newsroom/2021/response-to-covid19-vaccines-varies-widely-in-blood-cancer-patients
Van Oekelen O, et al. Cancer Cell. 2021;doi:10.1016/j.ccell.2021.06.014.
 Wood WA, Neuberg DS, Thompson JC, et al. Outcomes of patients with hematologic malignancies and COVID-19: A report from the ASH Research Collaborative Data Hub. Blood Adv. 2020; 4(23): 5966–5975. doi:10.1182/bloodadvances.2020003170
Ribas A, Sengupta R, Locke T, et al. Priority COVID-19 vaccination for patients with cancer while vaccine supply is limited. Cancer Discov. 2021;11(2):233-236. doi:10.1158/2159-8290.CD-20-1817

4. Bange EM, Han NA, Wileyto P, et al. CD8+ T cells contribute to survival in patients with COVID-19 and hematologic cancer. Nat Med. 2021;27(7):1280-1289. doi:10.1038/s41591-021-01386-7

6. Werbel WA, Boyarsky BJ, Ou MT, et al. Safety and immunogenicity of a third dose of SARS-CoV-2 vaccine in solid organ transplant recipients: A case series. Ann Intern Med. Published June 15, 2021. doi:10.7326/L21-0282

Hill JA, Ujjani CS, Greninger AL, Shadman M, Gopal AK. Immunogenicity of a heterologous COVID-19 vaccine after failed vaccination in a lymphoma patient. Cancer Cell. 2021;39(8):1037-1038. doi:10.1016/j.ccell.2021.06.015

Coronavirus (COVID-19) Update: FDA authorizes additional vaccine dose for certain immunocompromised individuals. US Food and Drug Administration. Published August 12, 2021. https://www.fda.gov/news-events/press-announcements/coronavirus-covid-19-update-fda-authorizes-additional-vaccine-dose-certain-immunocompromised

Thakkar A, Gonzalez-Lugo JD, Goradia N, et al. Seroconversion rates following COVID-19 vaccination among patients with cancer. Cancer Cell. 39(8):1081-1090.e2. doi:10.1016/j.ccell.2021.06.002

Wang L, Berger NA, Xu R. Risks of SARS-CoV-2 breakthrough infection and hospitalization in fully vaccinated patients with multiple myeloma. JAMA Netw Open. Published online November 23, 2021. doi:10.1001/jamanetworkopen.2021.37575

https://www.nature.com/articles/s43018-022-00364-3 

Doukas PG, St. Pierre F, Boyer J, Nieves M, Ma S. Humoral immune response following COVID-19 vaccination in patients with chronic lymphocytic leukemia and other indolent lymphomas: A large, single-center observational study. Presented at NCCN 2022 Annual Conference; March 31 – April 2, 2022. Abstract CLO22-043.

https://ascopubs.org/doi/full/10.1200/JCO.21.02419