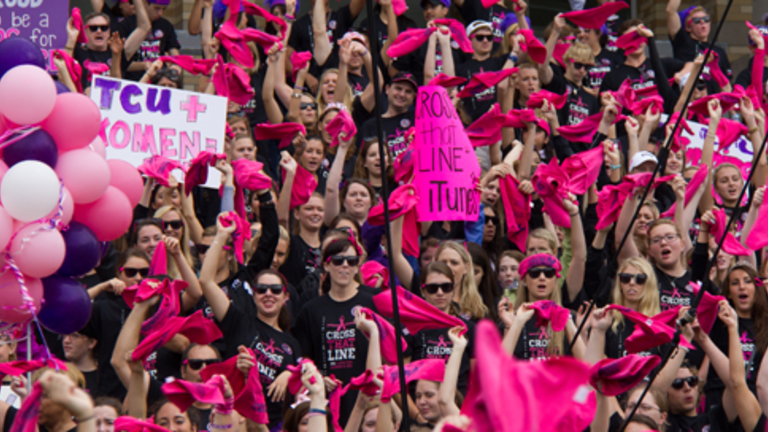 College Kids Kick Cancer
College kids and cancer—not two topics most of us would immediately connect.
Frogs For The Cure
by Diana Price
And yet at college campuses across the country, young adults are making a significant impact with fundraising and advocacy efforts in support of a wide range of cancer-related causes. Whether they have had experience with events in their hometowns, are survivors themselves, or simply see the power they have to make a difference and be a force for positive change, college kids are stepping up. There are myriad examples of efforts that range widely in size and scope, and students' roles range from managing yearlong campaigns to chairing committees or participating in individual events. The three profiles that follow illustrate just a few of the ways that college students are getting involved.
The American Cancer Society; Colleges Against Cancer and Relay for Life
St. Paul Park, Minnesota, native Sara Eberhardt had an early introduction to cancer. Diagnosed in 1994 at age three with Stage IV bilateral Wilms tumor—a type of kidney cancer that affects children—Sara underwent 65 weeks of chemotherapy, followed by radiation and surgery. In 1999 she was declared cancer-free.
Now 21 and a senior at Winona State University in Minnesota, Sara continues to feel immense gratitude for the care she received and for the research and the treatment that played a part in her journey. And because she knows that the critical research involved in the treatment of the disease was funded by the American Cancer Society, she is committed to raising funds and awareness for the organization.
"When I was diagnosed with cancer, the Society was already one step ahead of me, with funding research and grants for Wilms tumor and also for the chemotherapy drugs I was receiving," Sara says. "Since 1990 the American Cancer Society has funded 88 investigators and granted 17 studies focusing on Wilms tumor—totaling more than $3.8 million. Now it's my turn to give back to help other children who have been diagnosed with childhood cancer and to raise money so that they can have the most successful cancer treatment possible."
To that end Sara, now a senior set to graduate, has served as co-president of the Winona State University chapter of the American Cancer Society Colleges Against Cancer (CAC) program for the past four years. CAC organizes and promotes events and fundraising initiatives aimed at raising awareness about cancer and funds for Society programs and services among college students, including the popular Relay For Life event.
Sara, who was also involved with her hometown Relay For Life as a high school student, says her work with CAC and the Relay For Life events remains fulfilling and inspiring—not to mention fun. "The fulfillment that this work brings to my life is beyond words," she says, "and I am inspired by hearing others' stories and knowing the strength it took them to get through everything. And while we all know that this event has deeper meaning than the games or entertainments that are included, sometimes bringing fun to such an inspiring and fulfilling event can make an even bigger impact."
Nichole Pfeiffer Hicks, director of youth initiatives for the American Cancer Society Relay For Life, says that students like Sara who are involved in Society activities at home often want to continue to support the organization once they're in college. "I think they see an opportunity to make an impact right where they are, not just to participate but to be a part of something bigger—a part of change," she says. "It's about the difference they can make in the world around them."
And they are making a difference: over 500 Relay For Life events are planned at colleges in 2018, and last year these collegiate Relay events raised approximately $23 million for the American Cancer Society. Combined with the contributions from other Society events on campuses across the country, it's clear that the efforts of this inspired population are indeed creating change.
For more information about Colleges Against Cancer and the collegiate Relay For Life movement, visit college.relayforlife.org.
Jill's Megacy: Jog for Jill
Jillian Costello was a 21-year-old student-athlete and nonsmoker at the University of California, Berkeley (CAL) in 2009 when she was diagnosed with Stage IV lung cancer. Determined not to let the diagnosis get in the way of her dreams, Jill persevered through her senior year while undergoing intensive treatment, graduating from college with honors, and leading the CAL women's rowing team to a PAC-10 victory. Together with friends, she also planned the first Jog for Jill event that year to raise money and awareness for lung cancer, which took place on the CAL campus in March 2010 and raised more than $45,000 for lung cancer research.
Though Jill passed away in June 2010, her commitment to finding a cure for lung cancer and raising awareness about the disease lives on through the Jog for Jill series of walks/runs that take place on college campuses across the country. Organized by Jill's Legacy, an advisory board to the Bonnie J. Addario Lung Cancer Foundation comprising young professionals who have been personally touched by lung cancer, the series has raised more than $800,000 for lung cancer research since the original CAL event.
Darby Anderson, one of Jill's closest friends at CAL and now director of Jill's Legacy, says that the Jog for Jill series reflects Jill's spirit. "Jill was the most inspirational person I have ever met, and it has been so amazing to see how she is still inspiring people every day. People hear her story, attend an event, and see the impact that it is making, and they want to take part, throw their own event, or even plan a Jog for Jill themselves."
Darby says that she and the rest of the Jill's Legacy board have been overwhelmed by the desire of students across the country to honor Jill and raise funds and awareness through the Jog for Jill series. "At every school where we have held an event, someone has actually approached us about how they have been touched by Jill's story or the work that Jill's Legacy is doing," she says. "The people involved in making these events happen are highly motivated and are making a world of difference in the lung cancer space."
Georgetown University student and rower Carly McCaffrey brought the Jog for Jill series to Georgetown to honor Jill and to make a difference for patients and families. Having attended the same high school as Jill (St. Ignatius College Preparatory in El Granada, California), Carly had met Jill only once but was inspired by her story. "I decided to organize Jog for Jill Georgetown to support Jill's Legacy from here in Washington," Carly says. "I felt out of touch with Jill's community on the West Coast and, having heard of events held at other campuses, I decided that the best way I could support not only Jill's fight but the fight of all those affected by lung cancer was to hold a Jog for Jill here at Georgetown."
Participation by students like Carly at campuses around the country provides invaluable fundraising and awareness support, along with something as important for those affected by lung cancer: hope. "The event provides hope for families, patients, and friends dealing with lung cancer," Darby says. "There are so many other events out there for all of the other cancers, while lung cancer gets virtually no attention. These events provide a place where lung cancer patients can feel like they matter and can get the support they deserve."
As planning for future events moves ahead, the goal of the Jog for Jill series and Jill's Legacy remains constant: to, in Jill's words, "beat lung cancer big-time." To make that happen, the organization will continue to support events on college campuses, where students can lead the way to a promising future for lung cancer research and advocacy. "We intend to initiate events on as many college campuses as possible so that we can educate the younger generation about lung cancer," she says. "As the next generation of donors, advocates, lawyers, doctors, and other professionals, these young people are the ones who can create change for this disease."
For more information about the Jog for Jill series and Jill's Legacy, visitjillslegacy.org.
TCU Frogs for the Cure
Community service is part of the fabric of the mission at Texas Christian University (TCU) in Fort Worth. "Students arrive on campus, knowing there is an expectation of giving back and community service," says Ann Louden, chancellor's associate for external relations at TCU and chair of the university's major breast cancer awareness and fundraising campaign, Frogs for the Cure. "Frogs for the Cure's mission of building awareness, providing education, and raising funds in the fight against breast cancer provides students with an empowering way to participate," Ann says.
The annual Frogs for the Cure event began in 2005, when TCU partnered with Susan G. Komen for the Cure to be the first university in the country to designate a "pink out" football game to bring out fans and raise awareness for breast cancer. Since that time Frogs for the Cure has grown to include a series of activities and awareness initiatives led by TCU students, faculty, and staff—and has raised more than $250,000 for the Greater Fort Worth Affiliate of Susan G. Komen for the Cure.
The spirit of the events speaks to the deep level of engagement within the entire community of students, staff, and alumni, so many of whom have been touched by breast cancer. Ann herself is a survivor of the disease, and many of the students and staff who participate have personal connections. TCU freshman Hunter Weaver, who had cancer as a child and is now involved with cancer advocacy efforts, participated in the creation of a halftime video highlighting the effort that was presented at a Frogs for the Cure game. Hunter says, "the Frogs for the Cure effort is one that truly hits home for me. I worked with my father, who's an oncologist, and my brother to create the CancerConnect online social network for cancer patients. Now, being part of this effort is more than I could have dreamed of when I started here at TCU. I hope that this schoolwide effort continues to grow each year and that we truly can make a difference."
TCU alum and American Idol finalist Tim Halperin, who composed a song in honor of survivors specifically for the event, "We Fight Back," which has become the Susan G. Komen for the Cure national rally cry, says, "The greatest impact that this amazing program has had on me is the connection that I now feel with cancer survivors. As a singer-songwriter, there is no better feeling than when someone tells you that your music has impacted them."
Katie Norry, a current student who helped create the halftime video, says, "My experience with Frogs for the Cure not only helped me move forward with my career ambitions but also allowed me to contribute to the fight to find a cure with my talents and passion. I have never met a more caring and welcoming group of people than the survivors I have connected with, and the stories and the courage of their individual battles with cancer deeply touch my heart and inspire me."
In all of the ways students are exposed to the events and participate, Ann says that Frogs for the Cure serves as a catalyst for awareness of breast cancer and the needs of survivors that ultimately extends beyond the campus. "The program's many activities make a difference in the lives of those in the TCU family affected by breast cancer as well as demonstrate concern and compassion for those in the larger community whose lives have been forever impacted by the disease."
For more information visitfrogsforthecure.tcu.edu.