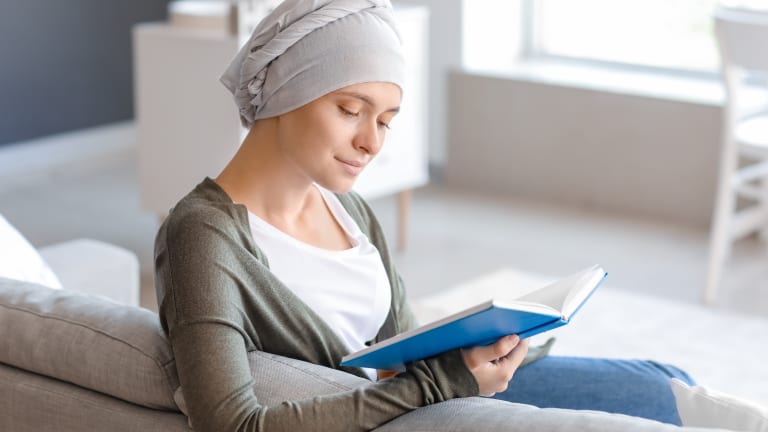 Cancer's Glamour Girl
Diagnosed with CML at 23 Erin Ruddy shares her journey.
by CancerConnect, Medically Reviewed by Dr. C.H. Weaver M.D. 5/2022
Down-to-earth and down-to-business when it comes to cancer advocacy, Erin Zammett Ruddy discusses her very public journey with chronic myeloid leukemia and why she continues to share her story.
Erin Zammett Ruddy always wanted to be famous—at least a little bit. In My (So-Called) Normal Life, the memoir she wrote after she was diagnosed with chronic myeloid leukemia (CML) at age 23, she describes her excitement over her first television interview: "So it was Ted Koppel instead of David Letterman, and cancer instead of whatever non-life-threatening thing I would have preferred to be getting interviewed about. It was still pretty cool. And I wasn't 25 yet."
Not yet 25, Erin had already faced a cancer diagnosis, had written about her experience in a national magazine, and was quickly making a name for herself as a young woman whose presence as a speaker and spirit as a volunteer could command significant attention for cancer causes.
It was not the path she had imagined for herself. At 23 Erin was active and health conscious. She loved her job as an editorial assistant at Glamour magazine in New York City and was spending her free time with her boyfriend, Nick, and with her close family and friends. Her life was full. There certainly wasn't room for cancer.
But when Erin was diagnosed with CML—through a routine blood test during a regular physical—her world changed. Part of that change was a result of her decision to take her story public, through a regular column, "Life with Cancer," in Glamour. Now 12 million readers and faithful Web visitors know Erin through her column and the advocacy role that she has taken on for several national organizations, including the Leukemia & Lymphoma Society. For many young survivors, she has become a face and a voice that they can identify with at a time when their diagnosis might otherwise isolate them.
Five years out from her diagnosis and in complete molecular remission as a result of the targeted therapy Gleevec® (imatinib mesylate), Erin says she never felt any hesitation about sharing her diagnosis or any of the journey that has followed. "I'm sort of an over-sharer by nature," she says. "Cancer is this taboo subject, and nobody likes to talk about it, but I didn't follow those rules. It wasn't a secret to me. It was awful; but for me, I felt like the more people I told, the more people would be praying for me or thinking of me or would potentially have a doctor or a friend who could help. It was natural for me to be that way at first."
Erin's natural inclination to share her story was encouraged by her editor-in-chief, Cindi Leive, who approached her a few weeks after her diagnosis and asked if she would be interested in writing about her experience in the magazine.
"When my editor-in-chief first asked me if I wanted to share my story in Glamour, I thought Hell, yeah!" Erin says. "I'm a writer; who wouldn't want that opportunity? But I didn't realize the impact it would have both for me and for our readers. When that first issue hit the newsstands, it made me realize that it was more than me just venting." It was clear that the article had touched readers and that Erin's voice had made an impact. It was a turning point, Erin says, because it made her realize that she could truly help people by making them feel less alone.
The fact is that, hit with a cancer diagnosis, many young women struggle to find people who can identify with their issues. The topics that come into play for young women often include dating, fertility, and career issues—all of which feel the impact of a cancer diagnosis. There is also the overwhelming fear that cancer will ultimately define who you are. All of these issues, Erin says, can be factors for the younger survivors she has come to know through her columns and in her life as an advocate—and she can relate. The advice she shares most commonly—and the one thing that has helped her above all else—is to seek community.
Though she recognizes that young women may be hesitant to acknowledge their "membership in the cancer club," it can be a transforming experience, she says, to share your concerns with others who can relate. And don't underestimate your friends and loved ones—they want to help, and you can benefit from sharing your feelings with them. "People in your life do want to know, they do want to help." Just talking about your situation—"the fears, the funny stuff, the horrible stuff"—Erin says, can be a huge help. Knowing that she is part of that support for many survivors and their families inspires her to continue the conversation.
It's that inspiration that keeps Erin sharing five years later. Now her "Life with Cancer" work at Glamour includes not only that original column format, but also a daily blog. Blogging, Erin says, has been an incredible experience. "When I get home at night, I check the blog; when I get up in the morning, I check it. It's like having my own personal support group—but a support group that's fun, where we can talk about relationships and my birthday." And that support group often includes her two sisters, who will chime in with everything from their picks for cancer support resources to family jokes and birthday wishes.
When asked how her family—including mom Cindy, dad John, sisters Melissa and Meghan, and husband Nick—has managed the publicity that her work has engendered for the family, Erin describes the process as ultimately therapeutic. "We don't really internalize much in my family," she says. "We deal by talking about it and then letting it go. So this became a way for all of us—for the whole family—to get behind something. The column made me this cancer figure in a way, and I started doing a lot of fundraising from that, and then it created this whole other life for me and for my family."
The advocacy work that Erin undertook in the wake of the publicity generated by her first column was initiated by a fundraising project for the Leukemia & Lymphoma Society. Erin and her sister Melissa together raised $36,000 in six weeks for the organization—the most funds ever raised for The Man and Woman of the Year competition in the New York chapter—earning Melissa the title of "Woman of the Year" for the chapter.
Incredibly, it would be Melissa who, in an unlucky twist of fate, would be diagnosed with Hodgkin's lymphoma in 2003 while she was pregnant with her first child. Handling her sister's diagnosis, Erin says, was much worse than confronting her own. "It suddenly made me realize what my family must have gone through when I was diagnosed," she says. Erin worked through her feelings of helplessness and her fears for her sister by getting busy finding resources and doctors for Melissa through her new contacts in the cancer community. If she couldn't cure her sister herself, at least she could help Melissa over some of the hurdles. And, of course, she kept writing—sharing with her readers the next chapter in her cancer story.
Erin's experience watching Melissa endure treatments that she herself had not had to undergo gave her renewed perspective on her situation. "I think the biggest thing [I learned from Melissa's diagnosis] was how lucky I was that I have Gleevec—that I didn't have to have chemo and lose my hair and miss work," Erin says. Having begun taking Gleevec almost immediately after her diagnosis, Erin had suffered no side effects and—with the exception of her regular bone marrow biopsies—very few uncomfortable tests or procedures. With Melissa's story as contrast, she was reminded of her fortunate position. Happily, despite a frightening relapse in 2004—which was treated with a stem cell transplant—Melissa is now well and in remission.

It's this additional perspective from her sister's experience that also keeps Erin's writing about cancer—and her advocacy work—fresh and allows her to relate to an even larger number of readers. She jokes that now, after five years of feeling so well, she sometimes has moments of wondering how long she'll be able to keep the cancer gig up. But every time she wonders, she says, something has happened to keep things interesting. And she is so grateful to be able to continue to share her journey with the audience who responds to her—and her family's—experience: "I've never seen a social worker or a therapist because I have 12 million readers who have been there for me for the past five years, and I'm so grateful for that."
Recently, the conversation that Erin has chosen to share with her readers has been especially personal as she discussed her decision to stop taking Gleevec to have a baby. Some of the responses to her printed column were very critical of her choice, and Erin admits that it was difficult to confront those hostile voices. In Erin's case, fertility issues and the related choices a cancer patient needs to make have been part of her journey from the beginning and have informed her treatment decisions and countless conversations with her healthcare team and her family from the day of her diagnosis. In the end, the decision to stop taking Gleevec during her pregnancy was a carefully considered choice that Erin and Nick made together after evaluating all of the other options and considering all of the medical variables.
"My doctors feel like, Is it the best idea I've ever had? No," Erin says. "Do they wish I'd just stay on my Gleevec and adopt? Probably. But they also don't think it's going to kill me—just to be frank." And because she and Nick looked at the issue from every angle and "went through a million different scenarios and discussed different treatment options if things go wrong," they both felt that they had made an educated choice.
Understanding Chronic Myeloid Leukemia
The reality, Erin says, is that as a cancer patient "the other options [for becoming a parent] are just, frankly, not that easy." Though many people encourage adoption, as a cancer patient who is not cured, Erin faces challenges in that process too, though she doesn't rule it out entirely. Ultimately, the decision to stop taking Gleevec during pregnancy was the right one for her and Nick. "It seemed to be something we could tackle. I'm young, I'm in an incredible state of remission, and I have all of my options available to me treatment-wise: I have a perfect match for a transplant—God forbid it comes to that. There are all these new Gleevec-like drugs on the market." In addition, Erin says, her conversations through her blog with other women facing similar fertility dilemmas have been very encouraging. "I've talked to lots of other women who have gone off Gleevec during pregnancy. And though they all experienced some form of relapse, they've all had healthy babies and have all gone back on Gleevec and are doing great."
Making choices about fertility and moving forward with plans for parenthood are important steps in any life touched by cancer. For Erin this time in her life represents one more way she tries to live with the disease on her own terms. "I don't sit around thinking, What would I be doing if I didn't have cancer?" she says, because the truth is I'd probably be doing the exact same thing." But she admits that she faces many of the same issues that other young cancer patients face and is not immune to feeling worried or at times depressed about her diagnosis.
The hardest aspect of her situation with CML, she says, is the "forever factor." "At 23 you don't think anything is forever. I was always health conscious, took care of myself. Now I have this to deal with for the rest of my life. I have a blood test every three months. Every three months in the back of my head I think, Is this the test that's going to come back positive? That's a lot of tests, a lot of those feelings." When she does confront those feelings, Erin tries to acknowledge them—allowing herself the occasional "pity party"—but then does her best to move on quickly. She also acknowledges that the reminder of her disease, in the form of the every-three-month testing, is not necessarily a bad thing: "It's not bad to remember that life is precious."
Erin also points out that her tendency to move on quickly when she experiences concerns is easier for her because she feels so physically well all the time. "CML is unique," she says. "Gleevec is unique. My situation is unique. I'm in a really good place. I have the luxury to not worry that much right now." But, she says with a laugh, the truth is, "I just have too many other things to do." And that's really the spirit that comes through in a conversation with Erin: this is a woman who has a lot left to accomplish. There are cancer research dollars to raise, fellow survivors to support, and—oh, yeah—her life to live, which includes helping edit Glamour; spending time with her husband, family, and friends; and crossing things off of her ever-present to-do list. On this particular day, following our interview, that list appears to include:1 eat a chocolate-fudge brownie,2 learn to meditate, and3 go out to dinner to celebrate birthday. If today's list is any indication, Erin's "Life with Cancer" sounds pretty good.
Erin's Big News
An excerpt from Erin's blog onwww.glamour.comreveals her exciting news and a taste of her regular conversation with her Glamour audience.
By Erin Zammett Ruddy
I've been dying to tell you guys this but wanted to wait to make sure things were going OK and, well, things are going OK so here goes….I'm pregnant! I'm a little over 12 weeks and so far so good. We found out right before Christmas and I stopped taking the Gleevec immediately. As you know, Nick and I went through fertility testing to make sure we were both able to conceive naturally and on our third month of trying, we did. The best part about seeing a fertility specialist was that he was able to do a blood test that detected the pregnancy super early (about a week post-conception!) so the exposure to Gleevec was really minimal and Dr. Mauro was beyond pleased. Of course finding out that early makes it seem like I've been pregnant forever already—and not saying anything has been so hard—but I know there is a lot more time to go…I'm not due until August 27th! I can't complain, though. I have felt great (no nausea and just mild exhaustion—is that an oxymoron?) and Nick has been taking extra good care of me—especially when I remind him that there is a person growing inside of me and he'd better take extra good care of me.
As you can imagine we're all thrilled and, of course, totally nervous. I've now been off the Gleevec for two months and while I haven't felt any differently physically, I'm sure my body is doing something without its magic little pills (fingers crossed that it isn't doing much!). I'm having a cancer blood test done (a PCR test, the standard for CML) once a month and the first one came back negative, which was a huge relief. I have another test next week and then seven more to go. Needless to say, it's going to be a long nine months. The funny thing is, I haven't worried about the cancer stuff at all. I'm mostly just concerned about this little thing that's growing inside of me and doing whatever I can to make it happy and healthy. It's already almost three inches long! (So weird…more on that later.)
OK, I promise to fill you in on all the other details and answer whatever questions you have (I'm sure I left out a lot), but for now, that's all I got. I'm pregnant and I'm so happy to be able to share the news with all of you. Thank you so much for all the prayers and good wishes and kind words over the past few months. And please keep 'em coming!
—Erin
P.S. Happy Valentine's Day! XO