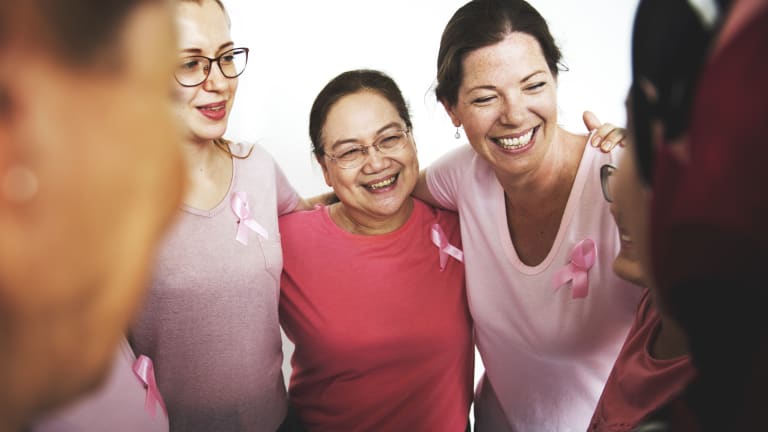 Cancer Retreats
Cancer retreats and camps can offer an opportunity to revive and renew.
by CancerConnect, Medically Reviewed by Dr. C.H. Weaver M.D. 7/2022
What does it mean to be a woman living with cancer? Though the people who support you in your daily life—your family, friends, and caregivers—are offering you all that they know in the way of care and compassion, if they have not lived with a diagnosis of cancer themselves, you may at times still feel alone.
For many women a retreat experience can offer an enlightening view of their place within a larger community of survivors and can also provide coping skills and a renewed sense of self-esteem.
The value of these retreats is different for each woman, depending on her needs when she arrives. But the improvement in participants' overall quality of life is oftentimes incredibly powerful, and the retreat model is being increasingly studied for the marked improvements the experience can make in women's lives.1
So what's the juju? What do these retreats offer women that produce such transformations? For many retreats the basic elements include the following: a beautiful, natural setting that encourages meditation and relaxation; well-planned group support sessions as well as free time for participants to bond with other survivors; activities to increase self-esteem; and some element of physical pampering or therapy. The result is a retreat experience that leaves women feeling physically rested and spiritually connected to a community of survivors.
The Healing Power of Nature
At the Mending in the Mountains® retreat at Lone Mountain Ranch at Big Sky, Montana, the remote, natural setting plays a key role in participants' experiences. Darlene Falk, BSN, RN, who helps coordinate the annual retreat, says, "The impact of the natural environment is extremely powerful. The colors of the autumn mountain setting are spectacular, and the weather has always been amazing." Participants spend time walking the ranch grounds, taking part in "laughter yoga" outside, exploring creative arts on the lodge deck, walking the labyrinth, enjoying outdoor campfires, and viewing the many native animals that make their way through the property. Throughout the weekend, Falk says, the sound of the mountain creeks that meander through the ranch and the crisp, fall air lend a meditative aspect to the retreat that permeates all the activities and discussions.
At Sunstone Cancer Support Centers near Tucson, Arizona, there are no TVs in the rooms, and cell phones are turned off. Patricia Harmon, Sunstone president and CEO says, "The concept of sacred space is very important. . . . We encourage participants (and plan time in the program) for people to get away and write in their journal, to go for a walk, and to just sit."
The healing hand that nature extends in a retreat experience allows participants to step away from the clutter of their daily lives into a peaceful, often spiritual setting while also providing the opportunity for outdoor adventure. Judi Janowski, director of the Infinite Boundaries Breast Cancer Retreats in Wisconsin, says, "Special care is taken to choose beautiful, natural settings. We believe that there is healing in nature. The cycles of nature—fall, winter, spring, summer—can remind us of rebirth and the cycles of life. Also, isolation is a feeling that is common during a cancer diagnosis, and being in nature can remind us that we are part of something larger than ourselves."
This healing, meditative aspect of the natural environment is combined with opportunities that these settings provide for adventure and physical activity. Participants at Infinite Boundaries retreats, for instance, may try such activities as bicycling, taking walks, and kayaking in a lagoon next to Lake Superior, thereby learning, Janowski says, to trust their physical capabilities again and at the same time meditating within a beautiful, natural setting.
Sharing the Journey
The experience of spending time with others who can relate to their feelings and the issues surrounding their overall journey with cancer is, for many women, the most transformative aspect of a retreat. Whether the sharing occurs in a facilitated group discussion or in unstructured time spent with new friends, the communication and the bonding that take place are powerful.
Darlene Falk describes one exchange that stood out at last year's Mending in the Mountains retreat. A woman had arrived in a very depressed state—withdrawn, not wanting to participate, physically impaired from severe lymphedema—and was paired to room with another survivor, who was an occupational therapist. The two women began to talk over the course of the retreat, and the therapist was able to help her new friend feel more physically comfortable. Eventually, the woman who had been so withdrawn confided, "When I was diagnosed with cancer, my doctor told me that I had about a year left to live, and that was over six months ago." Expecting her roommate to be shocked and to not know how to respond—which is the reaction she had been receiving—she was surprised when the therapist instead said, "Well, my doctor gave me less than two years to live when I was diagnosed, and, honey, that was nine years ago!"

The impact of the transformation that occurred after that exchange was powerful for the entire group. "The first miracle of the weekend was seeing the complete physical, emotional, and spiritual change in this woman who had the lymphedema," Darlene says. "Not only did her entire presence portray that of renewed hope but she was also able to laugh, enjoy, and participate in all of the remaining activities, including dancing that evening." She continues, explaining the impact on the larger group: "The second miracle of that weekend was the profound effect that this had on [her roommate], the volunteers, and participants, learning of how simply someone else can positively impact another."
For some women a retreat allows them to see for the first time that they are not alone and that there are others who understand what they are going through. Patricia Harmon of Sunstone Cancer Support Centers says that participants "tell us that being with someone who is on a similar path, who has experienced that same fear of death or mutilation, is one of the best things about our retreats."
Re-building Self-esteem
Dr. Francine Zorehkey is the executive director of From Chrysalis to Wings Psychotherapy and Research Center, a nonprofit organization providing counseling, support, information services, and educational programs for and on behalf of children and adults with malformation or disfiguration of the body. In June 2003 Dr. Zorehkey began three-day A.W.O.L. (A Way of Life . . . after diagnosis) retreats for women who have or have had breast cancer. The goal of the retreats is to help survivors deal with the psychological issues arising from a breast cancer diagnosis, treatment, and an altered body image.
As a particularly unique feature of the A.W.O.L. retreats, participants are offered the opportunity to have their photographs taken by a professional photographer. The glamorous experience of having a professional photo taken, complete with hairstyling and professional makeup application, is designed to inspire self-esteem. And, according to past participant Lydia Spampinato, that's just the effect the experience had. She says, "I was made to feel comfortable and beautiful . . . like I was worth having my picture taken." For cancer patients who have in some cases dealt with treatments that change their physical appearance and affect their self-esteem, an experience that allows them to see themselves in a positive way again can be very powerful.
Self-esteem-building exercises at other retreats range from ropes courses and other outdoor activities to more-traditional group therapy. In some cases participants report that simply the process of communicating their experiences—and seeing the success that other survivors are capable of—provides them with the confidence they need to continue on their journey.
Caring for the Body as well as the Spirit
The opportunity to literally retreat for a weekend is sometimes the ultimate indulgence for women who participate in a cancer retreat. Taking time away from the daily grind of household and family responsibilities that don't disappear with a cancer diagnosis—and from the stress of medical appointments and the general strain of all the issues associated with living with cancer—allows women to really unwind. Retreat organizers recognize that by offering services that nurture and strengthen participants' bodies, they can provide a physical release and a sense of well-being to accompany the psychological renewal that the retreat experience offers. To make this happen they bring in a physical therapy specialist for their clients. These are therapists who are licensed physical therapists but they are not going to make you feel like you are in a hospital setting. They specialize in using Yoga, Pilates, Aromatherapy, reflexology and acupuncture in accordance with traditional therapy.
Services and therapies offered at various retreats vary widely. At the A.W.O.L. retreats, massage therapists and aestheticians are always on hand to provide spa-type treatments. At the Women's Wellness Weekend at Camp Good Days and Special Times in Mendon, New York, massage, facials, manicures, pedicures, reiki, yoga, and haircuts are some of the services provided to ensure that participants' bodies are as well taken care of as their spirits. At Sunstone retreats yoga, qigong, and walking are integrated into the programs to complement the therapies and the spiritual and mental support that are also offered.
Mind, Body, and Spirit
Ultimately, retreats give survivors the opportunity to focus on healing—mind, body, and spirit—in a safe space in the company of others who know what it means to be traveling the same path. And the stories that emerge from these retreats, from survivors of all ages and all walks of life, attest that the experience is indeed powerful medicine.
References:
Rutledge DN, Raymon NJ. Changes in well-being of women cancer survivors following a survivor weekend experience. Oncology Nursing Forum. 2001;28(1):85-91.