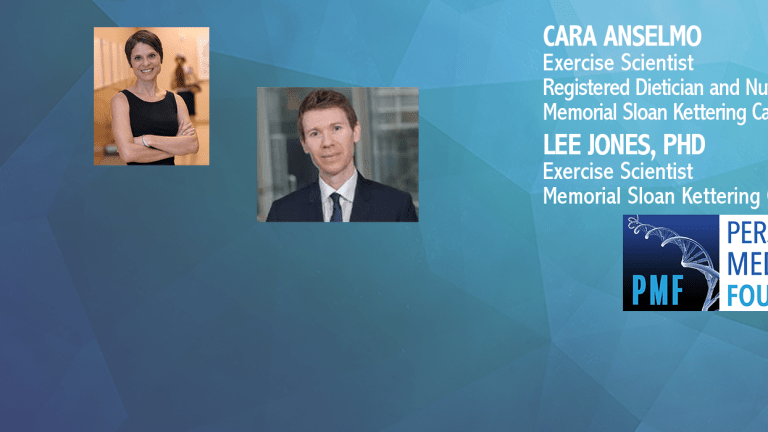 Ask The Expert: Can Diet and Exercise Make a Difference?
Can diet and exercise make a difference in your health and well being during and after treatment for cancer? Memorial Sloan Kettering Cancer Center exercise and nutrition experts, Lee Jones, PhD and Cara Anselmo, MS, RDN, discussed the impact of exercise and nutrition on cancer.
Dr. Jones, Exercise Scientist at Memorial Sloan Kettering Cancer Center, discusses the benefits of exercise, including how staying active can help you fare better during cancer treatment and recovery. He also talks about his related research on the efficacy and mechanisms of exercise training on cardiovascular side effects and tumor growth.
Cara Anselmo, Registered Dietician and Nutritionist at Memorial Sloan Kettering Cancer Center, discusses the role of nutrition during and after cancer treatment, as well as obesity and cancer risk.
Join the conversation and Connect with others on CancerConnect - the leading social community for advocates, experts, and patients.
This Ask the Expert Series is made possible through support from the Personalized Medicine Foundation, CancerConnect and Memorial Sloan Kettering Cancer Center. Ask the Expert content and programs are not intended to be a substitute for healthcare professional medical advice, diagnosis, or treatment. Information should be used to further an individuals discussion with their managing healthcare team or providers. Speak to your healthcare provider about any questions you may have regarding your health.
The Ask The Expert Series is made possible by support fromThe Personalized Medicine Foundation, Incyte Oncology, Abbvie, and CancerConnect. The "Ask The Expert" series is not medical advice nor is it a substitute for your doctor. It should serve as a guide to facilitate access to additional information and enhancement of a shared decision making process with your treating physician.