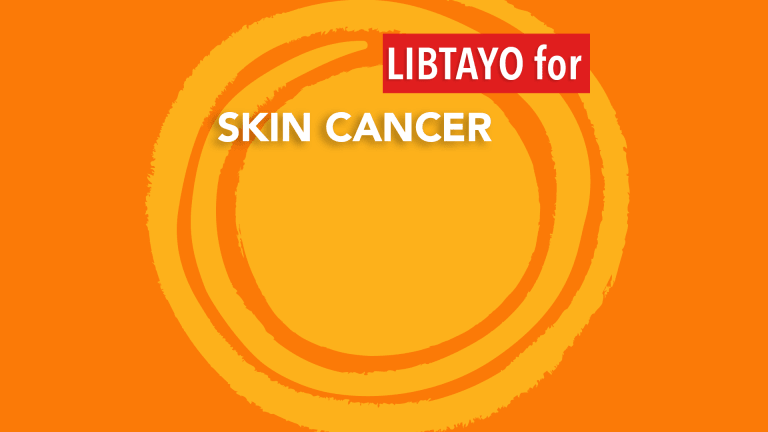 Libtayo for Treatment of Advanced Basal Cell Carcinoma
Libtayo® (cemiplimab) immunotherapy approved for treatment of locally advanced basal cell carcinoma.
by Dr. C.H. Weaver M.D. 2/2021
The PD-1 inhibitor Libtayo® (cemiplimab) was reported to be promising in for the treatment of patients with locally advanced basal cell carcinoma (BCC) that have previously progressed on or were intolerant to hedgehog inhibitor (HHI) therapy according to the results of a study presented at the European Society for Medical Oncology (ESMO) Virtual Congress 2020. (1) This led to Food and Drug Administration approval of Libtayo for patients with locally advanced basal cell carcinoma (laBCC) previously treated with a hedgehog pathway inhibitor (HHI) or for whom a HHI is not appropriate and granted accelerated approval to cemiplimab-rwlc for patients with metastatic BCC (mBCC) previously treated with a HHI or for whom a HHI is not appropriate in February 2021.
About Basal Cell Carcinoma
Basal cell carcinoma consists of abnormal, uncontrolled growths or lesions that arise in the skin's basal cells, which line the deepest layer of the outermost layer of the skin. BCC accounts for more than 80% of non-melanoma skin cancers. It occurs most frequently on the head and neck, with the nose being the most common site. BCC that spreads from where it started to nearby tissue is called locally advanced disease and can be highly disfiguring.
While BCC is generally diagnosed and treated early, it may recur in an estimated 3% of patients after five years. Although BCC rarely becomes advanced, there have been few treatment options at this stage of the disease until the recent development of "hedgehog inhibitors".(2-9)
About Libtayo
Libtayo is a fully human monoclonal antibody targeting the programmed death receptor-1 (PD-1) on T cells. Libtayo blocks the PD-1 protein that interferes with certain types of immune responses and may enhance the ability of the immune system to fight cancer. Libtayo is approved to treat patients with metastatic cutaneous squamous cell carcinoma (CSCC) or local advanced CSCC patients who are eligible for curative surgery or radiation.
About the Pivotal BCC trial
In the current trial patients with either locally advanced BCC and metastatic BCC were treated with Libtayo 350 mg intravenously every three weeks for up to 93 weeks or until disease progression. Overall 31% of patients responded to treatment with a median follow-up of 15 months. This included a 6% complete and 25% partial response rate. Responses were seen regardless of baseline PD-L1 expression in tumor cells. As of data cut-off, the median duration of response and median overall survival had not yet been reached. At one-year, 85% of responses were ongoing and a median response duration had not been reached - 79% of responders maintained their response for at least 6 months.  Among 28 patients with mBCC, the confirmed response rate was 21% with a median response duration not reached (range: 9 to 23.0+ months), and all responders maintaining their responses for at least 6 months.
The most common side effects were fatigue, musculoskeletal pain, diarrhea, rash, and pruritis. Severe immune-mediated adverse reactions (e.g. pneumonitis, hepatitis, colitis, adrenal insufficiency, hypo- and hyperthyroidism, diabetes mellitus and nephritis) and infusion reactions were reported.
References
Dummer R, Midgen M, Guminski A, et al. Efficacy and safety of sonidegib in patients with locally advanced or metastatic basal cell carcinoma: BOLT 30-month analysis. Presented at 2016 annual meeting of the American Society of Clinical Oncology (ASCO), Chicago, IL, June 4, 2016, poster #9538.
news.cancerconnect.com/food-and-drug-administration-approves-odomzo-for-treatment-of-basal-cell-carcinoma-2/
Cleveland Clinic. "Nonmelanoma Skin Cancer." Available here
National Cancer Institute. NCI Dictionary of Cancer Terms "locally advanced cancer." Available here
Danial C, Lingala B, Balise R, Oro AE, Reddy S, Colevas A, Chang AL. Markedly improved overall survival in 10 consecutive metastatic basal cell carcinoma patients. Br J Dermatol 2013: 1365-2133.
Soleymani AD, Scheinfeld N, Vasil K, Bechtel MA. Metastatic basal cell carcinoma presenting with unilateral upper extremity edema and lymphatic spread. J Am Acad Dermatol. 2008;59(2 suppl 1):s1-s3.
Moser S, Borm J, Mihic-Probst D, Jacobsen C, Kruse Gujer AL. Metastatic basal cell carcinoma: report of a case and review of the literature. Oral Surg Oral Med Oral Pathol Oral Radiol. 2013.
Chren MM, Linos E, Torres JS, Stuart SE, Parvataeni R, Boscardin WJ. Tumor recurrence 5 years after treatment of cutaneous basal cell carcinoma and squamous cell carcinoma. J Invest Dermatol.2013;133:1188-96.
Wong C S M, Strange R C, Lear J T. Basal cell carcinoma. BMJ. 2003; 327:794-798.