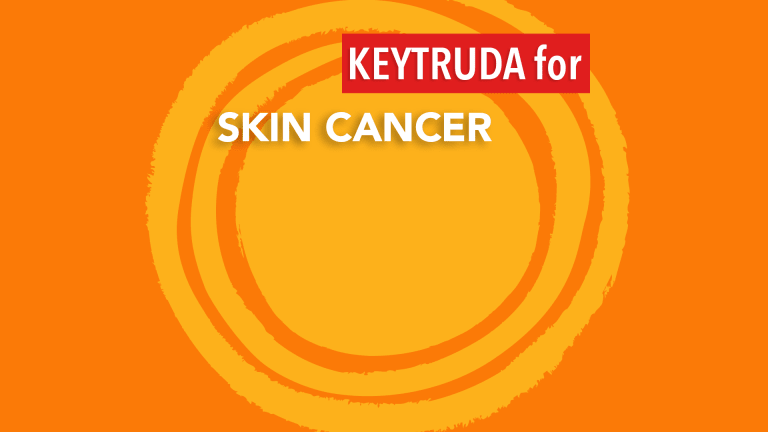 FDA Approves Keytruda for Treatment of Merkel Cell Carcinoma
PD-1 Inhibitors Keytruda & Bavencio immunotherapy are changing the treatment of Merkel Cell Carcinoma
by Dr. C.H. Weaver M.D. 2/2019
The U.S. Food and Drug Administration (FDA) granted accelerated approval to the anti-PD-1 therapy Keytruda (pembrolizumab) for the treatment of adult and pediatric patients with Merkel cell carcinoma (MCC).
According to the National Cancer Institute, approximately 1,600 people in the United States are diagnosed with MCC every year. Merkel cell carcinoma is a rare aggressive skin cancer with limited treatment options for advanced disease. While the majority of patients present with localized tumors that can be treated with surgical resection, approximately half of all patients will experience recurrence, and more than 30 percent will eventually develop metastatic disease. In patients with metastatic MCC, the cancer has spread beyond the skin into other parts of the body.
Merkel Cell Cancer is commonly associated with ultraviolet light and Merkel cell polyomavirus (MCPyV) exposure. MCPyV-specific T-cells express the programmed death (PD) receptor-1 and most Merkel cell tumors express its ligand, PD-L1. Thus, blocking the programmed death (PD-1) immune inhibitory pathway is of interest in this malignancy.
The approval of Keytruda was based on the KEYNOTE-017 clinical trial that evaluated 50 patients with recurrent locally advanced or metastatic MCC and not been previously treated.
Overall 56% of patients responded to treatment and a complete response rate was reported in 24%. The median response duration was not reached. Among the 28 patients who resonded 54% had response durations greater than one year.
About Keytruda Checkpoint Inhibitors
Keytruda belongs to a class of medicines called "checkpoint inhibitors." Checkpoint inhibitors are a novel precision cancer immunotherapy that helps to restore the body's immune system in fighting cancer by releasing checkpoints that cancer uses to shut down the immune system. PD-1 and PD-L1 are proteins that inhibit certain types of immune responses, allowing cancer cells to evade detection and attack by certain immune cells in the body. A checkpoint inhibitor can block the PD-1 and PD-L1 pathway and enhance the ability of the immune system to fight cancer. By blocking the binding of the PD-L1 ligand these drugs restore an immune cells' ability to recognize and fight the colon cancer cells. A diagnostic test to measure the level of PD-L1 is available.
FDA Approved Bavencio as First Treatment for Merkel Cell Cancer
The U.S. Food and Drug Administration previously approved Bavencio (avelumab) for the treatment of adults and pediatric patients with metastatic Merkel cell carcinoma, including those who have not received prior chemotherapy.
Bavencio targets the programmed cell death-ligand PD-1/PD-L1 pathway with potential immune checkpoint inhibitory and anti-cancer activity. When Bavencio binds to PD-L1 it blocks the interaction of PD-L1 with its receptor protein 1 (PD-1). This inhibits the activation of PD-1 and restores immune function through the activation of cytotoxic T lymphocytes targeted to PD-L1-overexpressing cancer cells.
The FDA approval was based on data from a study of 88 patients with metastatic MCC who had been previously treated with at least one prior chemotherapy regimen. Of the 88 patients who received Bavencio in the trial, 33 percent experienced complete or partial shrinkage of their cancer and the response lasted for more than six months in 86 percent of responding patients and more than 12 months in 45 percent of responding patients.
More Information About Keytruda
Merkel cell is a very radiosensitive cancer and ongoing clinical trials are exploring anti-PD-1 antibodies used in combination with radiation therapy. Radiation therapy can damage cancer cells, release antigen, and you can more effectively get an immunologic response. Other trilas are incorporating other immunotherapy combinations.
Reference