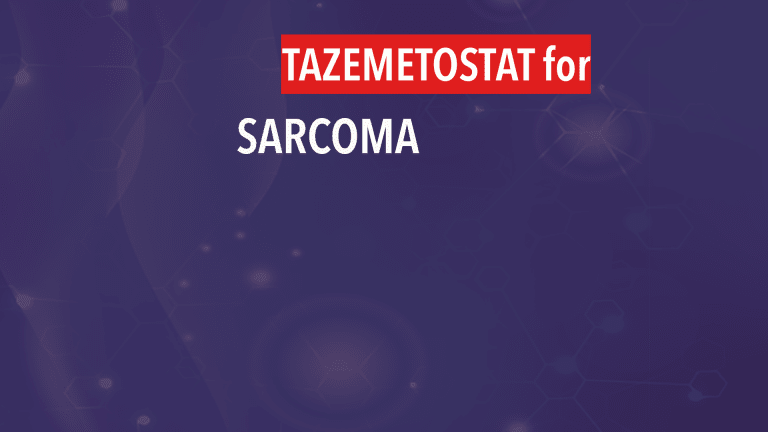 Tazemetostat for Epithelioid Sarcoma
Tazemetostat - a novel precision cancer medicine - promising for Sarcoma.
by Dr. C.H. Weaver M.D. 1/2020
The Oncologic Drugs Advisory Committee (ODAC) of the U.S. Food and Drug Administration (FDA) voted 11 - 0 in favor of the benefit-risk profile of tazemetostat as a treatment for patients with metastatic or locally advanced epithelioid sarcoma (ES) not eligible for curative surgery.
About Epithelioid Sarcoma
Epithelioid sarcoma is an ultra-rare soft tissue sarcoma characterized by a loss of the protein INI1. Patients are most commonly diagnosed as young adults, between 20 and 40 years of age. Median overall survival from initial diagnosis is 30 months. Epithelioid sarcoma becomes more aggressive after recurrence or metastases, with a typical survival of less than one year for patients with metastatic disease.
About Tazemetostat
Tazemetosta is an orally available, small molecule selective and S-adenosyl methionine (SAM) competitive inhibitor of histone methyl transferase EZH2, with potential antineoplastic activity. Upon oral administration, tazemetostat selectively inhibits the activity of both wild-type and mutated forms of EZH2. Inhibition of EZH2 specifically prevents the methylation of histone H3 lysine 27 (H3K27). This decrease in histone methylation alters gene expression patterns associated with cancer pathways and results in decreased tumor cell proliferation in EZH2 mutated cancer cells. EZH2, which belongs to the class of histone methyltransferases (HMTs), is overexpressed or mutated in a variety of cancer cells and plays a key role in cancer cell growth.
A total of 62 adult and pediatric epithelioid sarcoma patients were administered 800 mg of tazemetostat orally twice daily which was generally well tolerated with minimal side effects. Treatment with tazemetostat resulted in a 15% objective response rate and a 26% disease control rate. The median duration of response has not yet been reached.
In May 2019 Epizyme announced that it submitted the New Drug Application (NDA) for tazemetostat for the treatment of patients with metastatic or locally advanced epithelioid sarcoma not eligible for curative surgery to the US. Food and Drug Administration (FDA).
References:
Epizyme Reports Updated Data from Phase 2 Trial of Tazemetostat for Epithelioid Sarcoma at 2019 ASCO Annual Meeting