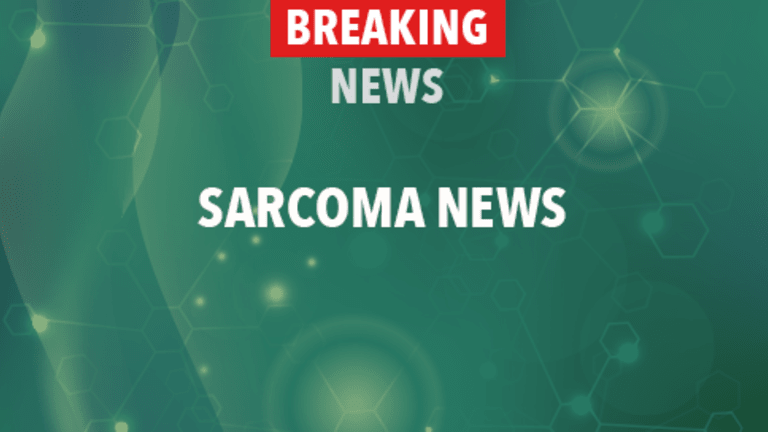 Longer Survival for Patients with Soft Tissue Sarcoma Treated with Halaven®
Halaven® (eribulin) may extend overall survival in patients with previously treated, advanced soft tissue sarcoma (STS).
These findings were presented at 2015 Annual Meeting of the American Society of Clinical Oncology (May 29–June 2, Chicago, Illinois) and published in the Journal of Clinical Oncology.[1]
Soft tissue sarcomas are cancers that affect the connective and supportive tissues, which include bones, muscles, tendons, ligaments, fat, blood vessels, and fibrous tissues. Sarcomas are relatively uncommon, but when they do occur, they tend to affect children and young adults.
Halaven—which was derived from a marine sponge—is a chemotherapy drug that affects cell division. It was approved by the U.S. Food and Drug Administration in November, 2010, for the treatment of breast cancer and is currently being studied in other types of cancer.
In a previous study, a Phase II clinical trial, Halaven showed promising activity in patients with advanced STS—specifically, aggressive forms of STS known as leiomyosarcoma (LMS) and adipocytic sarcoma (ADI). Based on these findings, researchers have since conducted a Phase III study of Halaven in which they compared it with the chemotherapy drug dacarbazine.[2]
In the Phase III study of Halaven, researchers included 452 patients with advanced LMS and ADI. Patients all had disease that could not be effectively treated with surgery or radiation. They had previously received at least two chemotherapy regimens.
Patients received either Halaven (228 patients) or dacarbazine (224 patients) every 21 days until disease showed signs of progression. The researchers compared overall survival as well as progression-free survival and safety between the two treatment groups.
Patients in the Halaven group had a longer median overall survival at 13.5 months compared with patients in the dacarbazine group at 11.5 months. Progression-free survival was the same for both treatment groups: 2.6 months.
More patients who received Halaven experienced side effects that required a dose reduction compared with those who received dacarbazine: 26% and 14%, respectively. In addition, more patients in the Halaven group had to stop treatment due to side effects: 8% versus 5%, respectively. Side effects were more frequent in the Halaven group and included neutropenia (low number of neutrophils, a type of white blood cell), fever, neuropathy (pain, numbness, tingling, swelling, or muscle weakness), and hair loss. One side effect that was more frequent in the patients who received dacarbazine was thrombocytopenia (low platelet count)—28% versus 6% in the Halaven group. According to the researchers, these safety findings for Halaven were expected, based on outcomes from earlier studies.
Halaven appears to improve overall survival among patients with advanced forms of STS known as LMS and ADI who have undergone previous treatment. The developer of Halaven, Eisai, now plans to apply for approval for STS in addition to the drug's 2010 approval for breast cancer.
References:
[1] Schöffski P, Maki RG, Italiano A, et al. Randomized, open-label, multicenter, phase III study of eribulin versus dacarbazine in patients (pts) with leiomyosarcoma (LMS) and adipocytic sarcoma (ADI). Journal of Clinical Oncology. 33, 2015 (supplement; abstract LBA10502).
[2] Activity of eribulin mesylate in patients with soft-tissue sarcoma: a phase 2 study in four independent histological subtypes. Schöffski P, Ray-Coquard, IL, Cioffi A, et al. Lancet Oncology [early online publication]. September 21, 2011.
Copyright © 2018 CancerConnect. All Rights Reserved.