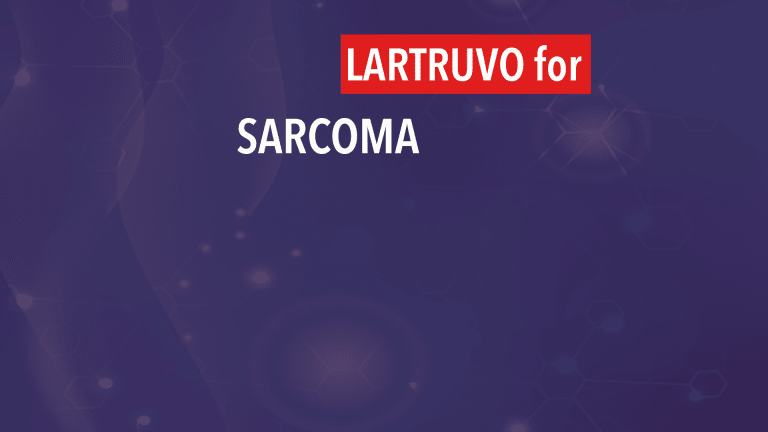 Lartruvo® Confirmatory Study Fails to Show Benefit
Lartruvo (olaratumab) pulled from market.
Effective in April 2019 Lartruvo (olaratumab; Lilly) will be withdrawn from the market following results from the phase 3 ANNOUNCE study which showed that the treatment, when combined with doxorubicin, did not improve survival in patients wit sarcoma compared with doxorubicin alone.
Lilly is working to establish an access program to provide Lartruvo to patients who wish to continue treatment, after consultation with their physicians; new patients, outside of those in clinical trials, should not be initiated on Lartruvo.
Lartruvo's role in the management of sarcoma is in doubt after the confirmatory clinical trials failed to show benefit or prolong survival. The FDA's conditional approval is under review and Lilly, the manufacturer issued the following statement.
"While discussions with the FDA are ongoing, patients who are currently receiving LARTRUVO may, in consultation with their physician, continue their course of therapy if they are receiving clinical benefit. For patients who have not previously received LARTRUVO, the results of the Phase 3 trial do not support initiating treatment with LARTRUVO in patients with STS, outside of participation in a clinical trial. At this time, Lilly is suspending promotion of LARTRUVO."
It was previously announced that the U.S. Food and Drug Administration (FDA) has granted approval of Lartruvo® (olaratumab), in combination with doxorubicin, for the treatment of adults with soft tissue sarcoma (STS) with a histologic subtype for which an anthracycline-containing regimen is appropriate and which is not amenable to curative treatment with radiotherapy or surgery. Lartruvo, in combination with doxorubicin, is the first FDA-approved front-line therapy for STS in four decades.(2)
About Sarcomas
Sarcomas are a diverse and relatively rare type of cancer that usually develop in the connective tissue of the body, which include fat, blood vessels, nerves, bones, muscles, deep skin tissues, and cartilage. Soft tissue sarcoma is a complex disease with multiple subtypes, making it very hard to diagnose and difficult to treat. For decades, there have been no front-line therapeutic advancements for STS that have improved overall survival. According to the American Cancer Society, in 2015, there were an estimated 12,000 new STS cases diagnosed and nearly 5,000 deaths in the U.S. alone.
About Lartruvo
Lartruvo is a platelet-derived growth factor receptor alpha (PDGFR-α) blocking antibody that specifically binds PDGFR-α and prevents receptor activation inhibiting sarcoma growth. Lartruvo is the first monoclonal antibody approved to treat STS.
The approval of Lartruvo is based on the results of a clinical study of 133 patients, which compared Lartruvo, in combination with doxorubicin chemotherapy, to doxorubicin alone in patients with STS with a histologic subtype for which an anthracycline-containing regimen was appropriate and which is not amenable to curative treatment with surgery or radiotherapy.
Median overall survival was improved by 11.8 months in patients treated with Lartruvo plus doxorubicin compared to patients treated with doxorubicin alone. Lartruvo was well tolerated and represents the first significant advance in the management of sarcomas in years.
Reference:
FDA. (2016.) FDA grants accelerated approval to new treatment for advanced soft tissue sarcoma. [Press release.] Retrieved here