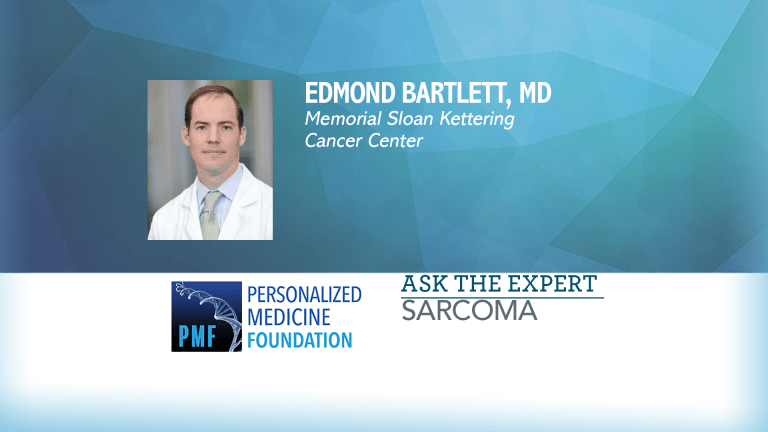 Ask The Expert From Memorial Sloan Kettering About The Treatment of Sarcomas
Dr. Bartlett answered your questions about Sarcoma treatment-Join the discussion.
Ask the Expert About Sarcomas
The following questions were submitted to Dr Bartlett at MSKCC by different individuals through FB, CancerConnect and "Partner Websites". Answers and below and their is an ongoing discussion in the Sarcoma Community on CancerConnect for individuals that wish to participate.
Submitted Questions and Answers
When should sarcoma patients undergo genomic or biomarker testing? What is the best lab to do the tests?
This is an interesting question and one into which a lot of research effort is being placed. Particularly in sarcoma, genetic testing at some level is often required to define the diagnosis (certain sarcoma types can be determined based upon specific mutations). But generally what patients are more interested in is genetic testing that guides treatment options. Unfortunately finding mutations that are targetable by existing drugs is uncommon in sarcoma. This is a rapidly changing area, and we routinely sequence patients with advanced sarcomas and increasingly are sequencing earlier tumors as well. Routine sequencing at this time is primarily research oriented. Many cancer centers have their own genomic sequencing panel that contains multiple hundreds of genes involved in cancer and patients should discuss this with their doctor. Two that are widely available (and often reimbursed by insurance coverage)
MSK IMPACT Memorial Sloan Kettering Cancer Center
Should patients with ULMS be given radiation or chemotherapy after surgery for stage 1 disease? Is there a standard adjuvant treatment and which stages should receive it?
The use of adjuvant therapy (additional treatment after complete surgical removal) for early uterine leiomyosarcoma is controversial. Radiation therapy is considered if the tumor has grown outside of the uterus, but not typically used in stage I. Chemotherapy is a consideration but requires a discussion with your oncologist of the risks of the side effects of chemotherapy for a particular individual weighed against the benefits. We have limited data to work with since uLMS is rare, but the data we do have does not show a very strong benefit to chemotherapy. If there is a benefit, it is likely modest. Common chemotherapy treatments include doxorubicin-based regimens or gemcitabine/docetaxel. Join the discussion:
What is the role of clinical trials for treatment of Sarcoma? My husband has just started a phase 2 trial after being taken off previous chemo that was not working. Who should consider a clinical trial?
Because sarcoma is a rare disease, it is difficult to run trials that are large enough to provide useful information and improve treatments. Broadly, Phase I trials are for new drugs or new drug combinations. The goal is to establish safety, and they typically involve a small number of patients. Phase II trials also tend to be small but are focused on determining if a drug/treatment is active. Phase III trials tend to be large and randomized to compare a new treatment to the standard of care. Given the rarity of sarcoma, many of our treatments are established in Phase II trials. I strongly encourage all patients to consider involvement in relevant clinical trials when they are available, and certainly if the standard treatment has not been successful. Join the discussion.

Are all metastases of Angiosarcoma inoperable? What is the best treatment for one or two mets? In general when can mets from sarcoma be surgically treated? Told I'm inoperable and being 'encouraged' to jump on TRC105 clinical trial with Votrient. Should I be getting a second opinion?
Sorry to hear about your diagnosis. The definition of "inoperable" is a difficult one. Angiosarcoma can be inoperable because it involves some vital structures and cannot be removed without serious risk. More common though is the scenario where the risk of the tumor spreading further is high, so the treatment should be one that addresses not just the visible sites of disease, but also to prevent the potential further spread of microscopic disease. In angiosarcoma in particular, patients are frequently treated with chemotherapy even if the visible disease is easily removable, because the risk of it coming back is quite high and some tumors respond well to therapy. Surgery is considered after a good response to treatment if there is a localized persistent area (or few areas) which can be safely removed. I certainly do support participation in clinical trials – particularly because they are typically run at centers with experienced physicians who care for a high volume of people with sarcoma. That being said, a second opinion is never a bad idea. If you are going to get one, I recommend you do it before starting treatment, particularly a clinical trial. Join the discussion:
My son has osteosarcoma-osteoblastic ... he just had LSS done in his left knee an femur ... he has mets on front and back of his lungs ... scan shows treatment isn't shrinking them ..his chemo is cicplatin/dox... and methotrexate ...so my question is what is the chance of getting a remission?
I'm sorry to hear about your son's diagnosis and hope he is recovering well from his surgery. Our ability to make prognostic statements is very imperfect and what we can say is highly individualized. Broadly, we believe response to chemotherapy is an important prognostic sign in patients with osteosarcoma, so the fact that it is not shrinking may be concerning. That answer depends on the extent of treatment he has received. Your question is obviously an important one, and one that you should certainly discuss with your treating surgeon and oncologist. If you are unsatisfied with the answer, I would encourage seeking a second opinion. Treatment in the setting of continued but stable disease can involve continuing the current therapy, changing to a second-line option, or even observation in rare cases. Join the discussion.
I have stage 4 leiomyosarcoma. Recently had bilateral Vats to remove lung tumors. I have no active tumors that we are aware of. Is the best treatment to wait and watch(Scan) or should I be considering additional treatment now to prevent any recurrence?
Hopefully you are recovering well from your surgery, being considered a surgical candidate with stage 4 leiomyosarcoma puts you in a particularly good prognostic group of patients with stage 4 disease. The decision to treat afterwards is a question we are faced with frequently, but unfortunately we do not have a tremendous amount of data to guide this decision. This becomes a discussion weighing the risk of the tumor coming back, the risk of the chemotherapy, and the effectiveness of the treatment. Often surgery is done after patients have received chemotherapy, and in this setting, observation after surgery is usually recommended. When chemotherapy has not been used, it is often because the treating physicians believe the tumor is slow growing – perhaps because there was a long time between the initial diagnosis and the spread to the lungs. This would be another scenario where observation is frequently used. Treatment would be considered if there is concern that the tumor is aggressive, and even in that setting it is dependent on your particular health conditions that might contribute to side-effects from the treatment. Join the discussion.
About Dr Bartlett
Dr. Edmond Bartlett is a surgeon who cares for people with soft tissue sarcoma and melanoma at Memorial Sloan Kettering Cancer Center. Dr. Bartlett's expertise includes sarcoma and melanoma. After medical school and a general surgery residency at the University of Pennsylvania Dr. Bartlett completed an additional Complex General Surgical Oncology Fellowship at Memorial Sloan Kettering Cancer Center.
More Information About Dr. Bartlett
The Ask The Expert Series is made possible by support fromThe Personalized Medicine Foundation, Incyte Oncology, Abbvie, and CancerConnect. The "Ask The Expert" series is not medical advice nor is it a substitute for your doctor. It should serve as a guide to facilitate access to additional information and enhancement of a shared decision making process with your treating physician.