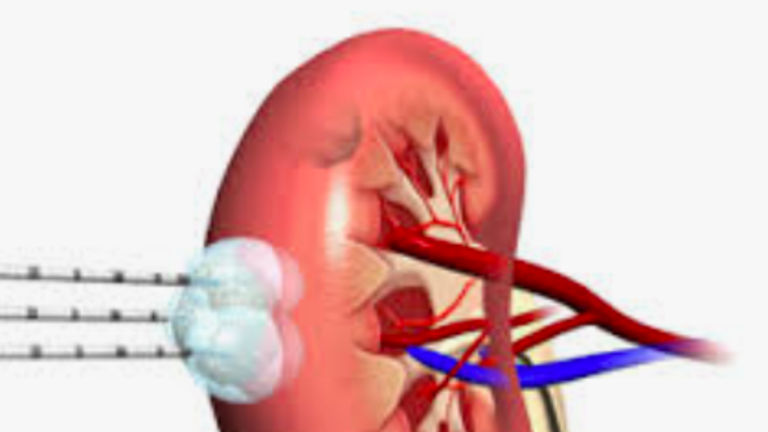 Radiofrequency Ablation Effective For Small Kidney Cancers
Radiofrequency ablation appears to be an effective treatment for patients with small kidney cancers.
by Dr. C.H. Weaver updated 11/2021
Radiofrequency ablation (RFA) is a minimally invasive technique that uses heat to destroy cancerous cells. During RFA, CT scans, ultrasound or laparoscopy guide electrode placement directly into the tumor. The electrode's high frequency radio waves create intense heat, which destroy the tumor cells. Radiofrequency ablation has been demonstrated to be effective in eradicating small renal cell cancers near the surface of the kidney in individuals who are not good candidates for surgery.1-4
How is RFA performed?
Radiofrequency ablation is commonly used for the treatment of tumors that are not amenable to surgery in the liver, lung, and elsewhere. The procedure involves the use of a small probe that is inserted into the site of cancer. The physician guides the probe through CT or MRI scans so that the treatment can be contained to the site of cancer, limiting the effect on surrounding tissue. Radio waves flow through the probe to the site of cancer, thereby destroying the cells. RFA typically requires local anesthesia, and affects only the site of cancer without causing side effects to the rest of the body. RFA is currently used to treat kidney cancers that are small in easily accessible or in individuals unable to undergo surgery.
Radiofrequency Ablation an Effective Alternative to Surgery in Renal Cell Cancer
In 2003 doctors from the Mayo Clinic reported that RFA may provide an effective treatment alternative to surgery in patients with renal cell cancer who were not eligible for surgery. This small trial involved 32 patients with a total of 51 renal tumors. Following RFA 98% of cancers were completely destroyed. Overall, treatment was very well tolerated.
Studies Support RFA as a treatment for kidney cancer.
Doctors reported the outcomes of 124 patients with small kidney growths (median tumor size 2.8 cm) treated with RFA to treat the primary lesion.
The one- and three-year local recurrence-free survivals were 99.0% and 94.6%, respectively. There were eight deaths from RCC, but all of these individuals had metastatic disease at the time of RFA treatment.
In another study patients diagnosed with renal tumors were treated with RFA guided either by CT scans or by laparoscopy. Each patient received repeat imaging scans at 6 weeks and again at 3 and 6 months. Scans were continued every 6 months from that point forward. The 91 patients treated in the study had an average tumor size of 2.4 cm. Among these participants, 98 percent of tumors were destroyed (107 of 109 tumors treated-some patients had more than one tumor). The remaining two tumors retreated and were then successfully destroyed. Sixty patients-the majority-had been diagnosed with renal cell cancer at least 1 year prior to undergoing RFA.
Researchers have also evaluated the effect of RFA among patients with kidney cancers up to 4 centimeters in size.
These patients were followed for an average of two years after RFA in order to determine how the cancer had responded to treatment. Six patients required a second session of RFA for complete treatment. Three of the 46 patients had a cancer recurrence. These recurrences occurred at 24, 25 and 31 months after RFA. All of the patients with a recurrence initially had a tumor that was 3 centimeters or larger.
Researchers concluded that RFA may be used to treat larger tumors (more than 3 centimeters) but they are more challenging to treat with this approach and are more prone to recurrence afterwards.
RFA appears to be a reasonable approach for select patients with smaller renal tumors. RFA is a very important technique for individuals whose overall health makes them unsuitable for surgery offering good local control for renal primary tumors in selected patients with localized or metastatic RCC.
References:
Farrell M, Charboneau W, DiMarco D, et al. Radiofrequency ablation of solid renal tumors. Proceedings of the 103rd annual meeting of the American Roentgen Ray Society. 2003. Abstract #263.
Matsumoto E, Johnson B, Ogan K, et al. Short term efficacy of temperature based radiofrequency ablation of small renal tumors. Urology; 65: 877-881.
Karam JA, Ahrar K, Jonasch E, et al. Radiofrequency ablation (RFA) of renal tumors: Clinical, radiographic and pathological results from a tertiary cancer center. 2010 Genitourinary Cancers Symposium; abstract number 316.
Varkarakis IO, Allaf ME, Takeshi I et al. Percutaneous radio frequency ablation of renal masses: results at a 2-year mean followup. The Journal of Urology. 2005;174:456-460.
Copyright © 2018 CancerConnect. All Rights Reserved.