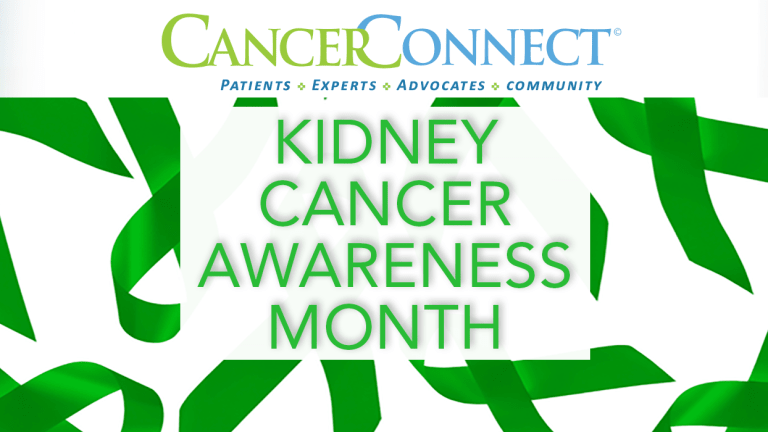 National Kidney Cancer Awareness Month on CancerConnect
Update on treatment progress, the new role of precision immunotherapy and ALL the approved treatments for kidney cancer.
by CancerConnect Medically Reviewed by Dr. C.H. Weaver M.D. 03/2022
CancerConnect provides updates on the advances in the management of renal cell cancer for national kidney cancer awareness month. According to statistics from the American Cancer Society (ACS), kidney cancer is one of the ten most common cancers in both men and women and will be diagnosed in over 65,000 people this year.1
The treatment of advanced kidney cancer has improved dramatically over the past 30 years. Doctors initially used very primitive immune therapies with significant side effects and now used precision cancer medicines and immunotherapies that target specific genomic abnormalities which are now being combined into treatment regimens.
Average overall survival has increased from less than a year to over 4 years and the newer therapies delay cancer recurrence and are associated with fewer side effects. Immunotherapy is the new standard treatment for early stage disease and advances in treatment of more advanced cancers are significant.
Learn More About Kidney Cancer
Knowledge is power. Are you facing a new diagnosis, recurrence, living with metastatic disease, or supporting a loved one through their cancer journey?
Patient Profiles: 
Profile of Katherine Phillion who was diagnosed with kidney cancer as a young adult at age 32. Active on Capitol Hill and with the Kidney Cancer Association, Katherine is a patient advocate who resides in Houston with her husband and daughter. Watch here.
References:
American Cancer Society. Cancer Facts and Figures 2015. Available at http://www.cancer.org/acs/groups/content/@research/documents/webcontent/acspc-042151.pdf. Accessed February 27, 2021.