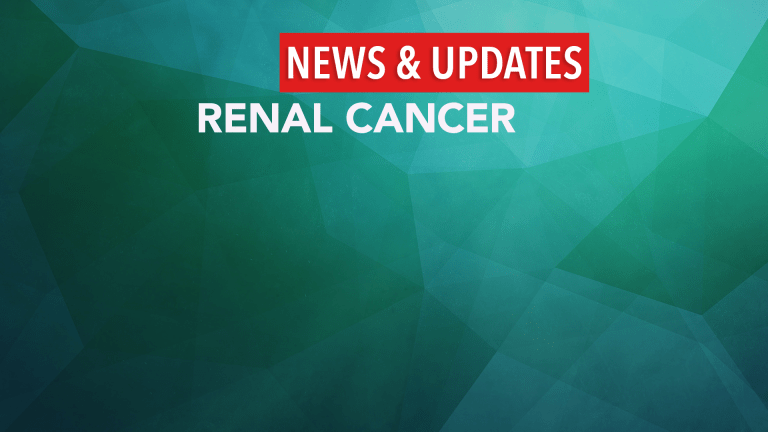 First-Line Inlyta Active in Metastatic Kidney Cancer
First-Line Inlyta Active in Metastatic Kidney Cancer
First-line therapy with Inlyta® (axitinib) demonstrated clinical activity in metastatic renal cell carcinoma, according to the results of a study published in The Lancet Oncology.
Each year in the United States, more than 58,000 people are diagnosed with kidney cancer. The most common type of kidney cancer is renal cell carcinoma (RCC), which starts in the lining of very small tubes (tubules) in the kidney. For people with advanced RCC (cancer that has spread to other parts of the body), targeted therapies can play an important role in treatment.
Inlyta is an oral targeted drug known as a small-molecule tyrosine kinase inhibitor. It works by blocking certain proteins that play a role in cancer growth.
Researchers conducted a phase II, double-blind study that included 213 patients with treatment-naïve metastatic renal cell carcinoma at 49 hospitals and outpatient clinics in the United States, Czech Republic, Germany, Japan, Russia and Spain. All patients received Inlyta (5 mg twice daily) during a 4-week lead-in period. After the lead-in period, 112 patients were identified as eligible for dose titration with Inlyta or placebo. (Eligibility determined by blood pressure of 150/90 mm Hg or lower and no grade 3-4 toxicities and no dose reductions.) Dose titration is the process of gradually adjusting the dose of a medication until optimal results are reached.
Researchers randomly assigned 56 patients to masked titration with Inlyta and 56 patients to placebo titration. Dose titration with Inlyta started with two daily doses of 7 mg and then 10 mg if tolerated.
The results indicated a higher objective response rate in the Inlyta group (54%) compared to the placebo group (34%). Grade 3 or higher adverse events included hypertension, diarrhea, and weight loss.
The researchers concluded that individual dose titration with Inlyta produces an objective response in selected patients with metastatic renal cell carcinoma. They state that the drug shows clinical activity with a manageable safety profile as first-line treatment in patients with this disease.
Reference:
Rini BI, Melichar B, Ueda T, et al. Axitinib with or without dose titration for first-line metastatic renal-cell carcinoma: a randomised double-blind phase 2 trial. The Lancet Oncology. 2013; 14(12): 1233-1242.