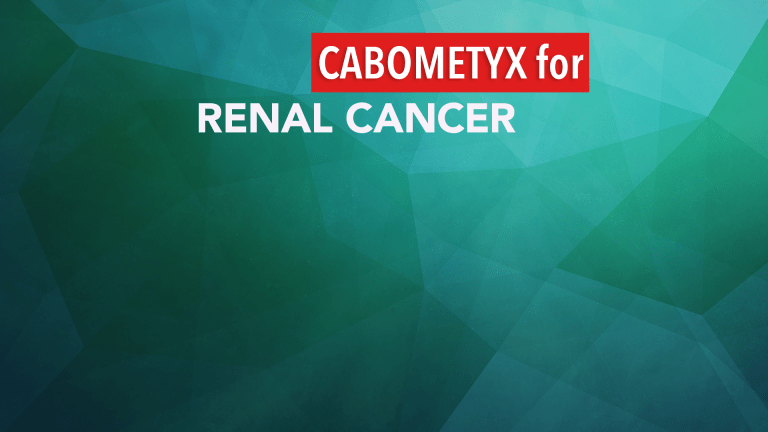 Cabometyx Treatment of Advanced Renal Cell - Kidney Cancer
Cabometyx used alone or in combination is effective for treatment of Renal Cell Carcinoma-ASCO 2021 update impressive.
by Dr. C.H. Weaver M.D. 6/2021 ASCO update
The United States Food and Drug Administration (FDA) has approved the kinase inhibitor Cabometyx™ (cabozantinib) for the treatment of renal cell carcinoma (kidney cancer). The approval is for patients with advanced renal cell carcinoma (RCC) as initial therapy or for individuals with recurrent disease.1,2,9
Each year in the United States, more than 61,000 people are diagnosed with kidney cancer. The most common type of kidney cancer is renal cell carcinoma (RCC), which starts in the lining of very small tubes (tubules) in the kidney. For people with advanced or metastatic RCC (cancer that has spread to other parts of the body), targeted therapies can play an important role in treatment. Approximately 20-30% of patients with RCC will have metastases at diagnosis and as many as 40% will demonstrate metastasis after treatment for earlier stage RCC. With a 5-year survival rate ranging from 5-10% for patients with advanced RCC, the overall prognosis for these patients is poor.3,4,5
About Cabometyx
Cabometyx™ is a kinase inhibitor that stops or decreases the action of many different cellular processes involved in cancer growth or spread. Cabometyx is thought to inhibit the action of the receptor tyrosine kinases including MET, VEGFR-1, -2, and -3, AXL, RET, ROS1, TYRO3, MER, KIT, TRKB, FLT-3, and TIE-2.
What do the trials show?
Until recently the most effective drugs for treating advanced kidney cancer were those that block new blood vessel formation (angiogenesis) by targeting vascular endothelial growth factor (VEGF) and its receptors. Such compounds are designed to interrupt blood supply to the tumors, slowing their growth or shrinking them. A standard treatment for RCC is Sutent (sunitinib) which inhibits VEGF; Cabometyx™ also inhibits VEGR and blocks the MET and AXL oncogenes, both of which are involved in resistance to VEGF inhibitors.
The CheckMate 9ER Phase 3 clinical trial directly compared treatment with Cabometyx combined with the immunotherapy drug Opdivo (nivolumab) to treatment with Sutent alone in patients with previously untreated advanced or metastatic RCC. Both Opdivo and Cabometyx are FDA approved for treatment of RCC and research suggests that Cabometyx may create a more immune-permissive environment that may enhance response to immune checkpoint inhibitors.6
The results of the CheckMate -9ER clinical trial were featured at the Presidential Symposium at the European Society for Medical Oncology (ESMO) Virtual Congress 2020, on September 19, 2020. Opdivo in combination with Cabometyx reduced the risk of death by 40% and doubled the survival duration without cancer progression.8
At a median follow-up of 23.5 months the average survival duration without cancer progression was doubled at 17.0 months for the combination compared with 8.3 months for sunitinib. Average overall survival has still not been reached for the combination regimen versus 29.5 months with sunitinib.
In patients with recurrent RCC studies have shown that individuals who received Cabometyx™ also survive longer without cancer progression than those treated with Sutent. Toni K. Choueiri, MD, director of the Lank Center for Genitourinary Oncology at Dana-Farber observed that "These results are very relevant to our practice and our kidney cancer patients – they may change the standard."
The clinical trial included 157 patients, 81 percent considered to be intermediate risk and 19 percent poor risk, who had no previous treatment. In 36 percent of patients, the cancer had spread to the bone – a harbinger of worse outcome.
The primary endpoint of the trial was progression-free survival, which was a median 8.2 months for Cabometyx™ and 5.6 months for sunitinib. Cabometyx™ reduced the rate of disease progression or death by 34 percent compared with Sunitinib.
The overall response rate was better for Cabometyx™ patients, 46% of whom had complete or partial responses compared to 18% in the sunitinib group.
The trial wasn't designed to compare overall survival rates between the drugs, but the researchers said preliminary data with a relatively short follow-up showed Cabometyx™ treatment was associated with a 20% decrease in the risk of death.
The safety and side effects profiles of the two drugs were similar and comparable to those observed in kidney cancer patients treated with other VEGF inhibitors, the investigators said. Patients stopped treatment because of adverse events at equivalent rates with the two drugs.
Cabometyx superior to Afinitor in advanced kidney cancer.
According to a recently published study in the New England Journal of Medicine, the targeted agent, Cabometyx, significantly improves the time to cancer progression and survival compared to Afinitor® (everolimus) in patients with advanced kidney cancer whose cancer has progressed following VEGRF-targeted therapy.
Researchers recently conducted a clinical trial in 658 patients with RCC whose cancer had progressed after VEGFR-targeted therapy. Patients were treated with either Cabometyx or Afinitor and directly compared.
The average time to cancer progression was 7.4 months for patients treated with Cabometyx, compared to only 3.8 months for those treated with Afinitor. Cabometyx was reasonably well tolerated, and longer follow up is required to ascertain the true overall survival benefit.3
Cabometyx is also approved for the treatment of medullary thyroid cancer and is marketed under the trade name Cometriq. Cometriq and Cabometyx have different formulations and are not interchangeable.
References:
Dana-Farber Cancer Institute. (2016.) New drug beats standard therapy in advanced kidney cancer. [Press release.] Can be accessed.
Ljungberg B, Campbell S and Cho H. The Epidemiology of Renal Cell Carcinoma. Eur Urol. 2011;60:615-621.
American Cancer Society. What is kidney cancer? Available from: . Accessed July 2018.
Escudier B, Porta C, Schmidinger M et al Renal cell carcinoma: ESMO clinical practice guidelines for diagnosis, treatment and follow-up. Annal Oncol. 2014; 25(Suppl3):iii49-iii56.
Ipsen Announces Positive Topline Results From Pivotal Phase III CheckMate -9ER Trial Evaluating CABOMETYX® (cabozantinib) in Combination with Opdivo® (nivolumab) in Previously Untreated Advanced Renal Cell Carcinoma
Choueiri T, Escudier B, Powles T, et al. Cabozantinib versus everolimus in advanced renal-cell carcinoma. New England Journal of Medicine. September 25, 2015 DOI: 10.1056/NEJMoa1510016.
https://ir.exelixis.com/news-releases/news-release-details/exelixis-announces-consistent-efficacy-benefits-across-subgroups