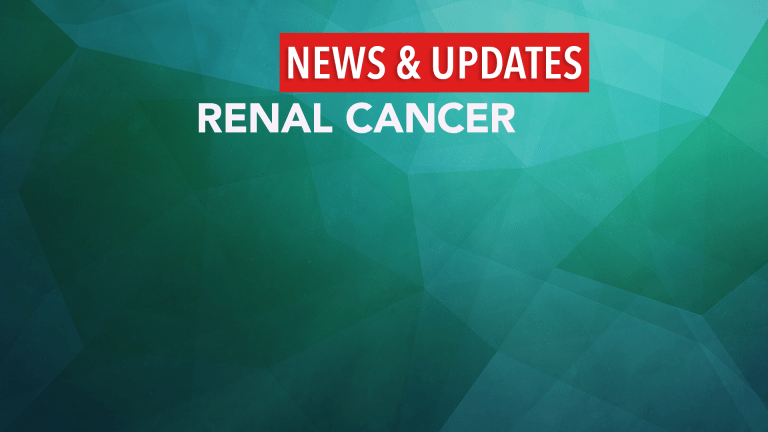 by Dr. C.H. Weaver M.D. updated 3/2020
The results from the JAVELIN clinical study evaluating Bavencio® (avelumab) in combination with Inlyta® (axitinib), compared to Sutent® (sunitinib) as initial therapy for patients with advanced renal cell carcinoma (RCC) have been released and the study shows a statistically significant improvement in progression-free survival (PFS) for all patients treated with the combination and specifically for individuals who are programmed death ligand-1‒positive (PD-L1+).(1) The novel drug combination trial results were published in the New England Journal of Medicine and led to a US Food and Drug Administration (FDA) approval for the first-line treatment of patients with advanced RCC in May 2019.(6)
About Renal Cell Carcinoma
Each year in the United States, more than 61,000 people are diagnosed with kidney cancer. The most common type of kidney cancer is renal cell carcinoma (RCC), which starts in the lining of very small tubes (tubules) in the kidney. For people with advanced or metastatic RCC (cancer that has spread to other parts of the body), targeted therapies can play an important role in treatment. Approximately 20% to 30% of patients with RCC will have metastases at diagnosis and as many as 40% will demonstrate metastasis after treatment for earlier stage RCC. With a 5-year survival rate ranging from 5-10% for patients with advanced RCC, the overall prognosis for these patients is poor.(2,3,4)
About Inlyta
Inlyta is an oral targeted drug known as a small-molecule tyrosine kinase inhibitor. It works by blocking certain proteins that play a role in cancer growth. In the US, Inlyta is approved for the treatment of advanced RCC after failure of one prior systemic therapy. The developers of both Keytruda and Bavencio elected to combine their checkpoint inhibitor drugs with Inlyta in order to determine their effectiveness in the treatment of advanced RCC.
About Bavencio
Bavencio is a "checkpoint inhibitor" drug that targets the programmed cell death-ligand PD-1/PD-L1 pathway with potential immune checkpoint inhibitory and anti-cancer activity. When Bavencio binds to PD-L1 it blocks the interaction of PD-L1 with its receptor protein 1 (PD-1). This inhibits the activation of PD-1 and restores immune function through the activation of cytotoxic T lymphocytes targeted to PD-L1-over-expressing cancer cells.
Checkpoint inhibitor drugs help to restore the body's immune system in fighting cancer by releasing checkpoints that cancer uses to shut down the immune system. PD-1 and PD -L1 are proteins that inhibit certain types of immune responses, allowing cancer cells to evade an attack by the body's immune cells.
Checkpoint inhibitors have improved the outcomes of many cancers including melanoma and lung cancer. Results from the KEYNOTE-426 clinical trial show that first-line therapy with a combination of the PD-1 checkpoint inhibitor Keytruda (pembrolizumab) and the VEGF-targeted tyrosine kinase inhibitor Inlyta (axitinib) improve overall survival and delay cancer progression-free survival for patients with clear-cell metastatic renal cell carcinoma (mRCC), compared with the current standard of care, Sutent (sunitinib).
Learn More About the Treatment of Renal Cell Cancer...
JAVELIN Renal Clinical Trial
The Phase III JAVELIN Renal 101 study evaluated the combination of Bavencio +Inlyta compared to Sutent in 886 patients with previously untreated advanced RCC. The initial trial results have demonstrated that the twice as many individuals treated with the combination responded to treatment (51% vs 25%) and the combination significantly extended the average time to cancer progression by more than five months. Longer term follow up confirmed the benefit leading to FDA approval of the drug combination: it lowered the risk of disease progression or death by 31% and extended progression-free survival by 5.4 months.
The most common reported side effects were diarrhea, fatigue, hypertension, musculoskeletal pain, nausea, mucositis, palmar-plantar erythrodysesthesia, decreased appetite, hypothyroidism, rash, hepatotoxicity, cough, dyspnea, abdominal pain and headache.
Keytruda has also been successfully combined with the Inlyta to improve the initial treatment of advanced renal cell cancer.
Doctors will continue to evaluate the best way to use checkpoint inhibitors for the management of renal cell carcinoma. There are several checkpoint inhibitor drugs available or in development.
Keytruda® (pembrolizumab)
Opdivo (nivolumab)
Imfinzi (durvalumab)
Tecentriq® (atezolizumab)
Bavencio® (avelumab)
Results of Keynote 426: Keytruda + Inlyta
At a median follow-up of 12.8 months, a comparison of patients receiving Keytruda + Inlyta compared to Sutent in the treatment of advanced renal cell carcinoma demonstrated that;· The combination therapy was associated with a 47% reduction in the risk of death compared with Sutent. · The 12-month overall survival rate was 90% in the combination group vs 78% in the Sutent group. · Combination patients lived a median of 15.1 months without disease progression vs. 11.1 months with Sutent.· Serious treatment-related side effects were seen in 63% of people on the combination therapy compared to 58.% who received Sutent. The initial results from the JAVELIN clinical study evaluating Bavencio® (avelumab) in combination with Inlyta® compared to Sutent® as initial therapy for patients with advanced renal cell carcinoma have also been released and the study shows a statistically significant improvement in progression-free survival (PFS) for all patients treated with the combination. Tull results of the clinical trial will be updated at a major medical meeting in the near future.
Learn More About the Treatment of Renal Cell Cancer...
References:
National Cancer Institute: SEER Stat Fact Sheets: Kidney and renal pelvis. Available here:. Accessed July 2018.
Ljungberg B, Campbell S and Cho H. The Epidemiology of Renal Cell Carcinoma. Eur Urol. 2011;60:615-621.
American Cancer Society. What is kidney cancer? Available here. Accessed July 2018.
Escudier B, Porta C, Schmidinger M et al Renal cell carcinoma: ESMO clinical practice guidelines for diagnosis, treatment and follow-up. Annal Oncol. 2014; 25(Suppl3):iii49-iii56.
World Cancer Research Fund International: Kidney cancer statistics. Available here. Accessed July 2018.
pfizer.com/news/press-release/press-release-detail/fda_approves_bavencio_avelumab_plus_inlyta_axitinib_combination_for_patients_with_advanced_renal_cell_carcinoma
​