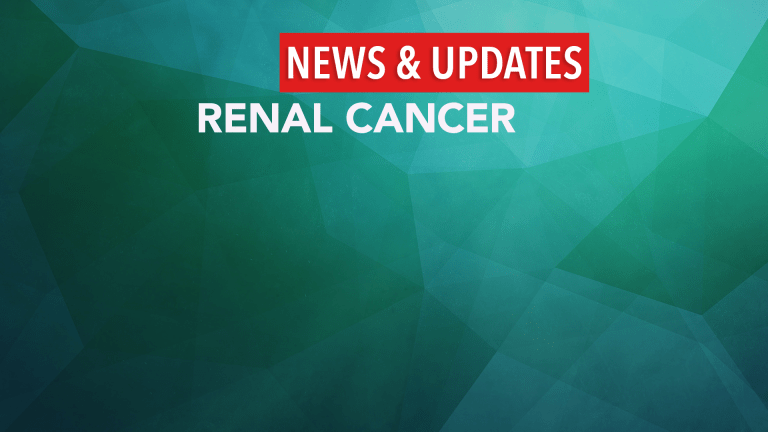 Axitinib Provides Activity in Kidney Cancer
Axitinib Provides Activity in Kidney Cancer
According to results recently published in The Lancet, the agent axitinib provides anticancer activity in patients with renal cell carcinoma, a form of kidney cancer.
The kidneys are each filled with tiny tubules that clean and filter the blood-the process that removes waste and makes urine. Renal cell carcinoma (RCC) is a malignancy involving these tubules of the kidney and is the most common type of kidney cancer. Standard treatment for RCC may include cytokins, or agents that stimulate the immune system to fight cancer. Once cancer progresses following cytokine therapy, it is referred to as cytokine-resistant RCC.
The vascular endothelial growth factor receptors (VEGFR) 1, 2, and 3 are involved in the growth of blood vessels to cancer cells. The blood vessels provide nutrients and oxygen to the cancer cells and allow them to grow and spread. Axitinib targets VEGFR 1, 2, and 3 and stops or reduces the growth of blood vessels supplying food to cancer cells.
Researchers recently conducted a clinical trial to evaluate axitinib in the treatment of RCC. This trial included 52 patients who were treated with two oral tablets daily.
Anticancer responses occurred in 44% of patients.
The median duration of response was nearly two years.
Approximately 45% of patients also achieved a stabilization of their cancer.
Side effects included diarrhea, high blood pressure, fatigue, nausea, and hoarseness.
The researchers concluded that axitinib provides significant anticancer activity in the treatment of cytokine-resistant RCC.
Patients with RCC whose cancer has progressed following cytokine therapy may wish to speak with their physician regarding their individual risks and benefits of participating in a clinical trial further evaluating axitinib or other promising therapies. Sources of information regarding ongoing clinical trials include the National Cancer Institute (www.cancer.gov).
Reference: Rixe O, Bukowski R, Michaelson M, et al. Axitinib Treatment in Patients with Cytokine-Refractory Metastatic Renal-Cell Cancer: A Phase II Study. LancetOncology [early online publication]. October 23, 2007. DOI: 10.1016/S1470-2045(07)70285-1.