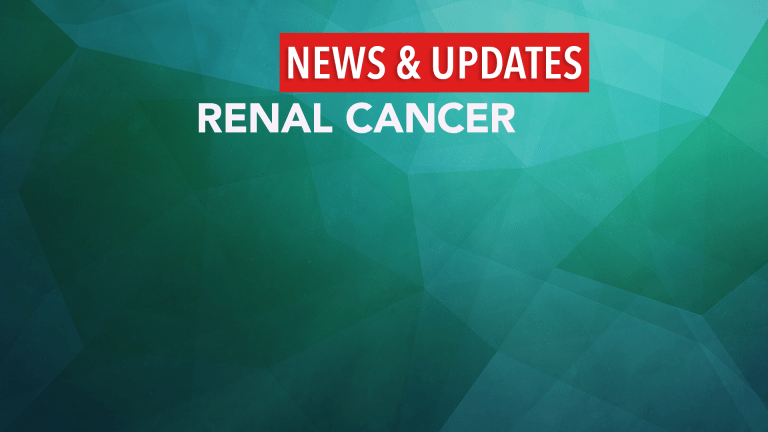 Avastin® Treatment of Kidney - Renal Cell Cancer
Avastin® Approved for Kidney Cancer
The U.S. Food and Drug Administration (FDA) has expanded the approval of the targeted therapy Avastin® (bevacizumab) to include treatment of metastatic renal cell carcinoma (kidney cancer). The initial approval for kidney cancer specified that Avastin be used in combination with interferon alfa.
About Kidney - Renal Cell Cancer (RCC)
The kidneys are filled with tiny tubules that clean and filter the blood; this process removes waste and makes urine. Renal cell cancer (RCC) is a malignancy involving these tubules of the kidney. The kidneys are a pair of bean shaped organs located on each side of the spine. The kidneys filter the blood and eliminate waste in the urine through a complex system of filtration tubules. All of the blood in the body passes through the kidneys approximately 20 times an hour. Renal cell cancer is an uncommon form of cancer that is most often characterized by the presence of cancer cells in the lining of the filtration tubules of the kidney. Metastatic renal cell cancer (RCC) refers to cancer that has spread from the kidney to distant and/or several sites in the body. Clear-cell renal cancer is a type of kidney cancer that is usually caused by a mutation in a gene called the von Hippel-Lindau tumor suppressor gene. A mutation in this gene is associated with the overproduction of vascular endothelial growth factor, an important component of angiogenesis.
About Avastin (bevacizumab)
Avastin is a targeted therapy that blocks a protein known as VEGF. VEGF plays a key role in the development of new blood vessels. By blocking VEGF, Avastin deprives the cancer of nutrients and oxygen and inhibits its growth. Avastin's effects on blood vessels may also improve the delivery of chemotherapy to the tumor. Avastin™ is a novel angiogenesis inhibitor that has completed the last phase of clinical trials prior to FDA approval. Avastin™ produces its anti-angiogenic effects by inhibiting the action of VEGF which halts the growth of new blood vessels necessary to promote and maintain cancer cell growth. It has demonstrated anti-cancer activity in the treatment of various cancers and is presently being evaluated in several clinical trials.
Avastin™ (bevacizumab) delays time to cancer progression in metastatic clear-cell renal carcinoma.
Researchers affiliated with the National Cancer Institute conducted a clinical trial to evaluate Avastin™ in the treatment of metastatic clear-cell renal carcinoma. This trial involved 116 patients, the majority of whom had cancer that was progressing. The patients were treated with either high-dose Avastin™, low-dose Avastin™ or a placebo (inactive substitute) every 2 weeks and were directly compared. Overall, patients treated with high-dose Avastin™ had the longest progression-free survival, compared with the other two groups. The average duration of progression-free survival at 8 months following initiation of therapy was approximately 30%, 14% and 5% for those treated with high-dose Avastin ™, low-dose Avastin™ and placebo, respectively. Avastin™ was well tolerated, with mild to moderate high blood pressure and protein in the urine being the most common side effects. Longer follow-up is necessary to determine if Avastin™ improves long-term survival in this group of patients. (ss)
Pembrolizumab Plus Bevacizumab Safe, Effective for Metastatic RCC
Pembrolizumab combined with bevacizumab was shown to be safe and active in a study of patients with metastatic clear cell renal cell carcinoma.
Dr. Arkadiusz Z. Dudek, MD, PhD, and colleagues from HealthPartners Regions Cancer Care Center, St Paul, Minnesota, evaluated whether Avastin would increase the activity of pembrolizumab in patients with metastatic RCC. They conducted a single-arm clinical trial in patients with metastatic clear cell RCC.
A total of 61 patients were treated with pembrolizumab 200 mg plus bevacizumab 10 mg/kg or 15 mg/kg every 3 weeks, with no dose-limiting side effects reported. Overall 61% of patients responded to treatment including 1 complete response and 25 partial responses. On average individuals survived 20.7 months without cancer progression and with median follow-up of 28.3 months, the median overall survival had not been reached. Hypertension and proteinuria were the most frequently reported side effect.
J Clin Oncol. 2020 Feb 25. Epub ahead of print.
The initial study that led to the approval of Avastin for metastatic RCC was a Phase III clinical trial known as AVOREN. The study enrolled 649 patients with previously untreated metastatic RCC. Patients received treatment with either interferon alfa alone or interferon alfa plus Avastin. The addition of Avastin significantly improved progression-free survival. Progression-free survival was 5.4 months among patients treated with interferon alfa alone compared with 10.2 months among patients treated with interferon alfa plus Avastin. In spite of this improvement in progression-free survival, the addition of Avastin did not significantly improve overall survival.
Tarceva plus Avastin
Tarceva (erlotinib) is a precision cancer medicine that targets the epidermal growth factor receptor (EGFR) pathway, which is involved in the replication of cells. By blocking the action of the EGFR, Tarceva reduces or prevents cancer cells from reproducing.
Researchers from the Sarah Cannon Center in Tennessee conducted a clinical trial to evaluate Tarceva and Avastin in the treatment of advanced RCC. This trial included 59 patients with recurrent RCC. All patients had surgery to remove their kidney (nephrectomy). Following treatment with Tarceva/Avastin, researchers reported the following results:86% of patients achieved a clinical benefit, with 25% of patients achieving a 50% reduction in their cancer size and 61% achieving either disease stabilization.
Only 13% of patients had a progression of their cancer while on treatment.
At 18 months, 60% of patients were still alive.
Side effects caused by treatment were generally mild, with the most common side effects being high blood pressure, diarrhea, rash, nausea and vomiting.
The researchers concluded that the combination of Tarceva and Avastin achieves high rates of disease responses or stabilization, resulting in high levels of survival at 18 months recurrent RCC with manageable side effects. The researchers added that these rates are some of the highest rates ever achieved in patients with this stage of RCC. (UU)
VEGF Inhibitors - Avastin and Hypertension
An expert panel provided consensus recommendations for appropriate prevention, surveillance and treatment of hypertension (high blood pressure) in patients treated with vascular endothelial growth factor (VEGF) signaling pathway inhibitors. These recommendations were recently published in the Journal of the National Cancer Institute.[1]Researchers continue to evaluate novel therapeutic strategies, such as targeted therapies, for the treatment of cancer. Targeted therapies are anticancer drugs that interfere with specific pathways involved in cancer cell growth or survival.VEGF inhibitors are targeted therapy agents that block the growth of cancer cells by inhibiting several biological pathways that are involved in cellular replication and spread, particularly blood vessel development in tumors. The use of VEGF inhibitors has increased dramatically in recent years.Avastin® (bevacizumab), Votrient® (pazopanib), Sutent® (sunitinib), and Nexavar® (sorafenib) are examples of VEGF signaling pathway inhibitors. Results from clinical studies have revealed that hypertension is one of the main side effects associated with VEGF signaling pathway inhibitors.To provide physicians with consensus recommendations on how to optimally manage cardiac toxicities resulting from treatment with VEGF signaling pathway inhibitors, the National Cancer Institute formed a Cardiovascular Toxicities Panel that included experts in hypertension and VEGF signaling pathway inhibitors. The panel advised that appropriate assessment and monitoring for hypertension in patients who are planning to undergo treatment of their cancer with a VEGF signaling pathway inhibitor should include the following:
Conduct a formal risk assessment of heart health prior to treatment to identify patients at higher risk of cardiovascular side effects,
Recognize, identify and address preexisting hypertension, including appropriate pretreatment prior to administering VEGF signaling pathway inhibitors,
Active monitoring and treatment of hypertension need to continue throughout treatment with a VEGF signaling pathway inhibitor, particularly during the first cycle of treatment.
Although efforts should be made to maintain patients on the full dose and schedule of VEGF signaling pathway inhibitors, dose-reductions or treatment breaks should be considered when hypertension is not being controlled.
The panel also provides physicians with specific hypertension goals and recommendations for management that include consultation with a hypertension specialist when necessary.Appropriate monitoring and treatment is strongly recommended to prevent cardiovascular complications. Patients receiving treatment with VEGF signaling pathway inhibitors may wish to discuss hypertension monitoring with their healthcare provider.Maitland ML, Bakris GL, Black HR, et al. Initial Assessment, Surveillance, and Management of Blood Pressure in Patients Receiving Vascular Endothelial Growth Factor Signaling Pathway Inhibitors. Journal of the National Cancer Institute. 2010;102:596-604.
​
Reference:
Roche Media Release. Avastin approved in US for the most common type of kidney cancer. Available at: roche.com/media/media_releases/med-cor-2009-08-03.htm. Accessed August 5, 2009.
ss Yang J, Haworth L, Sherry R, et al. A Randomized Trial of Bevacizumab, an Anti–Vascular Endothelial Growth Factor Antibody, for Metastatic Renal Cancer. The New England Journal of Medicine. 2003;349:427-434.
Yang J, Haworth L, Steinberg S, et al. A randomized double-blind placebo-controlled trial of bevacizumab (anti-VEGF antibody) demonstrating a prolongation in time to progression in patients with metastatic renal cancer. Proceedings from the 38th annual meeting of the American Society of Clinical Oncology. 2002;21:Abstract 15.
UU Hainsworth J, Sosman J, Spigel D, et al. Treatment of Metastatic Renal Cell Carcinoma With a Combination of Bevacizumab and Erlotinib. Journal of Clinical Oncology. 2005. Early on-line publication. DOI: 10.1200/JCO.2005.01.8234