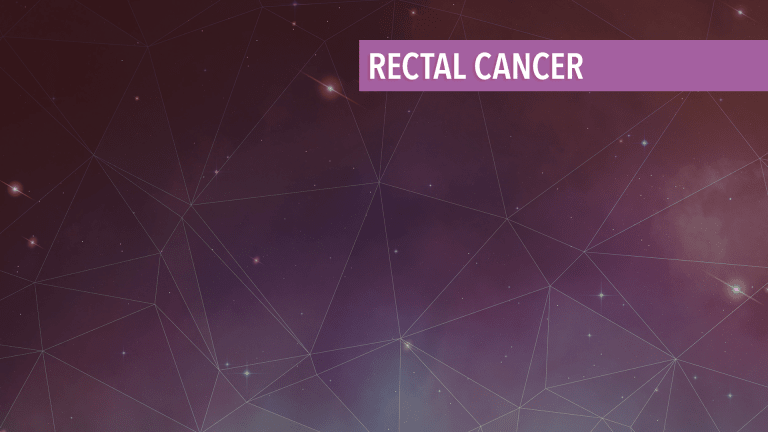 Treatment for Stages I - III of Rectal Cancer
Total Neoadjuvant Therapy and immunotherapy are changing the way stage I-III rectal cancer is treated.
Stage I -III adenocarcinoma of the rectum is relatively uncommon and earlier stage cancers are often curable with surgery alone. Treatment of stage II or III rectal cancer typically involves a combination of radiation, chemotherapy and surgical removal of the cancer. Historically this meant delivering a long course of chemotherapy and radiation followed by surgery and then additional adjuvant chemotherapy. A total removal of the rectum and a permanent colostomy often resulted in significant distress and a severely compromised quality of life.1  
An overall treatment approach called Total Neoadjuvant Therapy (TNT) and immunotherapy has several advantages and is now becoming a standard approach that allows some patients to avoid surgery altogether.2,3,4,8-13
The following is a general overview of the treatment of stage I - III rectal cancer. The information on this Web site is intended to help educate you about your treatment options and to facilitate a mutual or shared decision-making process with your treating cancer physician.
Total Neoadjuvant Therapy
Neoadjuvant means "before surgery" – the delivery of neoadjuvant chemotherapy has the advantage of treating the cancer before it spreads and shrinking the cancer for more complete and easier surgical removal. Recent studies have demonstrated that TNT is associated with improved delivery of planned therapy, shrinking or "down staging" the cancer, earlier introduction of optimal systemic chemotherapy and the potential to sidestep any surgical treatment at all for many individuals with locally advanced rectal cancer.2,3,4
Results from a large multi-institutional clinical trial provide confirmatory evidence that treatment with pre-operative therapy significantly decreases local cancer recurrences in patients with rectal cancer that has not spread to distant sites and should be considered the standard of care for this disease. According to the results of the phase 3 RAPIDO clinical trial released at the 2020 American Society of Clinical Oncology Annual Meeting neo-adjuvant short-course radiation therapy followed by chemotherapy should be the new standard of care for treating locally advanced rectal cancer.2
The objective of the RAPIDO clinical trial was to determine whether a short - course of radiation therapy followed by delayed surgery, and chemotherapy administered in the waiting period, would lead to better treatment outcomes. A total of 920 patients with locally advanced rectal cancer were enrolled in the study and treated between June 2011 and June 2016. One group of patients received TNT; short course radiation followed by 6 cycles of CAPOX or 9 cycles of FOLFOX4 chemotherapy followed by surgical removal of the cancer and this was compared to "standard" therapy consisting of capecitabine-based chemo-radiotherapy and surgery.
Patients participating in this trial have now been followed in excess of 4.5 years and the 3 year probability of disease-related treatment failure is 23.7% in the TNT group compared to 30.4% in the standard treatment group. The improved outcomes were attributed to a lower rate of distant cancer spread and this resulted in a 3-year overall survival rate of 89% for those treated with TNT.1
Results from the UNICANCER-PRODIGE 23 clinical trial in patients with stage cT3 or cT4 disease have also confirmed that neoadjuvant chemotherapy with fluorouracil, leucovorin, irinotecan, and oxaliplatin (FOLFIRINOX) followed by chemoradiotherapy, surgery, and adjuvant chemotherapy significantly improves outcomes in patients with locally advanced rectal cancer compared with those who received standard chemoradiotherapy, surgery, and adjuvant chemotherapy.14
Immunotherpay
Mismatch repair-deficient rectal cancers are known to be sensitive to checkpoint inhibitor immunotherapy treatment and results from a small trial were reported at the 2022 ASCO annual meeting - 14 patients with mismatch repair-deficient stage II and stage III rectal adenocarcinoma treated with checkpoint inhibitor immunotherapy every 3 weeks for 6 months achieved a complete response to treatment sparing the use of chemotherapy, radiation therapy, and surgery altogether.
Surveillance for Complete Clinical Responders
TNT and immunotherapy allows some patients to avoid surgery and it complications altogether. Following TNT 10% to 20% of patients will have a complete clinical response in which there is no sign of persistent cancer by imaging, rectal exam, or direct visualization during sigmoidoscopy.
Many patients with a complete clinical response to will be cured of rectal cancer and don't require surgery. Moreover patients who experience a local recurrence may be treated with surgery at the time of their recurrence.
In one series evaluating TNT only 34% of patients who chose watchful waiting had a local recurrence, and the 3-year survival rate using this approach and performing surgery at the time of recurrence was 96%. Patients managed by watch and wait however must be reliable and participate in a more intensive follow-up protocol.
For patients who have a complete clinical response to TNT, it is reasonable to consider a watch-and-wait approach with intensive surveillance instead of immediate surgical resection-they should discuss the risks and benefits of this approach with their treating physician.8-13
Surgical Treatment
Different types of surgery may be recommended depending on the location and specific characteristics of the cancer.
Low anterior or abdominoperineal resection: A low anterior resection (LAR) involves an incision across the abdomen and removal of the cancerous part of the rectum along with some surrounding tissue and lymph nodes. This is often done for cancers that are in the upper part of the rectum. Lower cancers may be treated with removal of the rectum along with extensive removal of surrounding tissues (total mesorectal excision). Depending on where the cancer was and how much of the rectum was removed, the colon may be reconnected to the remaining part of the rectum or to the anus. When possible, the surgery will allow a patient to continue to pass waste through the anus. Some patients, however, may require a temporary or permanent colostomy (an artificial opening that allows waste to pass from the colon to the outside of the body).
If the cancer is very low in the rectum (near the anus), a patient may need to have an abdominoperineal resection (APR). This involves an incision in the abdomen and an incision around the anus. Because both the rectum and the anus are removed, an APR requires a permanent colostomy.
Trans-anal resection or trans-anal endoscopic microsurgery: In some cases it may be possible to remove the cancer through the anus without making an incision in the abdomen. Techniques for removing the cancer in this way include trans-anal resection and trans-anal endoscopic microsurgery (TEM). The operations involve cutting through all layers of the rectum to remove invasive cancer as well as some surrounding normal rectal tissue. This procedure can be used to remove some Stage I rectal cancers that are relatively small and not too far from the anus. If the cancer is found to have certain high-risk features, more extensive surgery may be recommended. These local treatments of rectal cancer offer the advantage of quicker recovery after surgery, but may be linked with a higher risk of cancer recurrence than more extensive types of surgery.5
Strategies to Improve Treatment
The progress that has been made in the treatment of rectal cancer has resulted from improved surgical techniques, the development of adjuvant and neoadjuvant chemotherapy and radiation therapy treatments and participation in clinical trials. Currently, there are several areas of active exploration aimed at improving the treatment of early stage rectal cancer.
Precision Cancer Medicine Targeting Genetic Mutations
Not all rectal cancer cells are alike. They may differ from one another based on what genes have mutations. Molecular testing is performed to test for certain genetic mutations or the proteins they produce because the results can help select treatment including newer precision cancer medicines designed to attack specific rectal cancer cells with specific genetic mutations. Doctors will increasingly use genomic testing to help better identify who will benefit from systemic therapy. Precision cancer medicines that target specific genomic alterations in the cancer's DNA that are driving the growth of the cancer are increasingly used. Clinical studies are ongoing to determine how to incorporate genomic testing and precision cancer medicines into the treatment of early stage rectal cancer.
Advances in Surgery for Colon Cancer
Laparoscopic surgery: Laparoscopic surgery is used for many types of surgery with the short-term advantages of less pain, fewer wound complications, quicker post-operative recovery, and shorter hospital stays. Instead of making one long incision in the abdomen, the surgeon makes several smaller incisions. Special long instruments are inserted through these incisions to remove part of the rectum and lymph nodes. One of the instruments has a small video camera on the end, which allows the surgeon to see inside the abdomen. Once the diseased part of the rectum has been freed, one of the incisions is made larger to allow for its removal.
Laparoscopic-assisted surgery appears to be about as likely to be curative as the standard approach for earlier-stage cancers.5 However, there is still limited information from randomized trials about the approach. In addition, laparoscopic surgery requires special expertise and patients need to be treated by a skilled surgeon who has done a lot of these operations.
Improved Approaches to Radiation Therapy: As the technology for radiation therapy has evolved, important advances have been made in the ability of physicians to precisely target the area of the cancer. The goal is to deliver effective doses of radiation to the cancer while sparing healthy tissue to the extent possible. One newer approach to delivering radiation therapy is intensity modulated radiation therapy (IMRT). IMRT starts with a three-dimensional image of the cancer, and allows physicians to deliver different doses of radiation to different areas. The potential advantages for patients include both better tumor control and fewer side effects.
Improvement in staging: A small fraction of patients with Stage I rectal cancer will relapse following surgery. This is thought to be due to inadequate staging with failure of ultrasound to detect nodal metastases. Other factors, such as how the cancer looks under the microscope, may also have an impact on survival. Patients with poorly differentiated tumors (tumors with more abnormal-looking cells), and those with vascular invasion may have an increased risk of relapse, especially after local trans-anal incision.6 Future studies may help better identify patients who need adjuvant therapy.
References:
Wiltink LM, Chen TYT, Nout RA, et al. Health-related quality of life 14 years after preoperative short-term radiotherapy and total mesorectal excision for rectal cancer: report of a multicenter randomised trial. [Eur J Cancer](https://www.ejcancer.com/article/S0959-8049(14%2900785-0/fulltext). 2014 Sep;50(14):2390–2398.
Hospers G, Bahadoer R,Dijkstra E, et al. Short-course radiotherapy followed by chemotherapy before TME in locally advanced rectal cancer: The randomized RAPIDO trial. Presented at: the 2020 ASCO Annual Meeting; May 29-31, 2020. Abstract 4006.
Cercek A, Roxburgh CS, Strombom P, et al. Adoption of total neoadjuvant therapy for locally advanced rectal cancer. JAMA Oncol. 2018 Jun 14;4(6):e180071.
Cercek A, Goodman KA, Hajj C, et al. Neoadjuvant chemotherapy first, followed by chemoradiation and then surgery, in the management of locally advanced rectal cancer. Journal of the National Comprehensive Cancer Network. 2014 Apr;12(4):513-519.
Nash GM, Weiser MR, Guillem JG et al. Long-term survival after transanal excision of T1 rectal cancer. Diseases of the Colon & Rectum. 2009;52:577-82.
Willett CG, Compton CC, Shillito PC, et al. Selection factors for local excision or abdominoperineal resection in early stage rectal cancer.Cancer 1994;73:2716-2720.
Jayne DG, Thorpe HC, Copeland J et al. Five-year follow-up of the Medical Research Council CLASICC trial of laparoscopically assisted versus open surgery for colorectal cancer. British Journal of Surgery. 2010;97:1638-45.
Maas M, Nelemans PJ, Valentini V, et al.: Long-term outcome in patients with a pathological complete response after chemoradiation for rectal cancer: a pooled analysis of individual patient data. Lancet Oncol 11 (9): 835-44, 2010.
Maas M, Beets-Tan RG, Lambregts DM, et al.: Wait-and-see policy for clinical complete responders after chemoradiation for rectal cancer. J Clin Oncol 29 (35): 4633-40, 2011.
Lambregts DM, Maas M, Bakers FC, et al.: Long-term follow-up features on rectal MRI during a wait-and-see approach after a clinical complete response in patients with rectal cancer treated with chemoradiotherapy. Dis Colon Rectum 54 (12): 1521-8, 2011.
Smith JD, Ruby JA, Goodman KA, et al.: Nonoperative management of rectal cancer with complete clinical response after neoadjuvant therapy. Ann Surg 256 (6): 965-72, 2012.
Dalton RS, Velineni R, Osborne ME, et al.: A single-centre experience of chemoradiotherapy for rectal cancer: is there potential for nonoperative management? Colorectal Dis 14 (5): 567-71, 2012.
Renehan AG, Malcomson L, Emsley R, et al.: Watch-and-wait approach versus surgical resection after chemoradiotherapy for patients with rectal cancer (the OnCoRe project): a propensity-score matched cohort analysis. Lancet Oncol 17 (2): 174-83, 2016.
Conroy T, Bosset J-F, Etienne P-L, et al. Neoadjuvant chemotherapy with FOLFIRINOX and preoperative chemoradiotherapy for patients with locally advanced rectal cancer (UNICANCER-PRODIGE 23): a multicentre, randomised, open-label, phase 3 trial. Lancet Oncol. Published online April 13, 2021. doi:10.1016/S1470-2045(21)00079-6