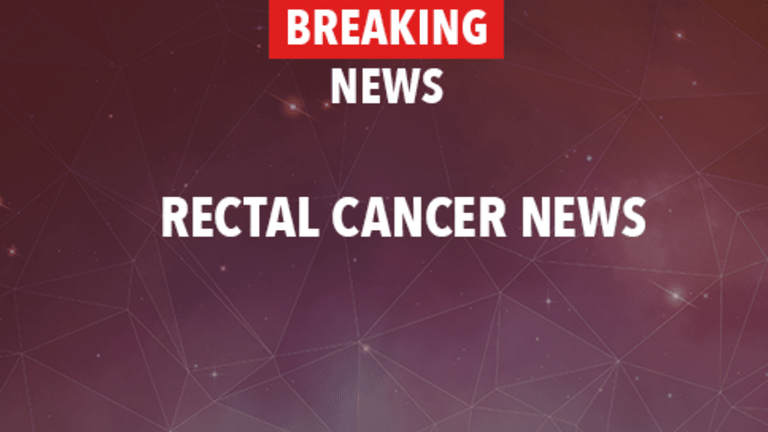 Panitumumab Reduces Disease Progression in Metastatic Colorectal Cancer
Panitumumab Reduces Disease Progression in Metastatic Colorectal Cancer
According to results presented at a plenary session at the 97th annual meeting of the American Association for Cancer Research (AACR), the investigative agent panitumumab significantly improved progression-free survival and disease stabilization in patients with metastatic colorectal cancer whose disease had progressed following prior chemotherapy.
Colorectal cancer is the second leading cause of cancer-related deaths in the U.S. Metastatic colorectal refers to cancer that has spread from its site of origin to distant sites in the body. Standard treatment for metastatic colorectal cancer includes chemotherapy with or without targeted therapy and/or radiation therapy.
Although patients may experience an anticancer response to initial therapy, cancer will recur in a majority of these patients; survival rates for such recurrences are unfavorable. Therefore, new treatment approaches continue to be studied in order to improve outcomes for these patients while maintaining their quality of life.
Panitumumab is an agent that is not yet approved by the Food and Drug Administration (FDA). It has, however, been granted "fast-track" status (a designation for promising drugs that facilitates the approval process) by the FDA for the treatment of colorectal cancer. Results from the last phase of clinical trials prior to FDA review (phase III) were just reported.
Panitumumab is a monoclonal antibody-a protein developed in a laboratory to bind to specific targets. Panitumumab targets the epidermal growth factor receptor (EGFR), which is involved in the growth and spread of cancer. By targeting EGFR, panitumumab can reduce or prevent cancer progression.
Researchers recently announced results of the phase III clinical trial comparing panitumumab to best supportive care (BSC) among patients with metastatic colorectal cancer that had stopped responding to prior chemotherapy. This trial was a multi-national trial and included 463 patients who were initially treated with panitumumab plus BSC or BSC alone.
After a median of 7 weeks, 75% of patients initially treated with BSC alone "crossed-over" and were treated with panitumumab due to cancer progression on BSC alone.
Shrinkage of cancer occurred in 8% of patients treated with panitumumab compared with no patients treated with BSC.
Stabilization of the disease occurred in 28% of patients treated with panitumumab compared with only 10% treated with BSC.
The median duration of anticancer responses for those treated with panitumumab was 17 weeks.
After six months, approximately four times as many patients treated with panitumumab were alive without cancer progression compared to those who were treated with BSC.
After 8 months, approximately twice as many patients treated with panitumumab were alive without cancer progression compared to those treated with BSC.
Patients initially treated with BSC who, due to cancer progression, crossed over and began treatment with panitumumab experienced a 41% rate of clinical benefit (anticancer responses plus disease stabilization).
The researchers concluded that panitumumab provides significant improvements in outcomes among patients with metastatic colorectal cancer who have stopped responding to standard therapies. Panitumumab is currently being evaluated in clinical trials as a single agent or in combination with other agents for the treatment of various cancers.
Reference: Amgen. Randomized Phase 3 Trial Shows Panitumumab Significantly Improved Progression-Free Survival and Disease Control in Metastatic Colorectal Cancer Patients. Available at: . Accessed April 2006.
Related News:Phase III Trial of Panitumumab for Metastatic Colorectal Cancer (11/10/05)
Copyright © 2018 CancerConnect. All Rights Reserved.